Culture, tourism and Fascism in Venice 1919-1945
L'anteprima di questa tesi è scaricabile in PDF gratuitamente.
Per scaricare il file PDF è necessario essere iscritto a Tesionline.
L'iscrizione non comporta alcun costo. Mostra/Nascondi contenuto.
9 Simonetta Falasca-Zamponi ventures an explanation of what drew and bound Italians to Fascism through a deconstruction of Fascist rhetoric, ritual, myth and symbol. She confronts the contradictions of Fascist ideology and its flexibility in practice, and details the ideological, cultural and rhetorical innovations and appropriations which Fascism mobilized to reshape Italian political culture and national identity. Fascism depended above all upon an aestheticized politics, and public spectacle was the way in which the regime expressed its political culture. 39 Another scholar to posit the absolute centrality of public ritual to the forging of consensus for Fascist rule is Reinhard Kühnl (even though his analysis is focused upon generic rather than Italian Fascism). Kühnl argues that: 'Culture had a significant function in the process of creating a mentality that forced people to submit to the dictates of their fascist governments. (…) The ultimate task assigned to art and other cultural activities was to offer ideological support to the ruling class, but also to prepare and mobilise the people for the war of conquest. (...) Mass spectacles helped to forge a national community, whereas theatrical entertainment (farces, comedies, music-hall, operetta, etc.) kept the population and the troops in a good mood'. 40 Similarly, Jeffrey Schnapp 'has alleged that the regime elaborated a total concept of spectacle founded on a wholesale Fascist theatricalisation of Italian life'. 41 In his work upon cultural politics under Fascism, Schnappp held that the regime had never taken too seriously the texts and contents in play in Fascist theatre, since these texts were, he argued, riddled with contradictions. What mattered was 'the aesthetic over-production through which the regime sought to compensate for, fill in, and cover up its unstable ideological core'. 42 39 Simonetta Falasca-Zamponi, Fascist Spectacle: the Aesthetics of Power in Mussolini's Italy (Studies on the History of Society and Culture), Berkeley, University of California Press, 1997. 40 Kühnl, 'Cultural politics of fascist governments', in Berghaus (ed.), Fascism and Theatre, p. 35. 41 As cited in Bosworth, 'Tourist planning in Fascist Italy and the limits of a totalitarian culture', Journal of Contemporary European History, Cambridge University Press, vol. 6, part I, March 1997, p. 2: Jeffrey T. Schnapp, '18 BL: Fascist mass spectacle', Representations, vol. 43, n. 1, 1993, pp. 92-3. 42 As cited in David Roberts, 'How not to think about fascism and ideology, intellectual antecedents and historical meaning', Journal of Contemporary History, vol. 35, no. 2, April 2000, p. 204: Schnapp, Staging Fascism: 18 BL and the Theater of Masses for Masses, Stanford, California, Stanford University Press, 1996, p. 6.
Anteprima della Tesi di Stefania Longo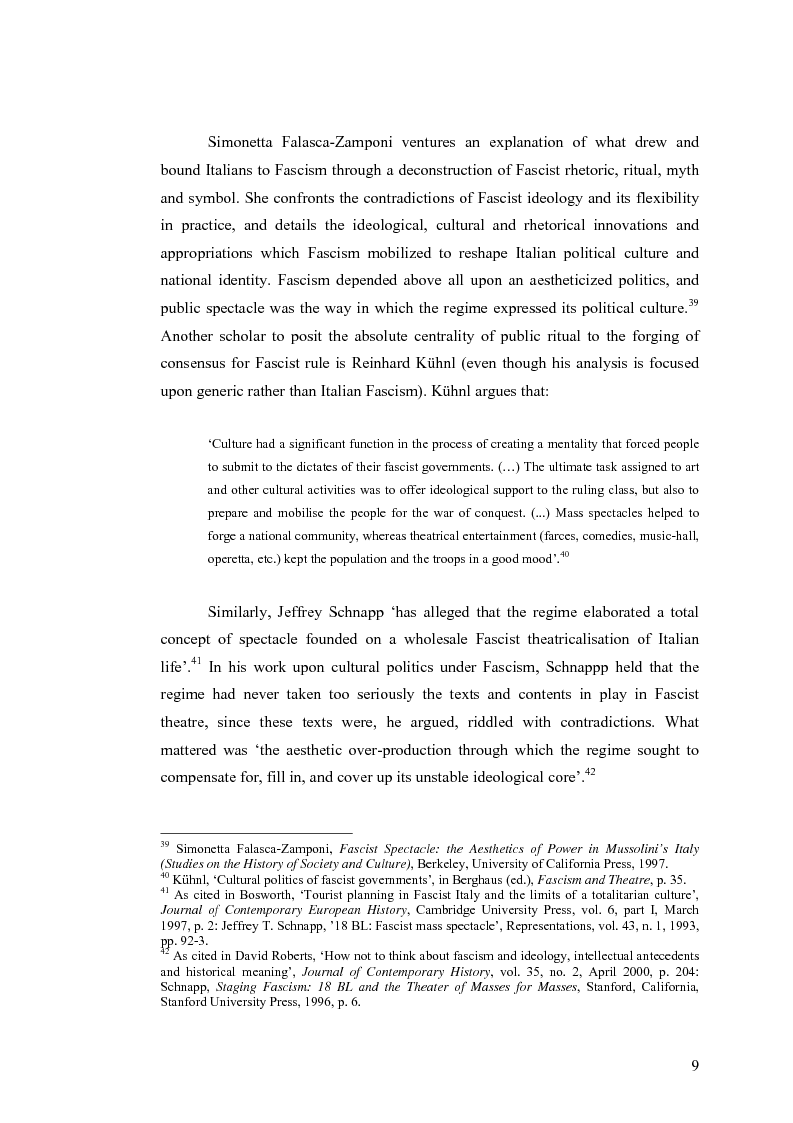 Tesi di Dottorato
Dipartimento: Dipartimento Storia
Autore: Stefania Longo Contatta »
Composta da 274 pagine.
Questa tesi ha raggiunto 905 click dal 02/03/2005.
Consultata integralmente 4 volte.
Disponibile in PDF, la consultazione è esclusivamente in formato digitale.