Dye Sensitized Solar cells: synthesis and applications of a novel sensitizer and pentacene as hole conductor material
L'anteprima di questa tesi è scaricabile in PDF gratuitamente.
Per scaricare il file PDF è necessario essere iscritto a Tesionline.
L'iscrizione non comporta alcun costo. Mostra/Nascondi contenuto.
12 Foreword This PhD thesis was carried out in the laboratories of: "Università di Lecce Dipartimento di Ingegneria dell'Innovazione" (Italy), laboratories of "Universitaat van Amsterdaam" (Amsterdam, the Netherland) and ECN (Petten, The Netherlands). The thesis was financed by the "Università degli Studi di Lecce" and as a part of the project "ZENIT" (the Netherlands) and by European Comunity Research FP5 Improving Human Potential programme, Maria Curie Trainingship. I would like to thank the Prof. Giuseppe Vasapollo and the Dr. Giuseppe Ciccarella for giving me the input to this interesting research topic and for supervising the thesis as well as for their guidance in selecting the guidelines for the work. I would also like to thank the Prof. Luisa De Cola from the Laboratory of Photonic Materials of "Universitaat Van Amsterdam" for providing me much more than some novel synthesis and photochemistry skills and facilities useful for carrying out this work, and especially the fantastic people in both the laboratories (Lecce and Amsterdam) for the pleasant working environment and their helping hand in practical problems. I would like also to thank: Alex Mayer from Cornell University (George G. Malliaras group), Dr. Brian O'Regan from ECN, Prof. Renè Janssen from TU-Eindhoven Sjoerd Veenstra from ECN-Petten, Ali Afzali IBM Research Division (NY) and the Dutch Polymer Institute people, for the interest and the cooperation for the experimental part of this work. Especially I would like to thank my family and my friends for their encouraging support during my studies. Lecce, July 2004, Vito Sgobba
Anteprima della Tesi di Vito Sgobba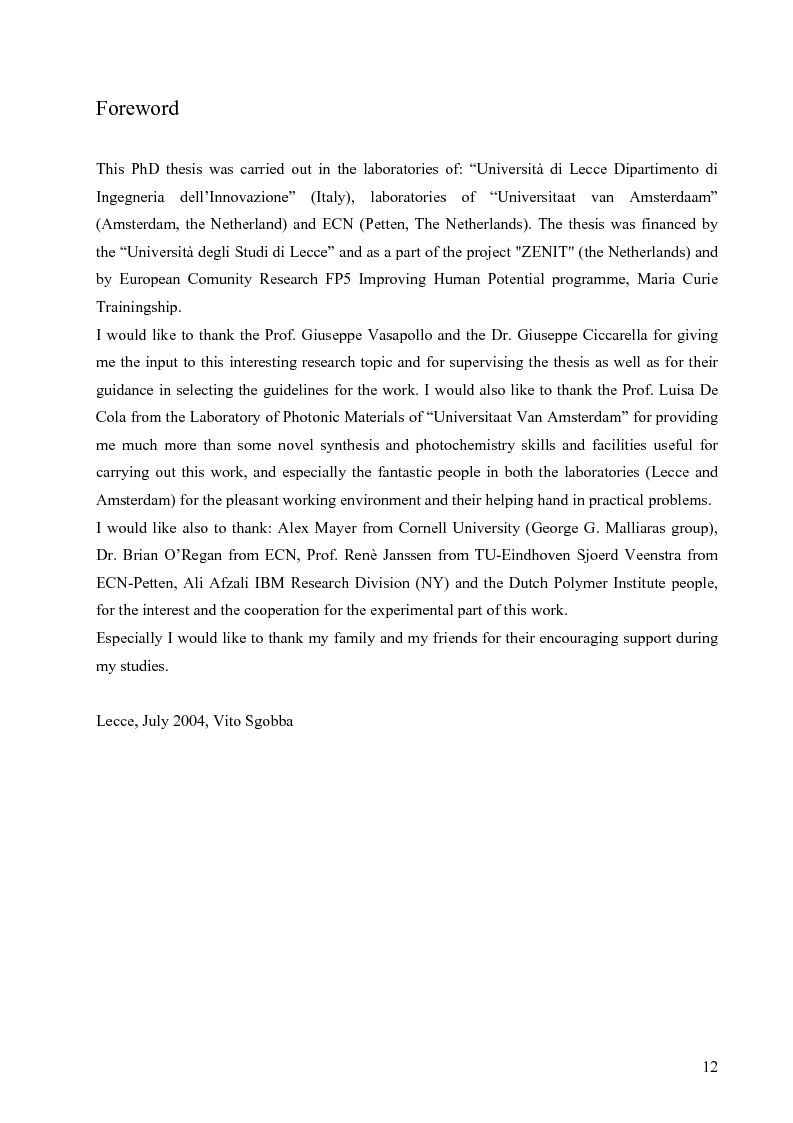 Tesi di Dottorato
Dipartimento: Ingegneria dell'Innovazione
Autore: Vito Sgobba Contatta »
Composta da 156 pagine.
Questa tesi ha raggiunto 5583 click dal 02/03/2005.
Consultata integralmente 10 volte.
Disponibile in PDF, la consultazione è esclusivamente in formato digitale.