Dye Sensitized Solar cells: synthesis and applications of a novel sensitizer and pentacene as hole conductor material
L'anteprima di questa tesi è scaricabile in PDF gratuitamente.
Per scaricare il file PDF è necessario essere iscritto a Tesionline.
L'iscrizione non comporta alcun costo. Mostra/Nascondi contenuto.
21 The Fermi-Dirac distribution f(E), is the fractional occupation of the available orbitals at energy E and temperature T: kTEE F e Ef /)( 1 1 )( − + = (7) where k is the Boltzmann constant. The Fermi energy E f , is the energy level where one half of the orbitals are occupied (f(E)=1/2). The fractional occupation of the available orbitals decreases rapidly for levels below E f under standard conditions, and consequently most of the electrons in the conduction band are clustered near the conduction band edge. For energies well above E f , the exponential term kTEE F e /)( − is very much larger than unity, and a Boltzmann-like distribution may replace the Fermi-Dirac equation: kTEE F eEf /)( )( −− ≅ (8) At the energy of the conduction band edge this is valid (E c -E f >>kT) and the concentration of electrons in the conduction band is obtained by: kTEE c kTEE e c FcFc eNe h kTm n /)(/)( 2/3 2 2 2 −−−− ∗ = ⎟ ⎟ ⎠ ⎞ ⎜ ⎜ ⎝ ⎛ = π (9) where N c is a constant at fixed T, known as the effective density of states within few kT above the conduction band edge. As a rough order of magnitude, N c at room temperature is around 10 20 per cm 3 , or one state per hundred atoms. The concentration of holes in the valence band (p v ) can be calculated from a similar treatment. For an intrinsic semiconductor the concentration of electrons is equal to the concentration of holes and E f is located in the middle of the band gap. A perturbation of the electronic structure of semiconductors is often caused by defects in their crystal structure. These perturbations can give rise to new energy levels, which change the Fermi level and alter the electrical properties of the semiconductor. The relative positions of the additional energy levels depend on the type of defects.
Anteprima della Tesi di Vito Sgobba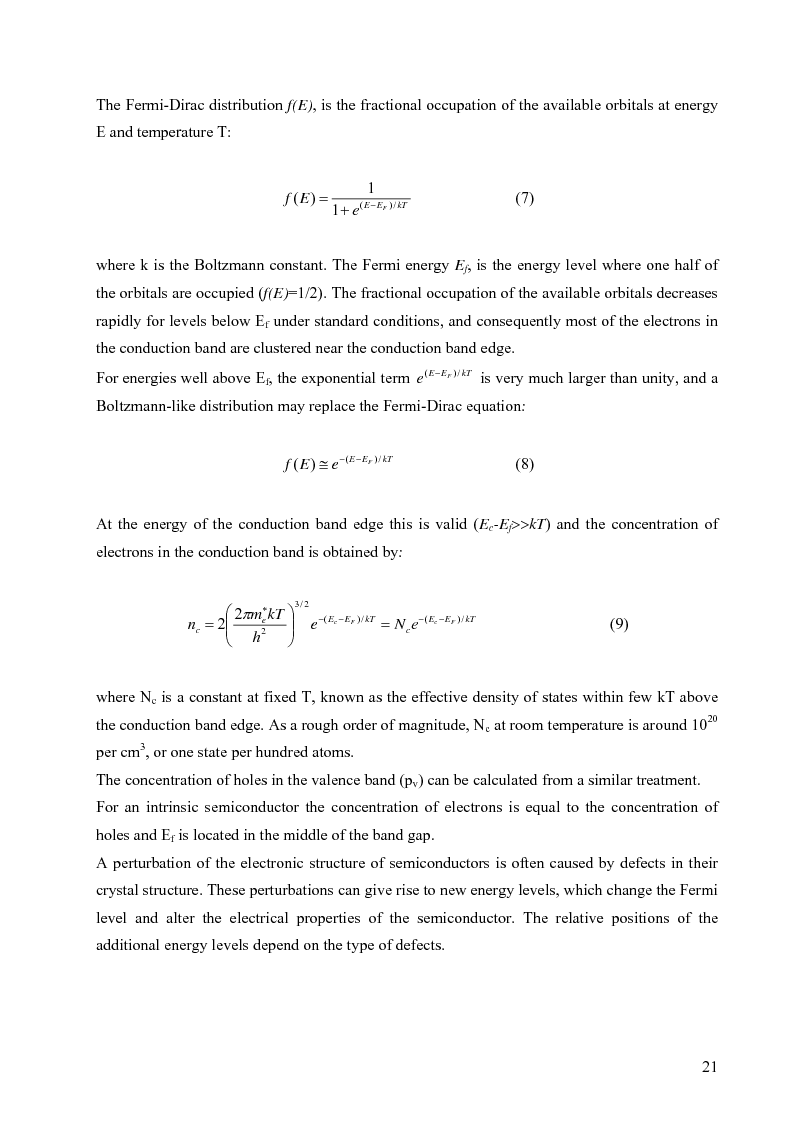 Tesi di Dottorato
Dipartimento: Ingegneria dell'Innovazione
Autore: Vito Sgobba Contatta »
Composta da 156 pagine.
Questa tesi ha raggiunto 5584 click dal 02/03/2005.
Consultata integralmente 10 volte.
Disponibile in PDF, la consultazione è esclusivamente in formato digitale.