Web Accessibility: a Blind Look at the ''Pompeii Website''
L'anteprima di questa tesi è scaricabile in PDF gratuitamente.
Per scaricare il file PDF è necessario essere iscritto a Tesionline.
L'iscrizione non comporta alcun costo. Mostra/Nascondi contenuto.
5 1. Introduction In this chapter the reader will be gradually introduced to the disability world with regard to technologies. The focus will be assigned to visual disabilities that perhaps cause the most handicap in using the Internet and other technologies. 1.1. General considerations Nowadays, the Internet and its services have become more and more a key resource for everybody in society. News, e-government, e-learning, entertainment, workplace interaction, e-commerce and many other online services are populating the network to the detriment of more traditional services such as government offices, stores, and so on. Going to a 6th floor department store or to a big museum is a natural thing that everybody can do, even a person affected by a physical disability. This happens because the recognition of the equality of human beings in this day and age gives us laws that try to provide the same opportunity to everybody in society. The same thing should happen also in a virtual world where sensory and physical disabilities limit the use of new technologies. The accessibility issue moves from the real to the virtual world, and contrary to public opinion, it is not only in relation to disabled people. In fact, also non-disabled people can, in some situations, perceive themselves to be at a disadvantage. For instance, when driving a car and simultaneously speaking with the mobile phone we cannot take our hands from the steering wheel or when working in a very sunny place we can be irritated by the brightness of the light and not be able to read the screen well. Therefore web accessibility assumes progressively an extremely important role both for disabled people who want to remain effective and involved members of society and for every other individual interacting with these technologies. The World Wide Web Consortium defines web accessibility as the "access to the Web by everyone, regardless of disability" 1 . Unfortunately the access for everybody is a distant ideal and it requires the engagement of every web designer and every company or person owning a web site. In this study, focus will be directed to visually impaired individuals, specifically completely blind ones. They are the most handicapped in terms of the basic nature of the human-computer interaction (HCI) which has as a prerequisite: sight. The interaction between a computer and an individual is mainly visual and blind people are disadvantaged as a result. This is emphasized by the development of new technologies that have progressed from the very basic text 1 http://www.w3.org/Talks/WAI-Intro/slide3-0.html; last visit:09.12.2004
Anteprima della Tesi di Francesco Scariolo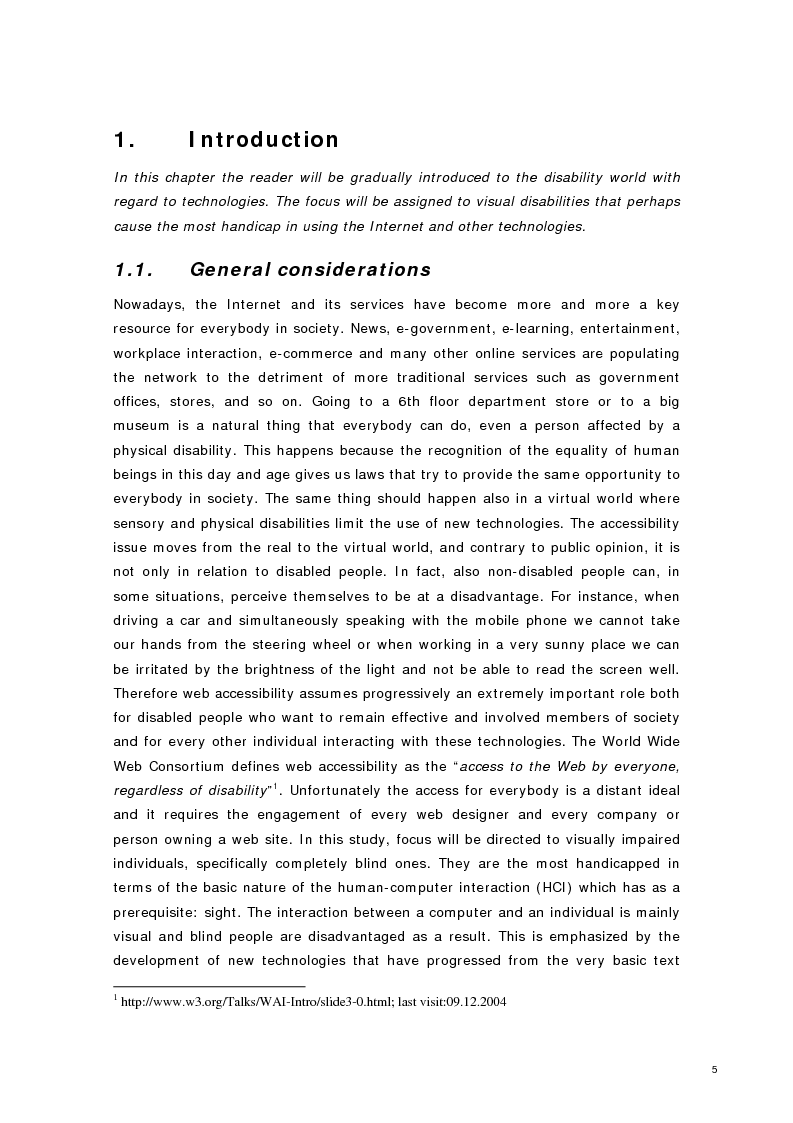 Tesi di Laurea
Facoltà: Scienze della Comunicazione
Autore: Francesco Scariolo Contatta »
Composta da 171 pagine.
Questa tesi ha raggiunto 474 click dal 22/03/2005.
Consultata integralmente una volta.
Disponibile in PDF, la consultazione è esclusivamente in formato digitale.