Web Accessibility: a Blind Look at the ''Pompeii Website''
L'anteprima di questa tesi è scaricabile in PDF gratuitamente.
Per scaricare il file PDF è necessario essere iscritto a Tesionline.
L'iscrizione non comporta alcun costo. Mostra/Nascondi contenuto.
Francesco Scariolo Memoria di Licenza 7 1.2.1. Cognitive impairments There are various cognitive impairments that can be categorized such as memory, perception, problem-solving and conceptualizing impairments. A convenient example of cognitive impairment is dyslexia which can cause significant problems in remembering even short sequences of numbers or letters in the correct order. Problems can also be more profound as with some genetic diseases such as Down's syndrome, autism, and dementia. On the other hand, there are also less serious cognitive disabilities such as mild learning disabilities or mental inflexibility (i.e. elderly people), all of which will influence accessing a website. After good training, people with an intellectual impairment can often become familiar with the personal computer and the Internet, but they can be easily confused when required to respond quickly or when facing new or more complex situations. 1.2.2. Motor disabilities When considering disabilities, the obvious first image that appears in our mind is a wheelchair. It has become over the years synonymous with disability, even if it is not the only one. Mobility is (as the other characteristics) an essential feature of human beings, but is considered to be the most important one because without moving, access to daily activities is severely limited. Even though the interaction with a computer does not require athletic skills, the mouse and keyboard have to be activated through movements. People with loss of limb(s), cerebral palsy, muscular dystrophy, multiple sclerosis, arthritis, Parkinson's disease, essential tremor and other motor impairments not related to a disease, for example the use of one hand because the other is busy, can encounter difficulties in accessing the web. 1.2.3. Hearing disabilities Hearing loss is not considered a problem by web developers; because they think that the web accessibility consists in following some guidelines to make speech synthesizers read well. On one hand this is perfectly clear, but the web is a multimedia vehicle of information, so that also audio and video tracks are provided in this extremely large virtual world. Hearing loss can be classified according to degree of loss (low/high tone hearing loss, conductive hearing loss, and others) and still remains a significant impairment for people suffering from it, even in web surfing. Problems that can occur are related not only to the hearing loss, but also to the fact that not all deaf people speak a sign language and there is no universal sign language (there are various sign languages) and videos on the Web are often
Anteprima della Tesi di Francesco Scariolo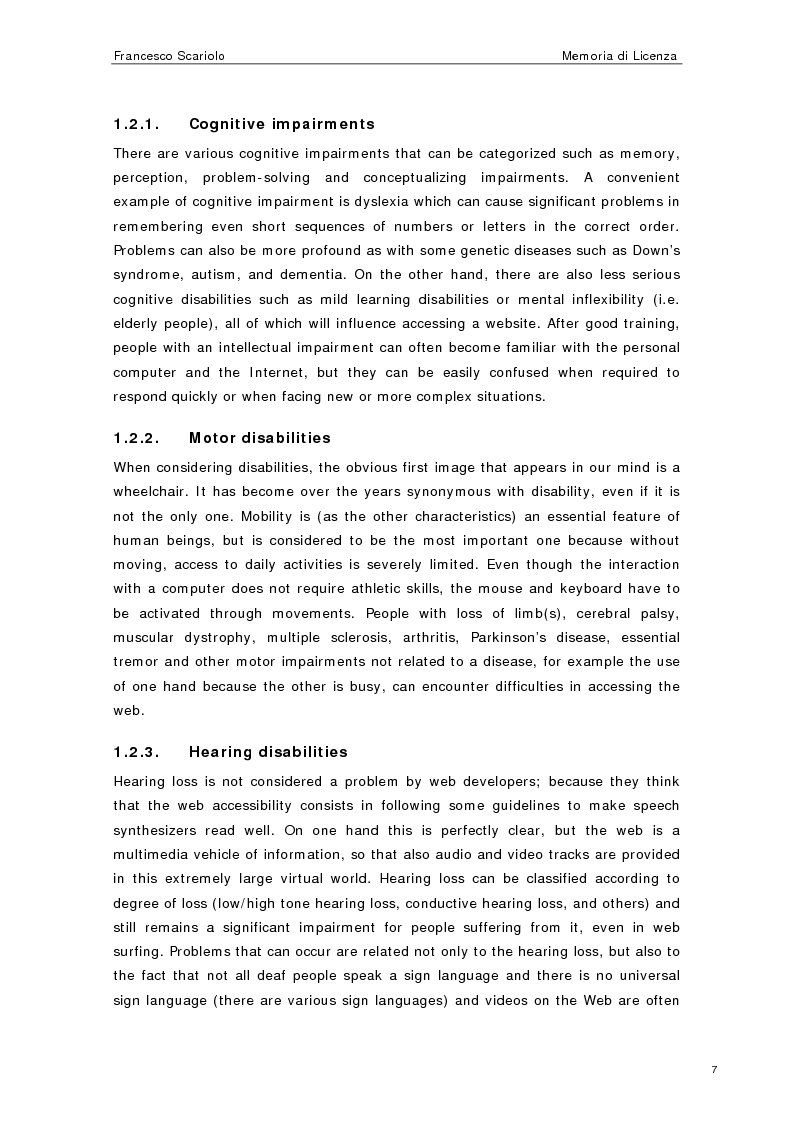 Tesi di Laurea
Facoltà: Scienze della Comunicazione
Autore: Francesco Scariolo Contatta »
Composta da 171 pagine.
Questa tesi ha raggiunto 471 click dal 22/03/2005.
Consultata integralmente una volta.
Disponibile in PDF, la consultazione è esclusivamente in formato digitale.