The role of secondary airports after air service market deregulation and the phenomena of low-cost airlines. Case study: Ronchi dei Legionari
L'anteprima di questa tesi è scaricabile in PDF gratuitamente.
Per scaricare il file PDF è necessario essere iscritto a Tesionline.
L'iscrizione non comporta alcun costo. Mostra/Nascondi contenuto.
2 1 Introduction Before deregulation of air service sector, airlines in Europe concentrated on hub airports. The role of non-hub airports was to feed the hubs. Non-competing airlines used hubs as points of interlining, capacity sharing and price collusion. Some of these airports were used occasionally for military or security purposes. There might also be general aviation, private flying and search and rescue missions. A further stage in their development of services might be a PSO (Public Service Obligation) service by the flag carrier to the national hub with high fares and poor frequency. There might also be some international service by small airlines using small aircraft with resulting high fares and costs and low volumes. The pre-deregulation system of air service regulation in Europe left most airports largely empty, and this was also the case of Ronchi dei Legionari airport. There was typically one airport per million people in the European economic area countries and most were significantly underused as the national airlines routed passengers through hub airports. Before deregulation there was little impetus to develop these airports. Hence, the typical service at a non-hub airport was a hub connection by the national airline plus some minimal service by small aircraft with high seat-mile costs, high fares and low load factors. After airlines market deregulation the phenomena of low fare airlines took place. The first time was United Kingdom on the Dublin-London route in 1986, operated by Ryanair, and then around Europe. Further, surveys and case study observed ready transfers of market share to new airports served by new carriers. Of course, the fare savings were obviously the major initial attraction which drew a part of passengers to the new airports. Then more passengers began to like small airports because of smaller terminals size, quicker check-in, less confusion and better punctuality. Passengers liked the new airports' simplicity by contrast with large airports with lengthy walking times, delays at check-in and security desks and delays caused by waiting for connecting flights. The result was that in addition to airlines competition, which was brought on because of deregulation, there was also airport competition. This put managers of
Anteprima della Tesi di Paolo Tubaro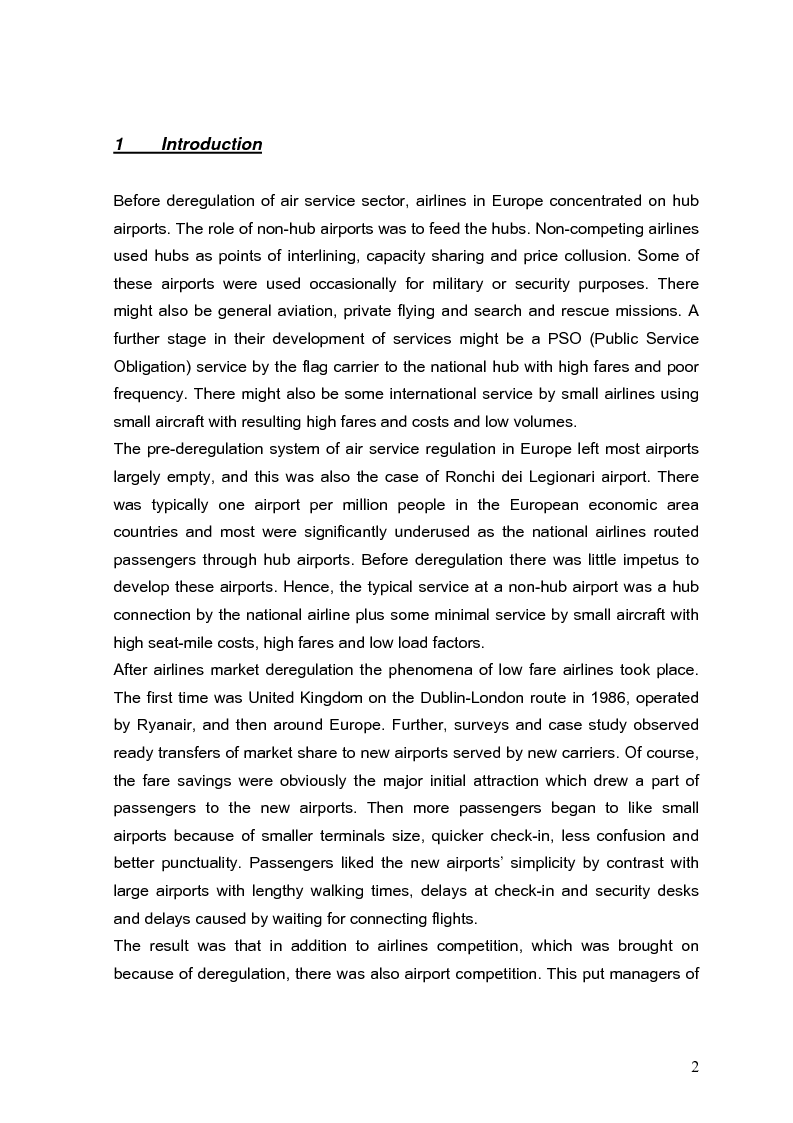 Laurea liv.I
Facoltà: Economia
Autore: Paolo Tubaro Contatta »
Composta da 54 pagine.
Questa tesi ha raggiunto 811 click dal 23/03/2005.
Disponibile in PDF, la consultazione è esclusivamente in formato digitale.