The role of secondary airports after air service market deregulation and the phenomena of low-cost airlines. Case study: Ronchi dei Legionari
L'anteprima di questa tesi è scaricabile in PDF gratuitamente.
Per scaricare il file PDF è necessario essere iscritto a Tesionline.
L'iscrizione non comporta alcun costo. Mostra/Nascondi contenuto.
3 empty local airports in a different position respect to the past, in a way that they had to face with new choices of airport policy. For instance, three possible policy choices are: ξ Do nothing and continue to run the empty airport as a loss ξ Seek PSO services to the national hub and cover the costs with PSO price and government subsidy ξ Run the airport as a business and attract new airlines that generate a volume of passengers required to produce a sufficient amount of revenues to cover the costs Since most of secondary airports have been privatized and hence they have to produce profits, the latter seems to be the most popular case, which is the case of Ronchi dei Legionari airport. This situation, which a manager has to deal with, brings on a number of crucial choices. These include not relying on the traditional flag carrier airline and not using the traditional airport list of charges. The case for the former change is that the traffic growth rates of flag carriers in Europe are in low single figures and unlikely to fill an empty airport and that these airlines remain hub focussed. Also, the community view of low cost airlines at new airports is likely to be strongly positive. The travelling public will welcome lower fares, much improved access to the local airport, avoiding crowed hubs, and shorter overall journey times. It is natural consequence that the focus of local and regional airports has to be put on new airlines and it is obvious that they have to observe their characteristics and meet their requirements. The aim of this paper is to talk about low fare airlines and their benefits, to illustrate the actual situation of growing secondary airports and to present the case of Ronchi dei Legionari regional airport. The paper is organized as follow. Section 2 gives an explanation of characteristics and benefits brought in general of low cost carriers. Section 3 examines the secondary airports situation, illustrating the development due to low fare airlines, the revenues systems and the competition among airports. Section 4 takes in consideration the case of Triest airport, presenting its characteristics. Section 5 contains concluding remarks.
Anteprima della Tesi di Paolo Tubaro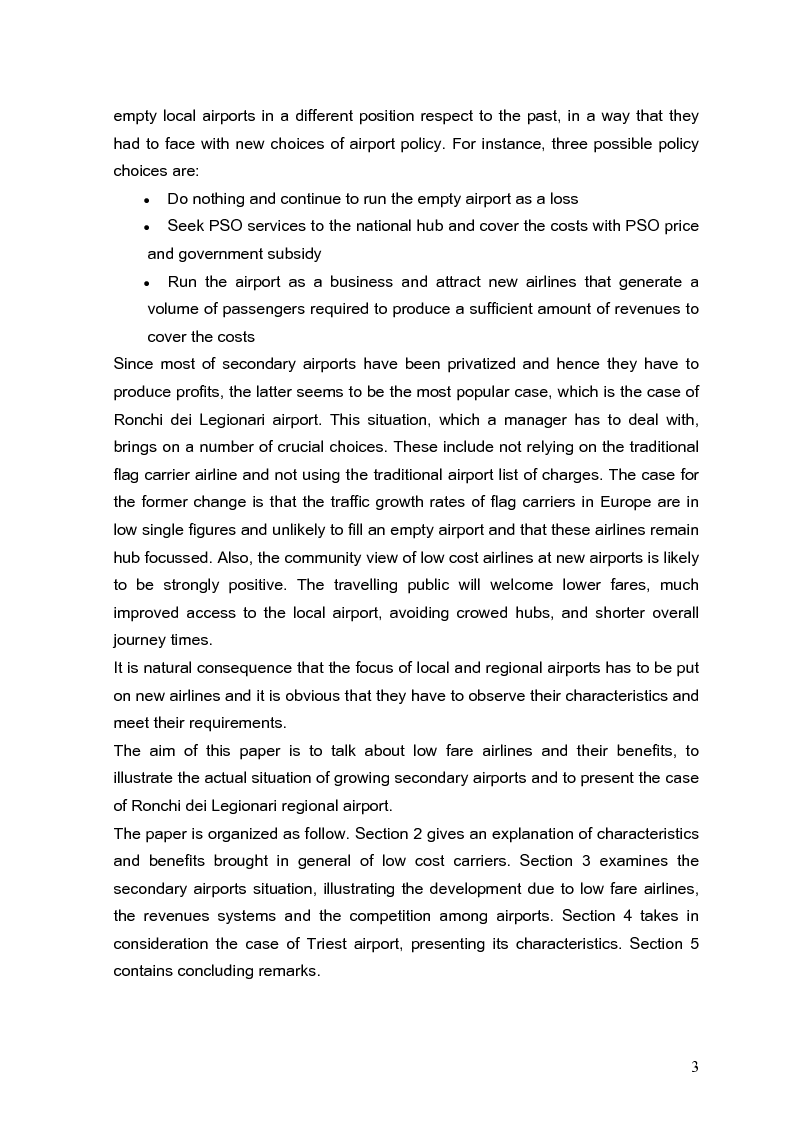 Laurea liv.I
Facoltà: Economia
Autore: Paolo Tubaro Contatta »
Composta da 54 pagine.
Questa tesi ha raggiunto 811 click dal 23/03/2005.
Disponibile in PDF, la consultazione è esclusivamente in formato digitale.