Rimozione di nutrienti e microinquinanti attraverso un processo a fanghi attivi assistito da membrana e carboni attivi
L'anteprima di questa tesi è scaricabile in PDF gratuitamente.
Per scaricare il file PDF è necessario essere iscritto a Tesionline.
L'iscrizione non comporta alcun costo. Mostra/Nascondi contenuto.
Chapter 1 – Membranes and membrane bioreactors 17 1.2.2 Membrane separation processes The major pressure-driven processes are microfiltration (MF), ultrafiltration (UF), nanofiltration (NF) and reverse osmosis (RO). In addition, important membrane processes include dialysis, electrodialysis (ED) and electrodialysis reversal (EDR), gas separation and pervaporation (PV). Pressure-driven processes The primary difference between the four pressure-driven processes is the size of particles that the membrane rejects, which is determined in part by the pore size of the membrane. The relationship of these major membrane processes and conventional particle filtration in terms of rejection of particle sizes is provided in Table 2. Table 2. Particle size range of membrane separation processes Separation process Reverse osmosis Nanofiltration Ultrafiltration Microfiltration Particle filtration Size (µm) 0.0001 0.001 0.01 0.1 1 10 MWCO < 100 200 20000 500000 Microfiltration (MF) refers to membranes that have pore diameters from 0.1 to 10 µm (Cheryan, 1998). MF systems are used to filter suspended particulates, large colloids, bacteria and oil from solutions. MF systems are used in water purification (sterile water for industry and drinking water), in the food industry for clarification of fruit juices and wine and concentration of gelatine and sugars, for recycling the fluids in aqueous parts washers by removing the oil and solids contamination, and for metals removal in the mining and metal finishing industries. Operating at low pressures, MF technology can separate suspended and colloidal materials down to approximately 0.1 µm. Ultrafiltration (UF) membranes have the ability to separate molecules in solution based on size down to approximately 0.005 µm and have a MWCO in the low 1000s. UF is used to separate proteins from saline solutions by concentrating the larger molecules on the feed side of the membrane while allowing water and dissolved salts to pass through the barrier. The largest single use of UF membranes is to remove proteins with a molecular weight greater than 8000 from cheese whey. Nanofiltration (NF) membranes can be visualized as UF membranes with smaller pore sizes (0.001 µm). NF systems are sued to provide higher quality water than UF. NF membranes reject dyes and some large molecular weight compounds such as sugars. NF membranes with smaller pore sizes can separate divalent cations from monovalent cations. Reverse osmosis (RO) was the first membrane process to be widely commercialized. RO membranes are used to separate salts and low molecular weight compounds from water because they are highly permeable to water and highly impermeable to microorganisms, colloids, salts and organic molecules. RO is a reversal of the natural process of osmosis; a process by which a dilute solution passes through a semi-permeable membrane into a more concentrated solution. In reverse osmosis the process is reversed by applying external pressure greater than the osmotic pressure. Typically, RO technology is used to remove inorganic salts form wastewater. However RO can also be used to treat wastewater containing some organic solvents. RO systems can be used to separate pure water from contaminated matrices, such as
Anteprima della Tesi di Laura Innocenti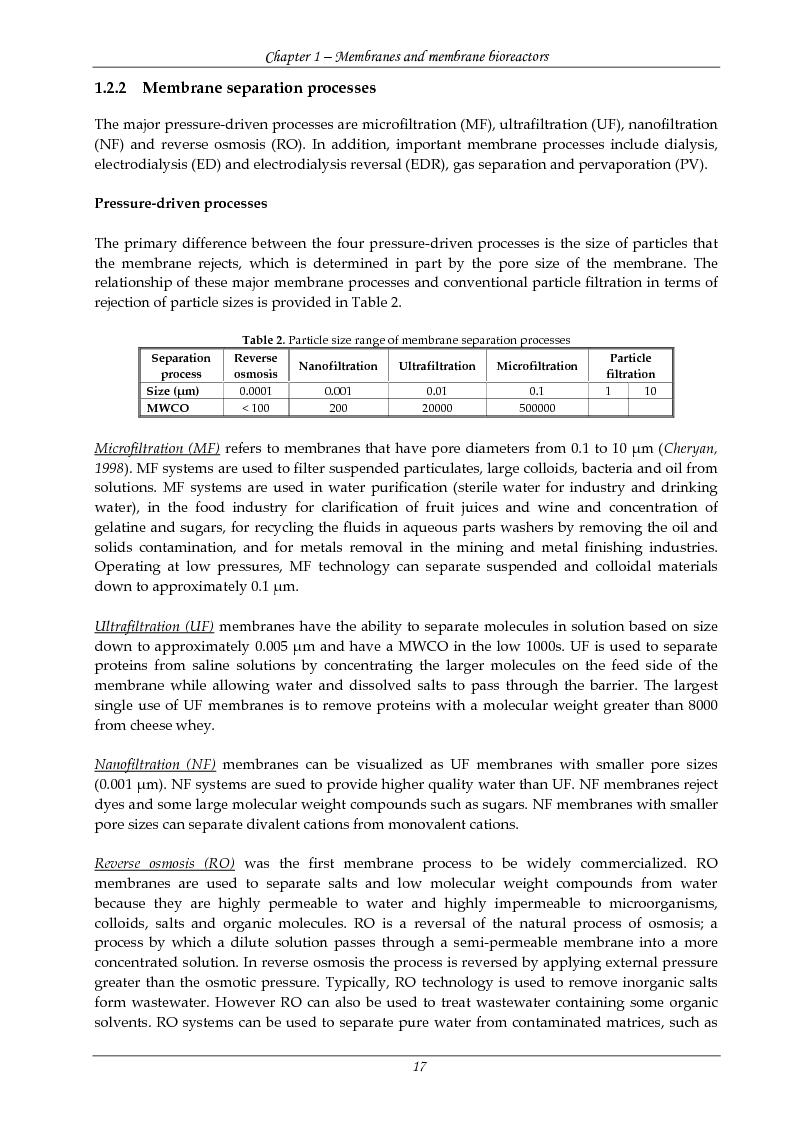 Tesi di Dottorato
Dipartimento: Dipartimento di Scienze Ambientali
Autore: Laura Innocenti Contatta »
Composta da 183 pagine.
Questa tesi ha raggiunto 4319 click dal 01/04/2005.
Consultata integralmente 4 volte.
Disponibile in PDF, la consultazione è esclusivamente in formato digitale.