Irrigated agriculture and rural communities in Uzbekistan
L'anteprima di questa tesi è scaricabile in PDF gratuitamente.
Per scaricare il file PDF è necessario essere iscritto a Tesionline.
L'iscrizione non comporta alcun costo. Mostra/Nascondi contenuto.
Irrigated Agriculture and Rural Communities in Uzbekistan Manuela Moy Master Educazione alla Pace Page 5 I. COUNTRY AND SECTOR BACKGROUND 1.1 Regional context: unsustainable irrigation development Central Asia occupies an area of about 2 million km² and five countries form this region: Kyrgyz Republic, Tajikistan, Turkmenistan, Uzbekistan and the southern part of Kazakhstan. The basin of the Aral Sea occupies the central part of the region. It has no outflow, while the Amu-Darya and Syr-Darya enter the Sea: they are the main sources of surface flow and their catchments constitute a major part of the Aral Sea catchment. The environmental degradation in the region is demonstrated by the decline of Aral Sea, which started in 1960 due to the increasing amount of water being diverted from the rivers for irrigation (see Table 1.1). Irrigation development in the Soviet part of the Aral Sea – once described as the world's fourth largest lake - expanded from an area of 4.5 million ha to almost 7 million ha in 1980, while total water withdrawal almost doubled to 120 cubic km, 90% of it for agriculture. Thus, the Aral Sea became the prime example for unsustainable irrigation development: rapid, large-scale expansion; sole reliance on high water-use production systems for cotton, rice and wheat; poor water distribution and drainage; widely inefficient irrigation techniques resulting in enormous losses of irrigation water, disproportionate use of pesticides and fertilizers. Experts define this chain of events as "disruption of the prevailing water balance" in the Aral basin. Many minor tributaries was so overexploited that they ceased to contribute directly to the flow of the Amu Darya and Syr Darya, high irrigation inefficiency led to major
Anteprima della Tesi di Manuela Moy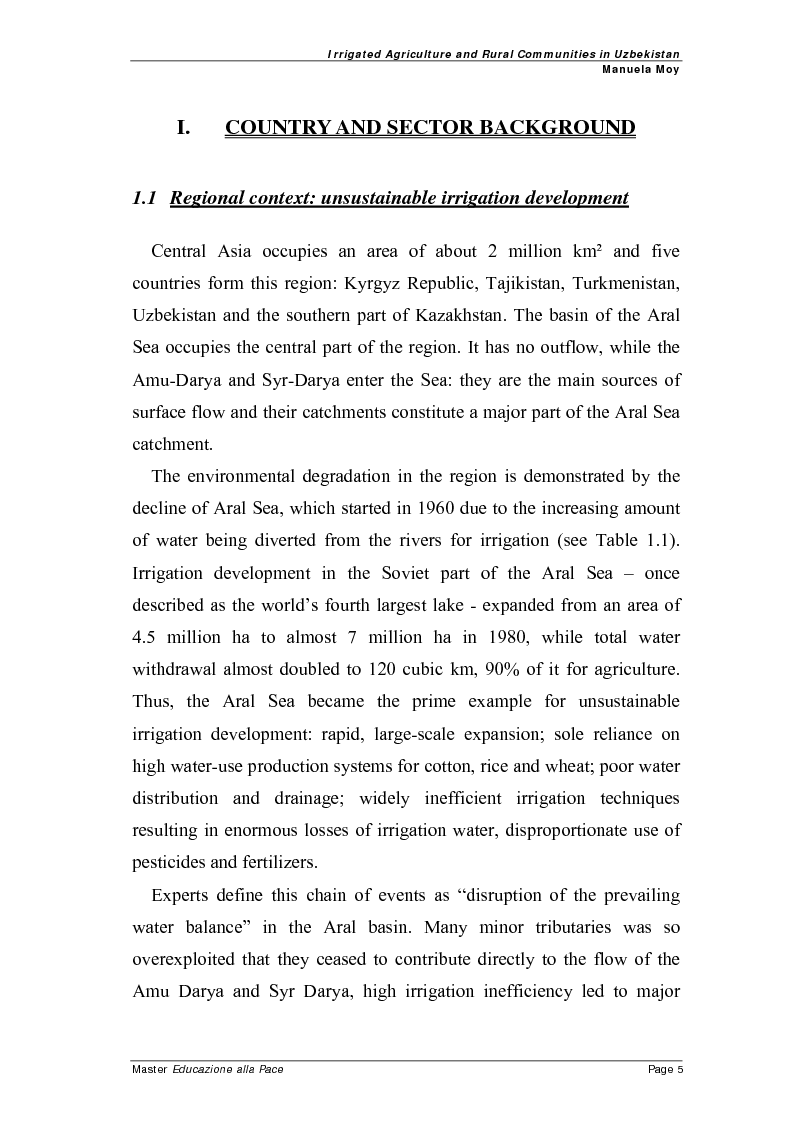 Tesi di Master
Autore: Manuela Moy Contatta »
Composta da 58 pagine.
Questa tesi ha raggiunto 599 click dal 08/04/2005.
Disponibile in PDF, la consultazione è esclusivamente in formato digitale.