The impacts of Foreign Direct Investment on the working force of the Romanian industry, the case of Timisoara distric
L'anteprima di questa tesi è scaricabile in PDF gratuitamente.
Per scaricare il file PDF è necessario essere iscritto a Tesionline.
L'iscrizione non comporta alcun costo. Mostra/Nascondi contenuto.
8 Timisoara can speak Italian. According to the type of economical development for Italian firms, Timisoara's land market has industrial land and residential land available. Many developments were made in co-operation with the City Hall, so most of the land was gave by the municipality, and the industrial parks created by the municipality have not entered into the local real estate trade market. 1.3.3 Field work I decided to go to Romania for several reasons. Firstly because I did not find so much literature about this topic, so it was necessary to visit this area personally to apply the designed methodology. The second reason was that I wanted to speak with the persons face to face, see how the production was performed and how it differed from the production in the Italian industrial districts. I went two weeks to Romania from august 18th to august 29th. I tried to make a wide range of interviews to get a better understanding of the industrial district of Timisoara and the key actors. I interviewed Italian and Romanian entrepreneurs and I had some interviews with institutions and with some professors' from University of Timisoara. I also met some teachers and students from the Technical Commercial Institute located in Timisoara. Unfortunately it was not possible to meet more Italian entrepreneurs because the period did not permit more. Since august is a summer holiday in Italy and therefore also for the Italian businessmen in Romania. All interviews in this area were in Italian because it is the second language of many of the people in Timisoara. During my visit in Timisoara I had the opportunity to get a lot of information which would be not possible to find in articles and books. The results are interesting and justified the assumption of my work, which were formulated in the beginning. It was good that in general there were not any linguistic gap between people and me in Timisoara, so I was able to ask general questions regarding my topic. I also went around for the industrial area and it was good to observe the big presence of foreign firms and how they are correlated with environment. In general I found that many of the people I interviewed focused at the some problems. They underlined the lack of Romanian managers, and the need for Western technology and how cheap price of the labor force
Anteprima della Tesi di Claudio Pellegatta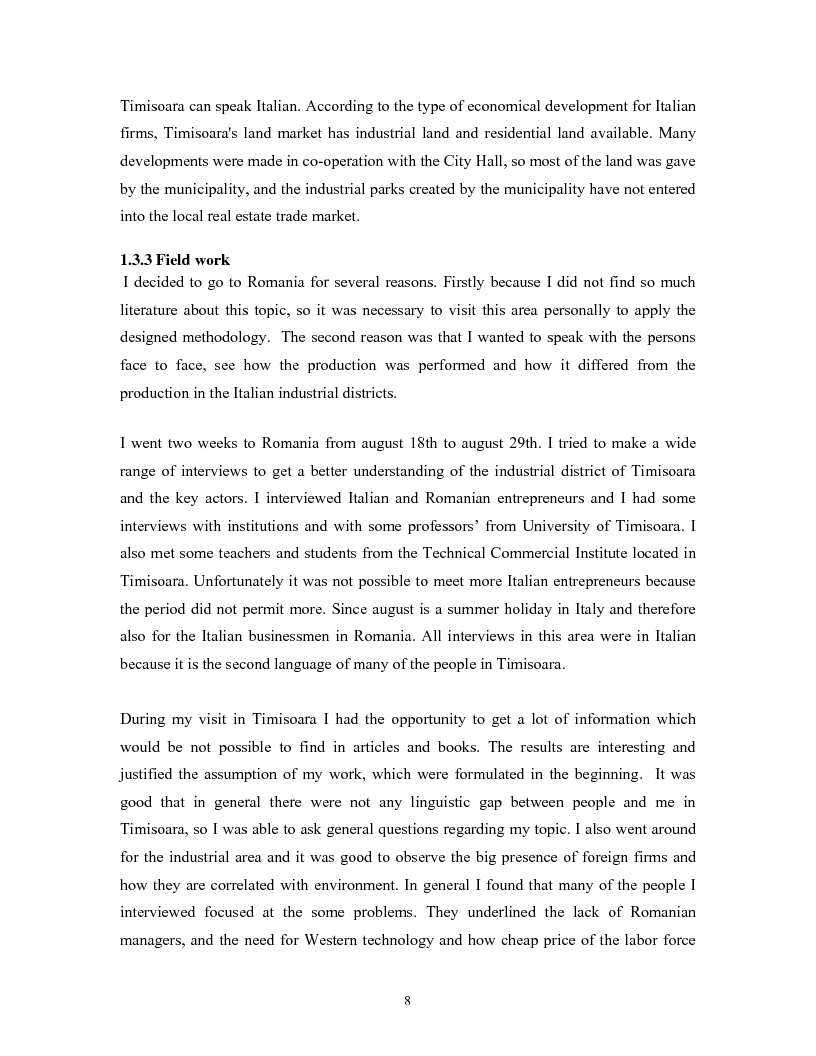 Tesi di Master
Autore: Claudio Pellegatta Contatta »
Composta da 74 pagine.
Questa tesi ha raggiunto 516 click dal 07/04/2005.
Consultata integralmente una volta.
Disponibile in PDF, la consultazione è esclusivamente in formato digitale.