Human Rights Plus Subsidiarity for a New Division of the International Political Labour: A United Nations – European Union – North Atlantic Treaty Organization Tripartite Model of Coordination
L'anteprima di questa tesi è scaricabile in PDF gratuitamente.
Per scaricare il file PDF è necessario essere iscritto a Tesionline.
L'iscrizione non comporta alcun costo. Mostra/Nascondi contenuto.
21 D. Methodology and Sources This research aims at connecting some empirical data (which are described in its second part) with a complex model (framed in the first part, chapter III), before developing a policy-oriented analysis (third part), which is supplemented with a section providing a feasibility check (chapter XI: discussion-symposium). As far as the third part of this thesis strictly represents an exercise of political architecture, the other sections are evidently characterised by a multi-disciplinary and cross-cutting approach, involving both legal and political science argumentations. This thesis indeed raises a number of legal issues, particularly in terms of responsibility of international organizations and of the interpretation of the UN Charter vis-à-vis the existence of a hierarchy between the UN and regional organizations. Moreover, the model that we introduce in Chapter III is based on political approaches to the international relations – such as those of "global governance", "multi-level governance" and "human security" – making an instrumental use of legal arguments provided by international law, and especially by international human rights law. In the course of the development of the thesis, we shall specify which arguments have been used from the abovementioned approaches. At this stage, it is important to state that -although the model described in the first part is consistent with the main assumption of the so-called paradigm of "human security" – we do not share all its aspects. For the purpose of analysing some specific issues, we shall also refer to other approaches to the security studies: for instance, when discussing the methodologies guiding both the EU and NATO to define and prioritize their respective security threats, we shall refer to the "cultural approach to the security studies" and to the "critical studies". The discussion of the proposed research hypothesis is mainly developed through a comparison with the relevant literature and doctrine: to this end, only documents written in English, French, Italian and Spanish have been analysed. Still, this thesis also benefits from the contribution not only of distinguished academics and practitioners, but also of the inputs submitted by EU and NATO's decision makers, officers and consultants through the submission of interviews and questionnaires collected in Rome, Geneva and Brussels between November 2005 and June 2006. Finally, the strategy that is developed in the third part of this work – and notably the
Anteprima della Tesi di Davide Zaru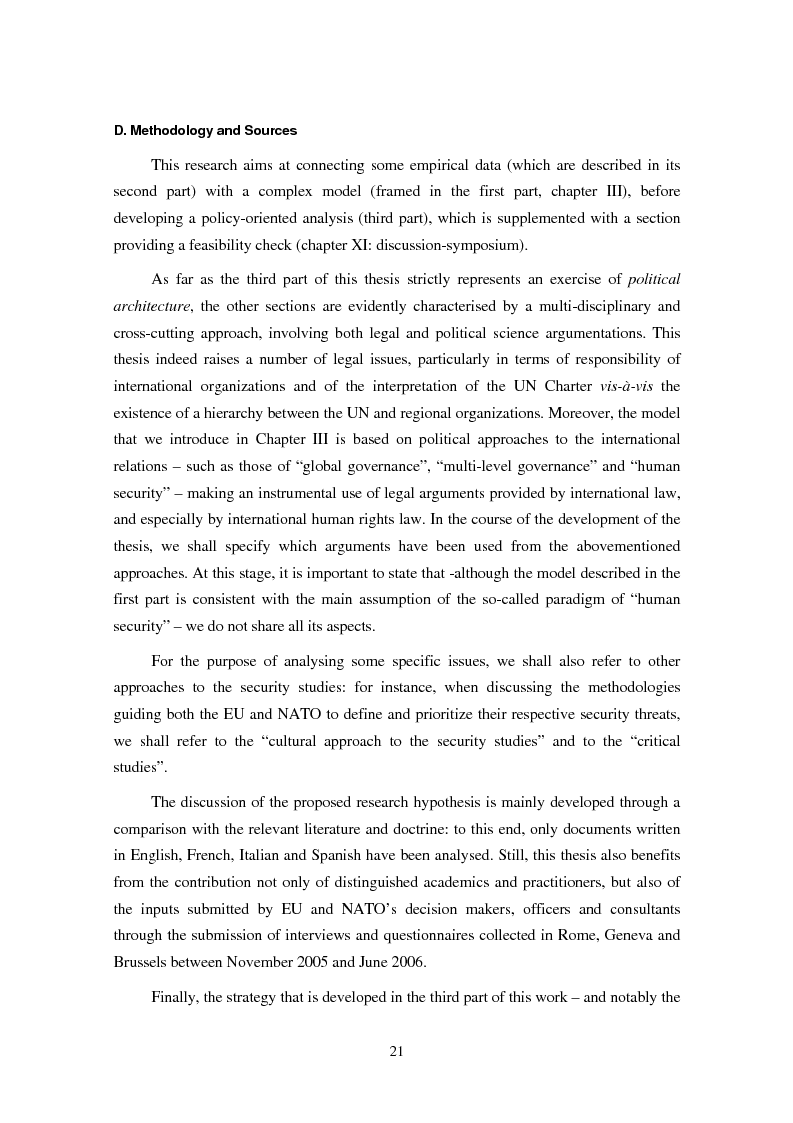 Laurea liv.II (specialistica)
Facoltà: Scienze Politiche
Autore: Davide Zaru Contatta »
Composta da 260 pagine.
Questa tesi ha raggiunto 712 click dal 18/07/2006.
Consultata integralmente 4 volte.
Disponibile in PDF, la consultazione è esclusivamente in formato digitale.