Tolkien and the myth: an analysis of The Silmarillion
L'anteprima di questa tesi è scaricabile in PDF gratuitamente.
Per scaricare il file PDF è necessario essere iscritto a Tesionline.
L'iscrizione non comporta alcun costo. Mostra/Nascondi contenuto.
41. J.R.R. Tolkien John Ronald Reuel Tolkien was born on January the 4 th in 1892 in Bloemfontein, South Africa from Arthur Tolkien and Mabel Suffield. His younger brother Hilary was born on February 17 th in 1894. In 1895 Mabel took her sons for a visit to England, where she received the message that her husband had died on February 15 th 1896. Mabel decided to remain in England and rented a cottage in Sarehole, a little village near Birmingham, where her family lived. She took the education of her sons into her own hands in order to prepare them for school. Ronald, as he was called by his mother, was a very good student. At only the age of 4 he was already able to read and write. His mother taught him everything she knew, which was mainly English, Latin and French. He immediately loved Latin, mainly because of the sound of the words and was eager to learn their meaning. However, he did not like French at all. There is no specific reason, only that the sound of the language was not as agreeable to him as the sound of Latin or English. In 1900 Mabel became a Catholic and from then on she educated her sons as Catholics too. In the same year Ronald entered into King Edward's School in Birmingham. In 1902 Mabel moved to Edgbaston where she met Friar Francis, who was to become a very close friend. In his third year at King Edward's School, Ronald started to study Greek, a language which he immediately liked. He also studied a bit of English literature, mainly Shakespeare; but his teacher loved Chaucer and read the Canterbury Tales in Middle English aloud in front of the class. This was the beginning of Tolkien's love for Middle English.
Anteprima della Tesi di Helene Baur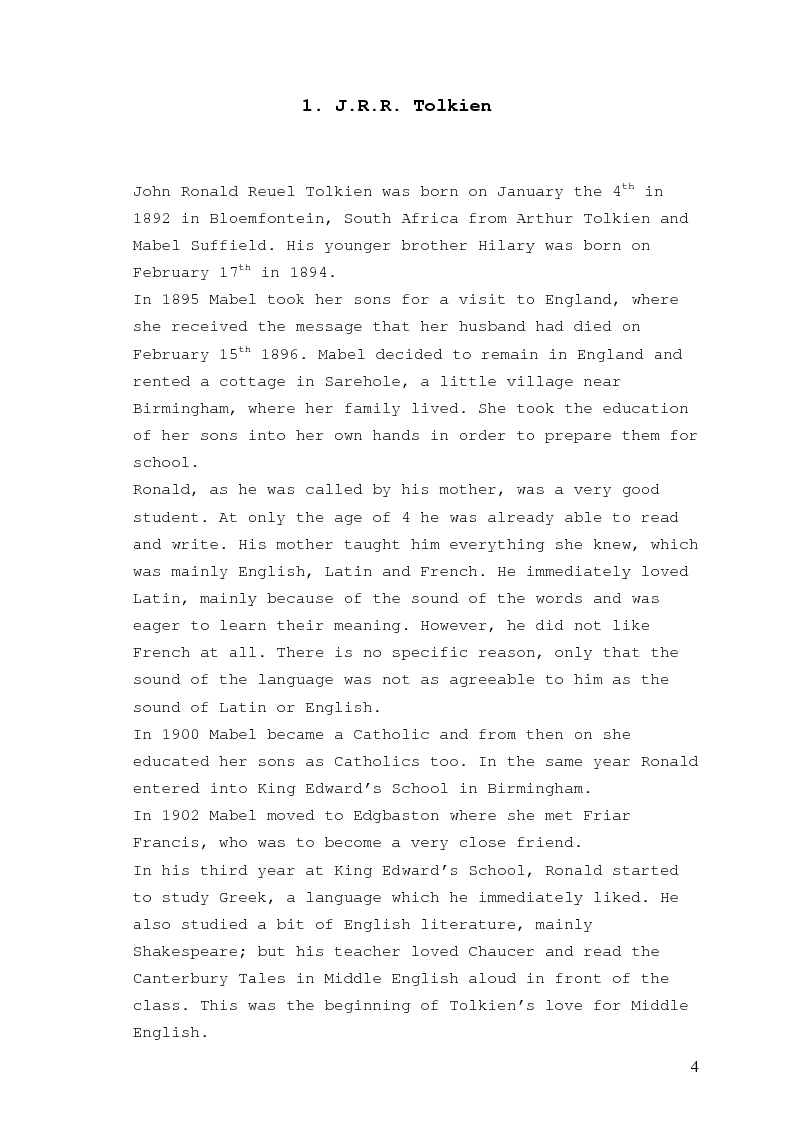 Laurea liv.I
Facoltà: Lettere e Filosofia
Autore: Helene Baur Contatta »
Composta da 51 pagine.
Questa tesi ha raggiunto 967 click dal 06/12/2006.
Consultata integralmente una volta.
Disponibile in PDF, la consultazione è esclusivamente in formato digitale.