Five Years of China's Wto Membership. EU and US Perspectives on China's Compliance with Transparency Commitments and the Transitional Review Mechanism
L'anteprima di questa tesi è scaricabile in PDF gratuitamente.
Per scaricare il file PDF è necessario essere iscritto a Tesionline.
L'iscrizione non comporta alcun costo. Mostra/Nascondi contenuto.
5 China s accession surely presents the world trading system with opportunities, but also poses the challenge of integrating a market with strong structural, behavioural and cultural constraints.7 Prior to China s accession and in the subsequent debates on the implementation of China s WTO commitments, some have focused on the market access concessions, tariff reductions or on the liberalization requirements for the integration of China in the world trading system. A second group of scholars, researchers and analysts have placed more emphasis on transparency issues, such as legal and administrative policies that China must establish to ensure equitable and efficient resolution of commercial and trade disputes.8 While recognising the key importance of all these issues, this piece will focus on the latter group, because these commitments will radically influence and change the Chinese legal system. Particular attention is given to the last four years of the review and evaluation of the Chinese legal reforms through the Transitional Review Mechanism (TRM),9 in view of complying with the WTO transparency commitments. China has to become increasingly aware of the new system to which it has become a member. This system implies state international liability in the event of non- compliance with its obligations, such as respecting transparency requirements and WTO legal and administrative policies. In the opinion of the present author, the most relevant obstacle to an effective implementation of the WTO and bilateral agreements is the problem of internal 7 Several members of the Committee decided to write analytical papers about China s accession. See John H. JACKSON, The Institutional Ramifications of China s Accession to the WTO , in Frederick M. ABBOTT, China in the World Trading System: Defining the Principles of Engagement, Kluwer Law International, The Hague 1998. For an overview of other challenges for the WTO after ten years from its foundation, see generally Gabriella VENTURINI, Giuseppe COSCIA and Michele VELLANO, Le nuove sfide per l OMC a dieci anni dalla sua istituzione, GiuffrŁ Editore, Milano 2005; see also Rufus YERXA and Bruce WILSON (eds.), Key Issues in the WTO Dispute Settlement. The First Ten Years, Cambridge University Press, Cambridge 2005 8 United States Government Accountability Office (GAO), Report to Congressional Committees: US- China Trade, Opportunities to Improve U.S Government Efforts to Ensure China s Compliance with World Trade Organization Commitments, GAO-05-53, 6 October 2004, Washington DC 2004, p. 6. Available: http://www.gao.gov/new.items/d0553.pdf; Karen HALVERSON, China s WTO Accession: Economic, Legal, and Political Implications , cit. at 346; Jiangyu WANG, The Rule of Law in China: A Realistic View of the Jurisprudence, the Impact of the WTO, and the Prospects for Future Development , (2004) Singapore Journal of Legal Studies at 374-389; Alan S. ALEXANDROFF, The WTO s China Problem , (May 2000) 21 Policy Options 4 at 64. Available also: http://www.irpp.org/po/archive/may00/alexandr.pdf 9 The Transitional Review Mechanism is a special multilateral mechanism for reviewing Chinese legal system, and it was included in the Protocol of China s accession to the WTO
Anteprima della Tesi di Paolo Davide Farah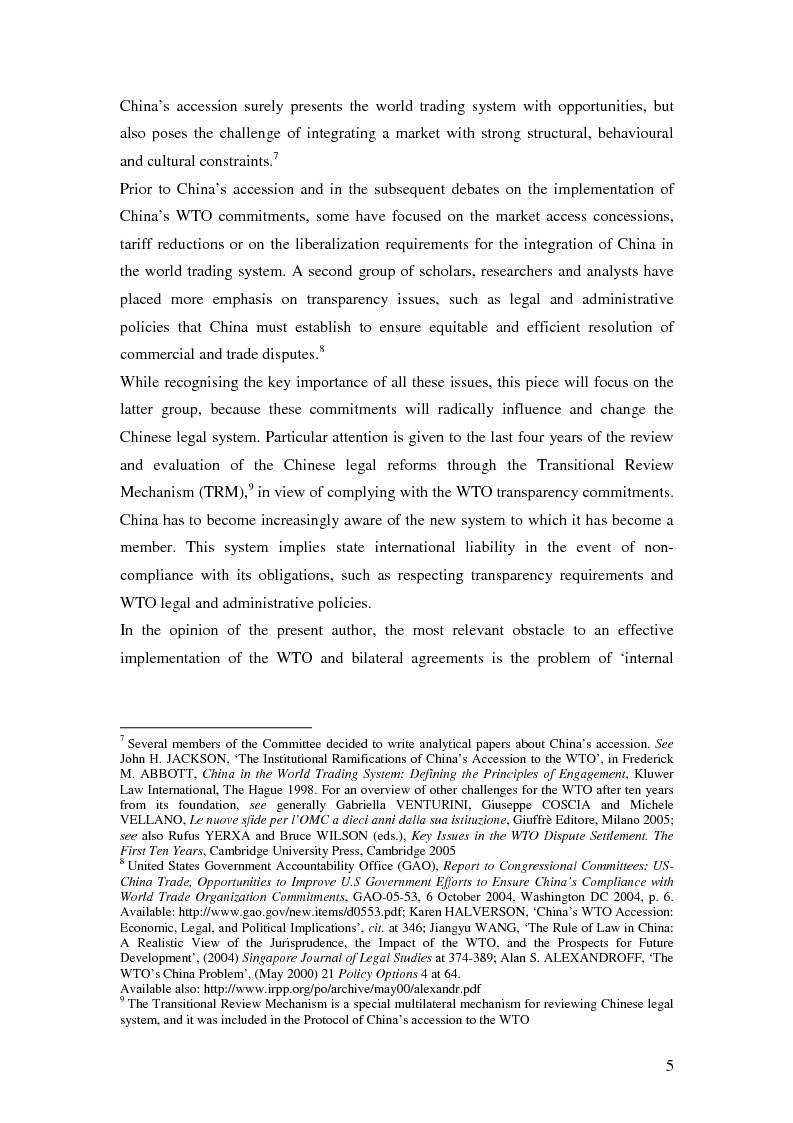 Tesi di Master
Autore: Paolo Davide Farah Contatta »
Composta da 82 pagine.
Questa tesi ha raggiunto 3588 click dal 30/01/2007.
Consultata integralmente 5 volte.
Disponibile in PDF, la consultazione è esclusivamente in formato digitale.