La valutazione del sistema universitario: un modello di analisi
L'anteprima di questa tesi è scaricabile in PDF gratuitamente.
Per scaricare il file PDF è necessario essere iscritto a Tesionline.
L'iscrizione non comporta alcun costo. Mostra/Nascondi contenuto.
XIII purpose to reduce the imbalances peculiar to the Italian university system. The third, called incentive share, is distributed according to aims defined by the Ministry. The readjustment share has been growing in the last few years, ranging about to 10% of the FFO, while the incentive share is less significant. In the definition of the evaluation model we took into account the experiences by the CNVSU, considering the information obtained by the internal evaluation groups and different projects developed by pilot universities. The processed model is based on the AHP technique. The main problem, in this case, is represented by the evaluation of the universities. It is therefore useful to indicate the activities/areas of competence which represent the final objectives of the universities, after that will be necessary to build an evaluation method based on the relative importance of different activities/areas. The main parameters of analysis are three: teaching, research, infrastructures and services. The three areas are singularly evaluated by specific indicators (sub-objectives) but at the end of the survey they are cross-correlated in the final evaluation. The model has the aim of evaluating the universities on a comparative way, in order to allocate a certain percentage of funds to the most efficient universities. The model exploits quantitative and qualitative elements, as the analysis is made by indicators of performances at different sub-levels which take into account quantitative data and evaluations carried out by a panel of experts (mainly for the "research" area). The three parameters of analysis have been organised in the following hierarchic structure as indicated by AHP: Research 1. Research Outputs 1.1. Patents 1.2. Pubblications 2. Research Potentiality 2.1. Potentiality 2.2. External found gotten by Research 3. Research Training 3.1. PhD scholarships 3.2. PhD students Teaching 1. Demand 2. Formative Processes 2.1. Middle number of achieved credits 2.2. Release rate
Anteprima della Tesi di Riccardo Bui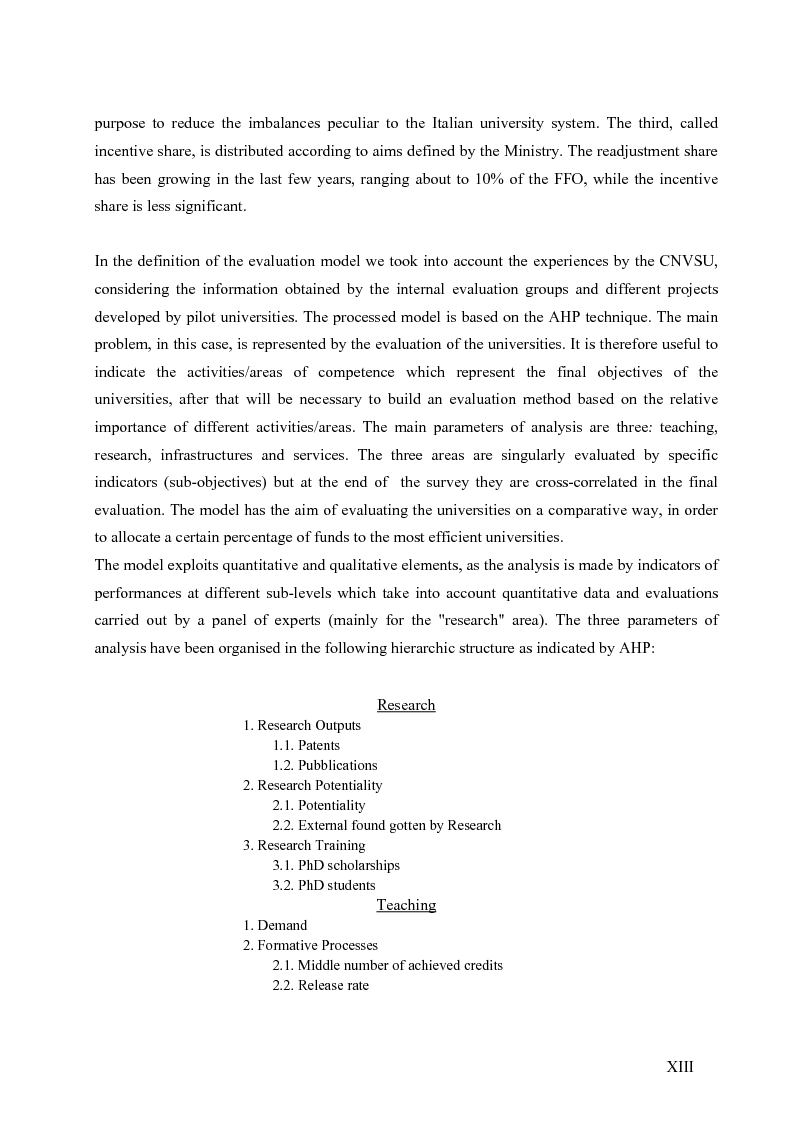 Tesi di Laurea
Facoltà: Ingegneria
Autore: Riccardo Bui Contatta »
Composta da 220 pagine.
Questa tesi ha raggiunto 2502 click dal 16/02/2007.
Consultata integralmente 6 volte.
Disponibile in PDF, la consultazione è esclusivamente in formato digitale.