An analysis about standard conformance of some commercial GIS platforms
L'anteprima di questa tesi è scaricabile in PDF gratuitamente.
Per scaricare il file PDF è necessario essere iscritto a Tesionline.
L'iscrizione non comporta alcun costo. Mostra/Nascondi contenuto.
Introduction The aim of this work is to illustrate the relationships between software products provided by the major GIS vendors and the standards published by the OGC (Open Geospatial Consortium, formerly known as OpenGIS) and available at their website (http://www.opengeospatial.org/standards). While these vendors have played or are playing an important role in the redaction of the OGC specifications, their products seem not to completely follow these, but only a restricted group. OGC develops two kind of specifications: implementation specifications and abstract specification. Those that belong to the latter kind serve as the conceptual foundations for most of the implementation specifications, which define the interfaces that products must comply with. OGC distinguishes between "conformance" and "compliance": the former term means that during software development has been made a sincere attempt to follow the instructions of a specification, the latter means that the final product has been tested to verify that all mandatory elements of a specification are fulfilled and that these are operable. In our analysis we will consider only the conformance to a spec- ification, given that not all the specifications can be actually tested, and only a few products can claim compliance with a specification. ix
Anteprima della Tesi di Alberto Fiore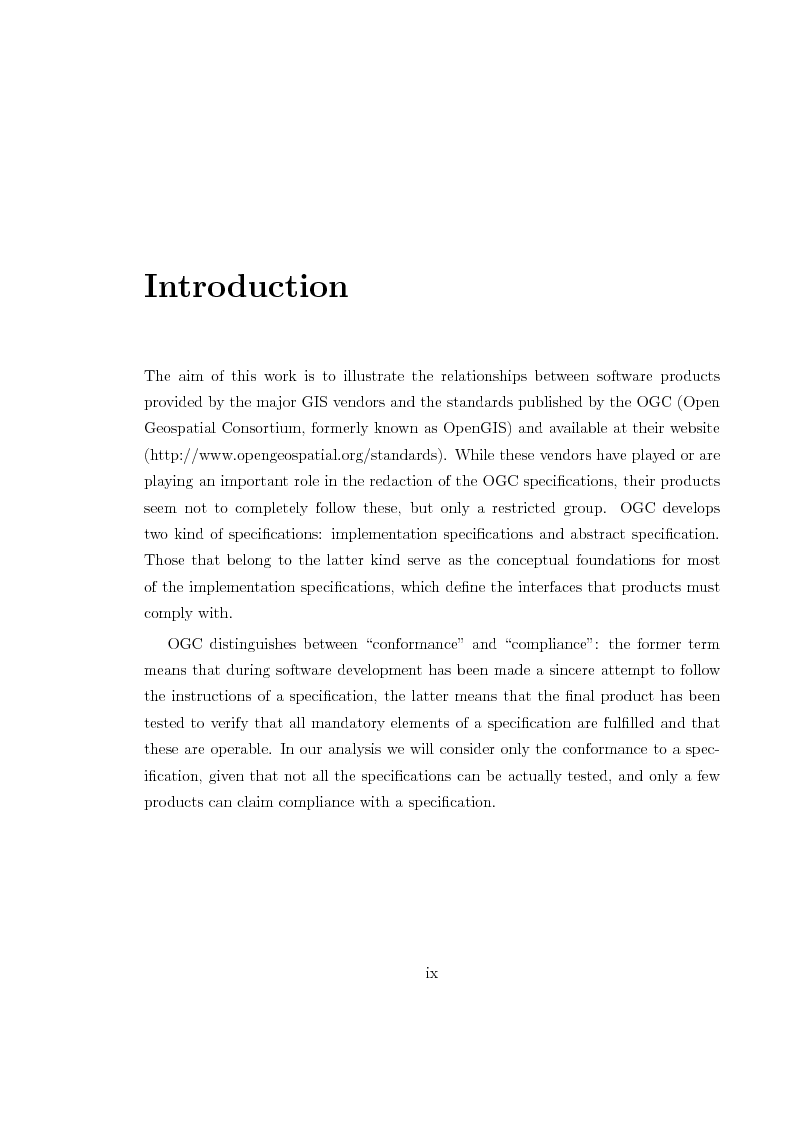 Laurea liv.I
Facoltà: Ingegneria
Autore: Alberto Fiore Contatta »
Composta da 171 pagine.
Questa tesi ha raggiunto 487 click dal 27/02/2007.
Consultata integralmente 2 volte.
Disponibile in PDF, la consultazione è esclusivamente in formato digitale.