Innovative Steam Generator for Sodium-Cooled Fast Reactors
L'anteprima di questa tesi è scaricabile in PDF gratuitamente.
Per scaricare il file PDF è necessario essere iscritto a Tesionline.
L'iscrizione non comporta alcun costo. Mostra/Nascondi contenuto.
1.1. European Reactors The three primary sodium pumps are variable speed units (150 to 970 rpm) deliv- ering about 950 kg/s at 825 rpm, which is their normal service speed. The circulating sodium enters the core at 400◦C and moves from there, at 560◦C, to six intermediate heat exchangers which are connected in pairs with three independent secondary loops. Sodium must be kept very pure to prevent corrosion of the steel piping and plugging of circuit components. It is purified by cold traps operating on the principle of precipitation of any oxide in the sodium at low temperature. Secondary sodium, which is not radioactive, is circulated by a mechanical pump with a flow delivery of 700 kg/s. It enters the intermediate heat exchangers (IHX) at 350◦C and leaves at 550◦C. Each secondary loop is connected to a steam generator consisting of an evaporator, superheater, and reheater, in 12 modules for each stage. Figure 1.4: Phenix steam generator design The intermediate heat exchanger (IHX) transfers heat from the primary radioactive 10
Anteprima della Tesi di Lorenzo Fiorentino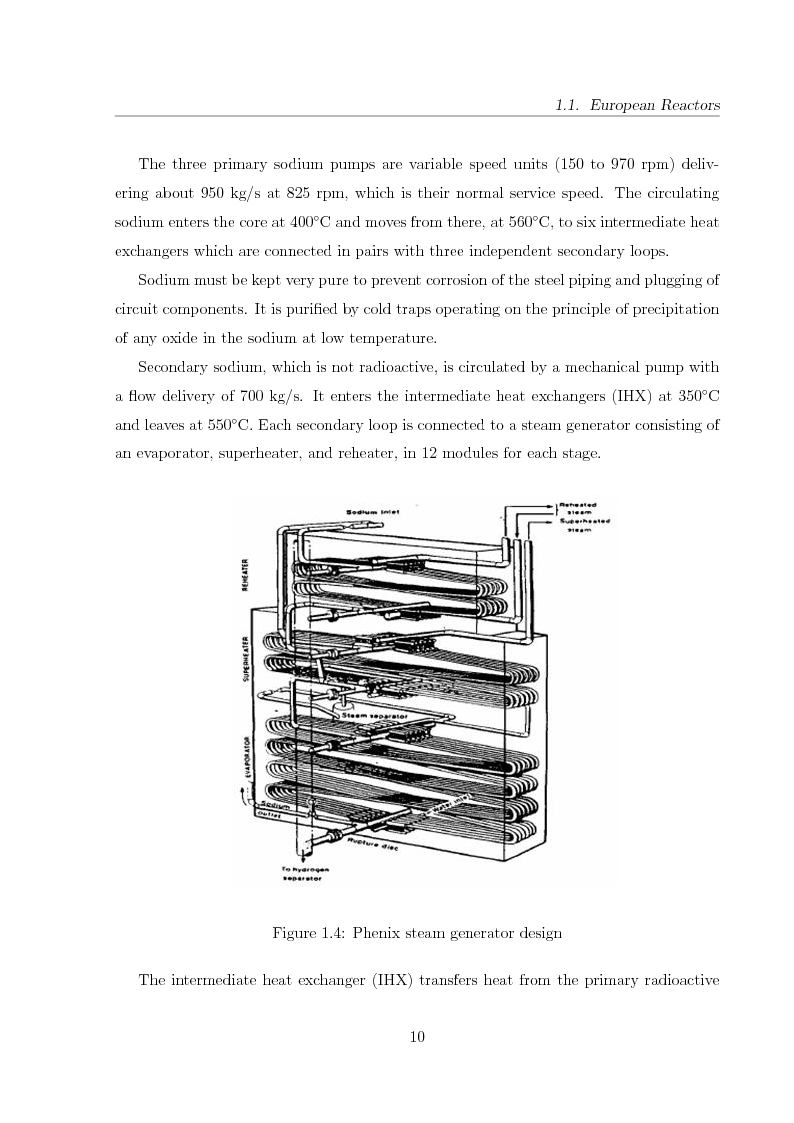 Laurea liv.II (specialistica)
Facoltà: Ingegneria
Autore: Lorenzo Fiorentino Contatta »
Composta da 191 pagine.
Questa tesi ha raggiunto 524 click dal 15/10/2008.
Disponibile in PDF, la consultazione è esclusivamente in formato digitale.