The evolution of Venture Capital and Private Equity Investment Models for the development: Europe, USA, and Israel Markets. ''Start Ups Boom'' starting to boostrap High Tech in the Universities
L'anteprima di questa tesi è scaricabile in PDF gratuitamente.
Per scaricare il file PDF è necessario essere iscritto a Tesionline.
L'iscrizione non comporta alcun costo. Mostra/Nascondi contenuto.
17 F i r s t P a r t VENTURE CAPITAL FOR THE "START UPS" Abstract : In the early chapters has been shown that firms, regions, states, where most technological innovation, scientific research, investment in human capital, and entrepreneurship, have the best prospects for creating wealth and jobs. The acceleration of technological change has led to the exasperation of a particular form of capitalism that strongly encourages innovative entrepreneurship: Venture Capital. Have been analyzed its rule, adopted business models and success stories in recent years from the dot-com bubble of 2000. Particularly in the funds operating in the first quartile, acting with a "hands on", supporting entrepreneurs in business development and networking in the commercial and financial. This is the financing of young firms operating in high growth sectors, with a form of investment which has a long-term, illiquid and tends to a significant level of risk, which aims to achieve returns comparatively higher than other forms of funds. Starting to angel investing dedicated to boostrapping (50-200k €), dedicated funds for early -stage seed (€ 200k -2M), those dedicated to firsth round (2M-5M €), growth capital (5M -50M €). It was possible to see how successful organizations have to hunt for innovations, which are products or business models, using the grid in ascending order of the opportunities offered by the Internet and new technologies from the so-called " New Economy ", through the activation of relevant network effects, has focused a significant amount of investors and venture backed companies. Among the key nodes of the network, the Spin Off: The real engine of the brain, the universities, these research-oriented, such as Stanford, Columbia and MIT in the U.S. or Jerusalem or Tel Aviv University, which, almost entirely devoted to Venture-backed securities, generating a steady stream of ideas and potentially transferable human capital on the market. See inc. such as Apple, Microsoft, Google, the world's best earnings per share
Anteprima della Tesi di Diego Tha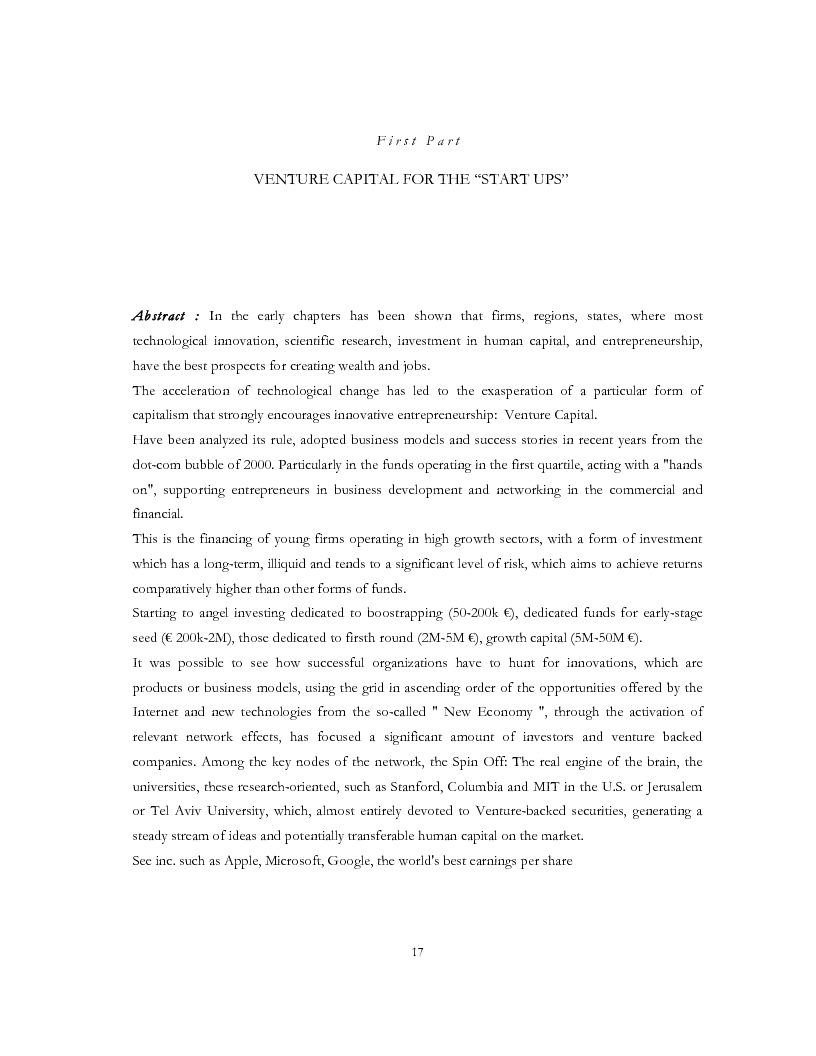 Laurea liv.II (specialistica)
Facoltà: Economia
Autore: Diego Tha Contatta »
Composta da 210 pagine.
Questa tesi ha raggiunto 273 click dal 10/06/2011.
Consultata integralmente una volta.
Disponibile in PDF, la consultazione è esclusivamente in formato digitale.