The low-cost airline model in Europe on the example of Ryanair and the passengers' perception
L'anteprima di questa tesi è scaricabile in PDF gratuitamente.
Per scaricare il file PDF è necessario essere iscritto a Tesionline.
L'iscrizione non comporta alcun costo. Mostra/Nascondi contenuto.
3 INTRODUCTION The purpose of this thesis is to present and analyze the Irish airline company "Ryanair" as a low-cost carrier. We hope to deepen our knowledge on strategic issues, both practically by investigating the strategies of the airline and theoretically by studying theoretical frameworks and models concerning its strategic management. Low-cost airlines have undoubtedly revolutionised the way the airline market operates. The most recognised marked effect has plausibly been in relation to the availability of low fares, and the prominent increase in the choice of destinations and airports available to passengers. The heart of the thesis is based on providing an all-round profile of low-cost Ryanair model and its strategy made in order to stimulate demand, particularly from budget-conscious leisure travellers, who might otherwise have used alternative forms of transportation, or who might not have travelled at all. Ryanair itself advertises these cost advantages as follows: "[...] Low Fares and friendly, efficient service, that's our way. And how do we do it? Superb cost management. Landing in airports that don't rip you off [...]" (http://www.ryanair.com/en/careers/working-for-ryanair). In this introductive part therefore, research questions are formulated, followed by thesis aims and objectives. An overview of the methodology used and of the overall thesis structure is presented as well. In detail, the aim is to investigate the strategic moves of Ryanair and thereby reflect the recent events within the industry and the current situation by answering the following research questions: Which major changes, both economically and geographically brought Ryanair in Europe ? How Ryanair can keep such a low-cost fares ?
Anteprima della Tesi di Mauro Micheletti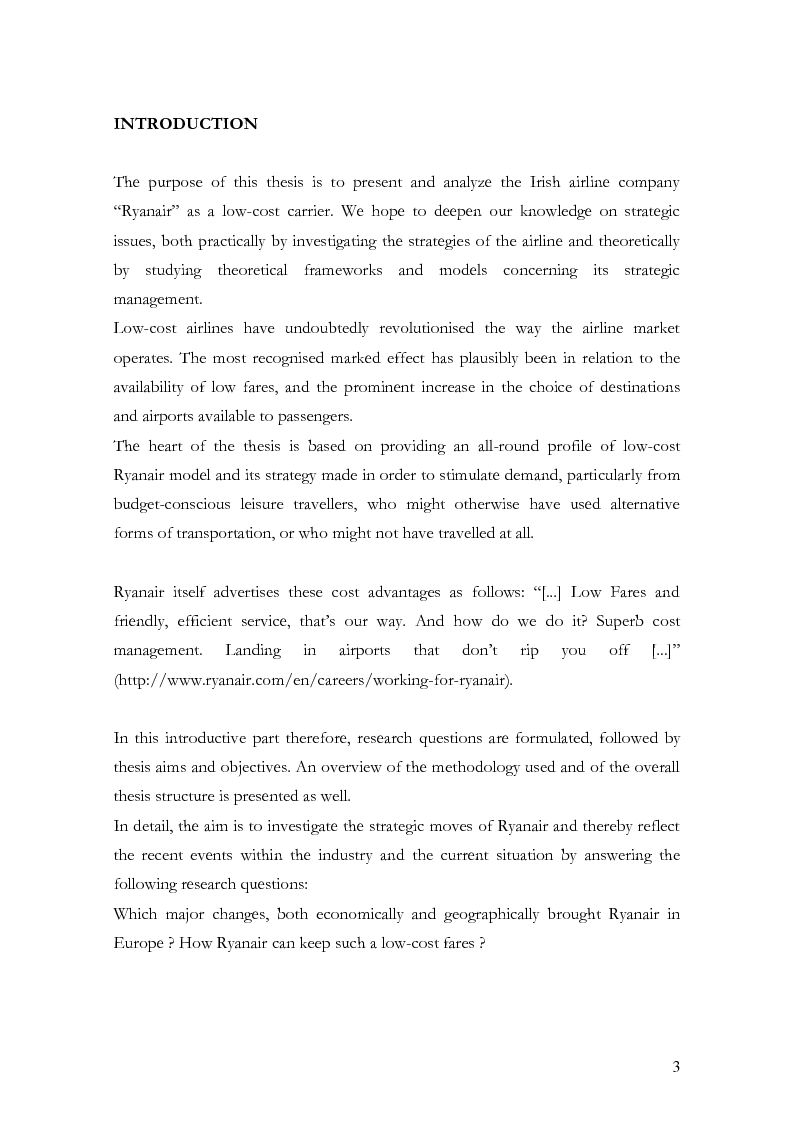 Laurea liv.II (specialistica)
Facoltà: Department of Earth Sciences and Environmental Management
Autore: Mauro Micheletti Contatta »
Composta da 73 pagine.
Questa tesi ha raggiunto 2444 click dal 12/11/2012.
Disponibile in PDF, la consultazione è esclusivamente in formato digitale.