The low-cost airline model in Europe on the example of Ryanair and the passengers' perception
L'anteprima di questa tesi è scaricabile in PDF gratuitamente.
Per scaricare il file PDF è necessario essere iscritto a Tesionline.
L'iscrizione non comporta alcun costo. Mostra/Nascondi contenuto.
4 The research questions will be answered throughout the thesis, starting from chapter 1, where we will provide background and justification for undertaking the research. Chapter 2 is dedicated to the history of Ryanair. The company is introduced from its early stages, when it was just a small 1-route company, to the last decade, when it became the largest low-cost airline in Europe, with more than 1100 low fare routes across 26 countries, connecting 157 destinations with a fleet of 250 aircraft. Chapter 3 analyses the low-cost business system, focusing on Ryanair peculiarities. We will set out the main innovations in the low-cost phenomenon and we will outline how Ryanair model works and in which respect it differs from traditional airlines. Hence, the extents to which Ryanair have changed the aviation market will be discussed, both in relation to how airlines as a whole have responded to the low- cost innovations, and also how new secondary airports have been, somewhat surprisingly, successful. Within chapter 4, we will focus on the efficient use of labour made by Ryanair, since as also stated by Barrett (2004), one of the contributions to the Ryanair low-cost model, comes from its labour productivity. Chapter 5 includes the empirical data collected by a questionnaire undertaken by the author in the airport of Wroclaw in order to obtain greater understanding of needs and expectation of Ryanair passengers. Successively the data are analysed and results are discussed in regard to the theories and models introduced in chapter 3. In the final conclusions, the main points are summarized in consideration of the purpose and research questions.
Anteprima della Tesi di Mauro Micheletti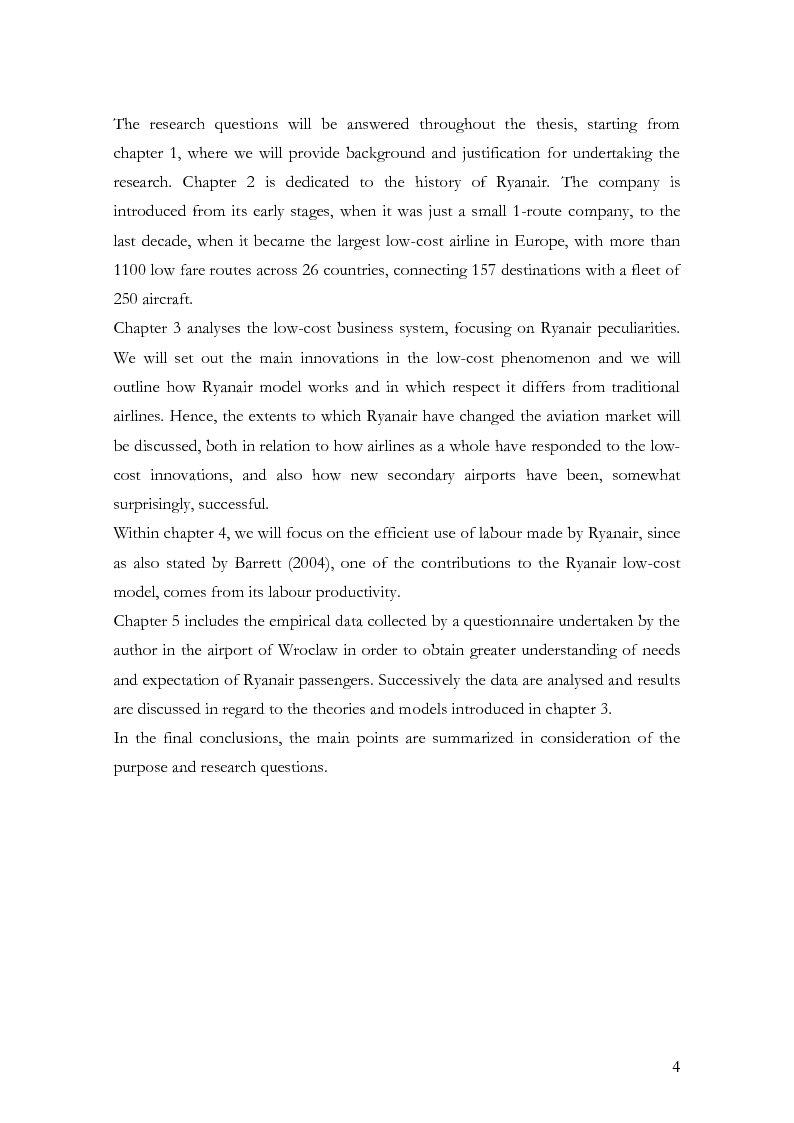 Laurea liv.II (specialistica)
Facoltà: Department of Earth Sciences and Environmental Management
Autore: Mauro Micheletti Contatta »
Composta da 73 pagine.
Questa tesi ha raggiunto 2444 click dal 12/11/2012.
Disponibile in PDF, la consultazione è esclusivamente in formato digitale.