The Energy Conversions in a Hybrid-Propulsion Vehicle with Planetary Gear Set
L'anteprima di questa tesi è scaricabile in PDF gratuitamente.
Per scaricare il file PDF è necessario essere iscritto a Tesionline.
L'iscrizione non comporta alcun costo. Mostra/Nascondi contenuto.
8 • Operating metro-highway range of at least 380 miles (610 km) on the 1994 Federal Drive Cycle. • Equivalent to comparable 1994 family sedans in all of the following aspects: - Performance in all areas, including acceleration, cruising speed, gradeability, and driveability at sea level and at higher altitudes - Ride and handling - Noise, vibration, and harshness control - Customer features and options, including climate control and entertainment packages - Total cost of ownership (with non-preferential tax treatment on a BTU basis) adjusted for economics - Minimum useful life of 100,000 miles (160,000 km) with comparable or improved service intervals and refuelling time - Capable of being easily produced for export and sale in major world markets. Fig. 3 Schedule for PNGV Technology Selection 1.4 The PNGV Technology Challenge The distribution of energy in a current mid-size (family sedan) vehicle is shown in Figure 4. Note that in this typical vehicle system, only 12.6 percent of the energy turns the wheels after engine, standby, driveline, and other losses on the U.S. Federal Urban Test Cycle. Major advances must be made in several technologies simultaneously in order to achieve an 80 mpg vehicle. Improving the fuel economy requires a three-pronged approach: 1) Convert energy more efficiently, 2) Implement regenerative braking to recapture energy, and 3) Reduce the energy demand from the vehicle. Fig. 4 Energy Distribution in a Mid-Size Vehicle
Anteprima della Tesi di Marco Santoro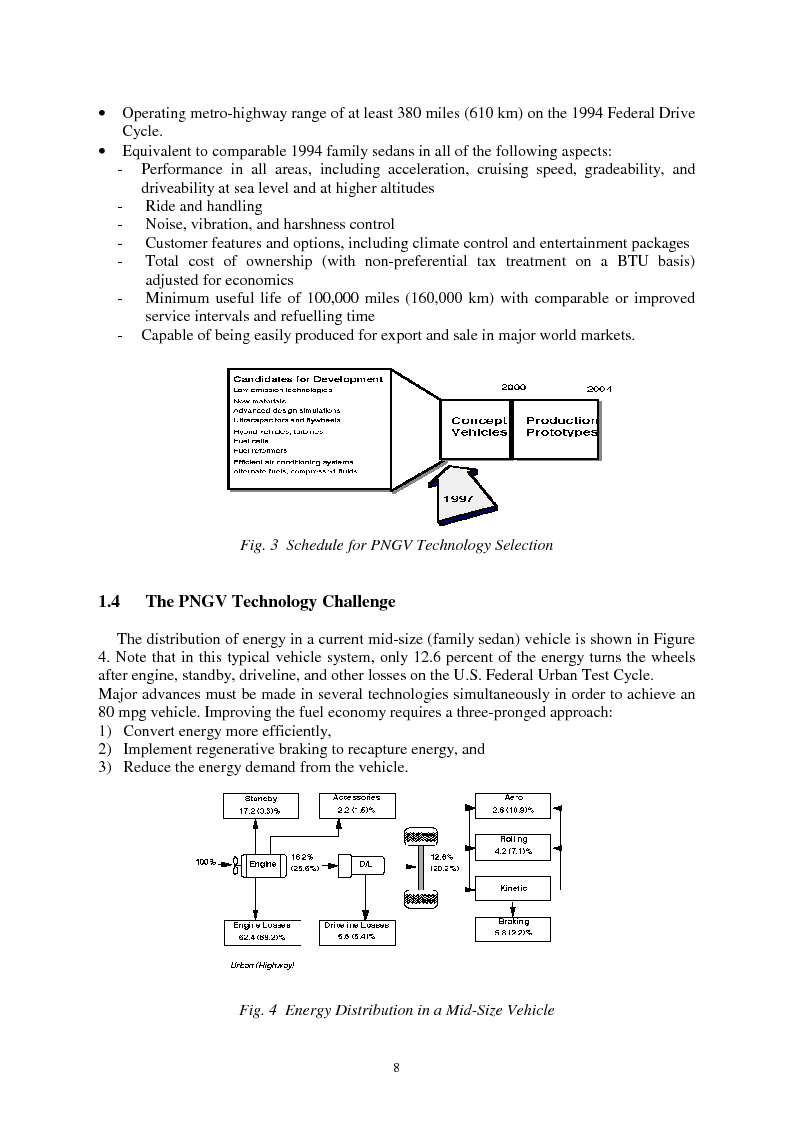 Tesi di Dottorato
Dipartimento: Dip. di Ingegneria Nucleare e Conversioni Energia
Autore: Marco Santoro Contatta »
Composta da 147 pagine.
Questa tesi ha raggiunto 824 click dal 20/03/2004.
Consultata integralmente una volta.
Disponibile in PDF, la consultazione è esclusivamente in formato digitale.