The effects of line-side supply on individuals employed in satellite operations within automotive maunfacturers
L'anteprima di questa tesi è scaricabile in PDF gratuitamente.
Per scaricare il file PDF è necessario essere iscritto a Tesionline.
L'iscrizione non comporta alcun costo. Mostra/Nascondi contenuto.
is matched to the production structure of the OEM in order to deliver a finished product and limit the work in progress. The Venture Industries Handbook (2000:20) describes other main features of a synchronized plant. One feature referred to is empowerment i.e. giving decisional power to the people who are in close contact with the operation. The second main feature referred to, is the ability to identify problems quickly and to solve them in the shortest possible time. The main objective of a synchronized system is to generate an organisation, which can compete in the global village. The organisation empowers its people, provides long-term success and security and develops a harmonious climate amongst its employees. In South Africa there is a need for positive organisational climates. Siegel (1999:20) explains that seventy-seven percent (77%) of South Africans have been exposed to negative experiences and behaviour in the workplace. A positive atmosphere in the workplace is conducive to positive labour relations. In South Africa, labour relations play an important role as the country's political situation impacts heavily on the productivity levels of organisations (Anstey, 1999:55). 1.5.3 Just-In-Time The just-in-time theory is a component of both lean and synchronous manufacturing, but its core concepts form an important basis for both lean and synchronous manufacturing. Todd (1995:10) defines just-in-time as the
Anteprima della Tesi di Carlo Bocchi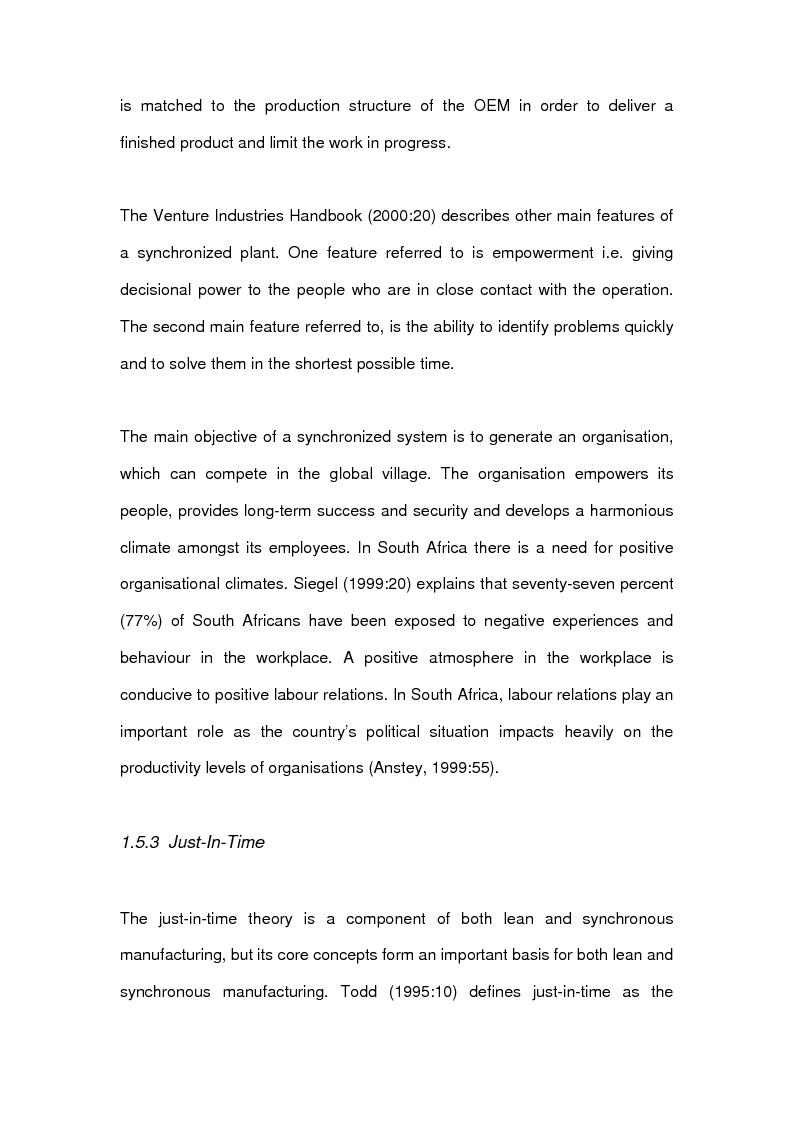 Tesi estera
Autore: Carlo Bocchi Contatta »
Composta da 108 pagine.
Questa tesi ha raggiunto 266 click dal 20/03/2004.
Disponibile in PDF, la consultazione è esclusivamente in formato digitale.