The Nature of the Interactions between Local Authorities and the EU. A Case Study from the North East of England
L'anteprima di questa tesi è scaricabile in PDF gratuitamente.
Per scaricare il file PDF è necessario essere iscritto a Tesionline.
L'iscrizione non comporta alcun costo. Mostra/Nascondi contenuto.
7 Yet, liberal intergovernmentalism is not completely foolproof. Above all, it fails to fully grasp the complexity, both in terms of actors and dynamics, of the process that leads to the formation of domestic preferences. Arguably, this is where MLG has an edge over LI. Thus, it is perhaps not too daring to attempt to combine the two. This is what the second chapter sets out to do. Its first section challenges the widespread practice of presenting multi-level governance and liberal intergovernmentalism as mutually exclusive theories and highlights how the two can complement each other. Subsequently it tests this theoretical assumption by looking at the effect of EU regional policy on the mobilisation of sub-national actors in Britain. A clarification is required on this point, as students of multi-level governance often confuse two distinct phenomena. The mobilisation of local and regional governments is different from the mobilisation of non-governmental or quasi-governmental actors. As this second chapter shows, the latter could be even detrimental to the former. The final chapter presents the results of a case study on local authorities in the North East of England. Again, the focus is on EU structural funds (SF). Firstly, the chapter looks at how involved local authorities are in the management of structural funds. Particular emphasis is placed on the distinction between programme drafting and implementation stages. In the light of the conclusions reached, it then proceeds to evaluate whether, and how, years of involvement in EU-funded initiatives have empowered sub-national authorities in the North East. The way they lobby in Brussels is also analysed, as it can provide evidence of effective sub-national mobilisation. The case study on the North East is not intended to necessarily provide material for European- or country-wide generalisations. Rather, its purpose is to shed some light on the nature of the mobilisation of sub-national authorities in an area that has been largely ignored so far. Ultimately, the case study allows for a further testing of the theoretical hypothesis, laid out at the beginning, concerning the complementary nature of liberal intergovernmentalism and multi-level governance theory.
Anteprima della Tesi di Andrea Chilese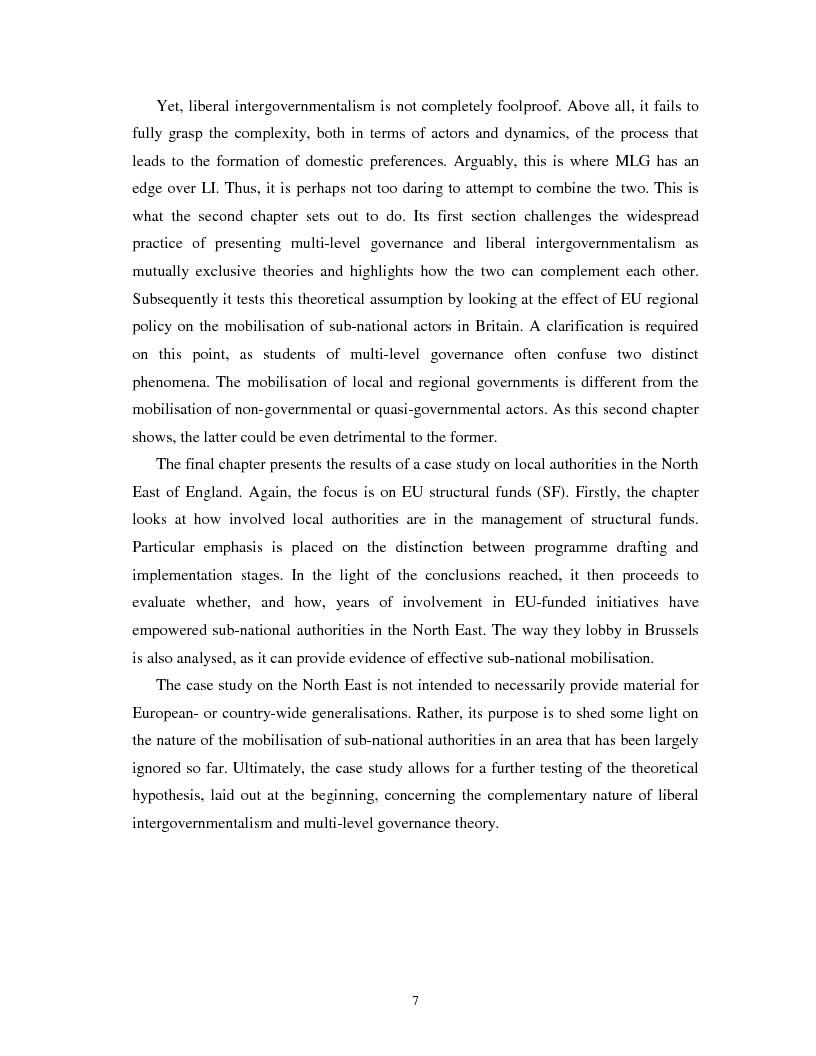 Tesi di Master
Autore: Andrea Chilese Contatta »
Composta da 64 pagine.
Questa tesi ha raggiunto 411 click dal 20/03/2004.
Consultata integralmente 2 volte.
Disponibile in PDF, la consultazione è esclusivamente in formato digitale.