The Nature of the Interactions between Local Authorities and the EU. A Case Study from the North East of England
L'anteprima di questa tesi è scaricabile in PDF gratuitamente.
Per scaricare il file PDF è necessario essere iscritto a Tesionline.
L'iscrizione non comporta alcun costo. Mostra/Nascondi contenuto.
9 1.1 Liberal intergovernmentalism The main reasons why Moravcsik's work is often considered as belonging to the intergovernmentalist tradition is that it explains EU policy-making as a two-level game, taking a clear intergovernmentalist approach to State bargaining at EU-level. However, by adopting a liberal approach to domestic preference formation, Moravcsik detaches himself from traditional intergovernmentalist thinking (Rosamond, 2000). Indeed, one of the strengths of LI seems to be precisely its ability to integrate the two approaches. Moravcsik's point of departure, namely a constructive critique of neofunctionalism and of recent attempts to revive it, further enhances the completeness of his work. Liberal intergovernmentalism is based on the assumption that the process leading to international co-operation starts within each State 2 . In the domestic arena, various groups express their preferences on specific issues. Because the primary aim of those in power is to remain in power, which, in a democratic State, implies winning general elections, national decision-makers are responsive to domestic preferences. Once aggregated by the national government, such preferences become the basis for inter- State bargaining. The reason why independent States are compelled to engage in various forms of international co-operation is linked to the increasing importance of transborder flows of various kinds. '[G]overnments have an incentive to co-operate where policy co-ordination increases their control over domestic policy outcomes, permitting them to achieve goals that would not otherwise be possible' (Moravcsik, 1993: 485). This is especially the case where, due to increasing interdependence, domestic groups' preferences transcend the limits of national jurisdictions. Thus, eventually, States may chose to delegate some of their sovereignty to an international agency in the attempt to achieve a particular aim. This choice and the width of such delegation depend on variables such as the uncertainty and risks surrounding a certain issue, the cost and benefit implied in co-operating and the extent to which non-compliance from other actors is likely. Of course, similar variables can be extremely difficult to quantify. 2 The paragraph that follows, unless specified otherwise, draws on the already mentioned Moravcsik's papers.
Anteprima della Tesi di Andrea Chilese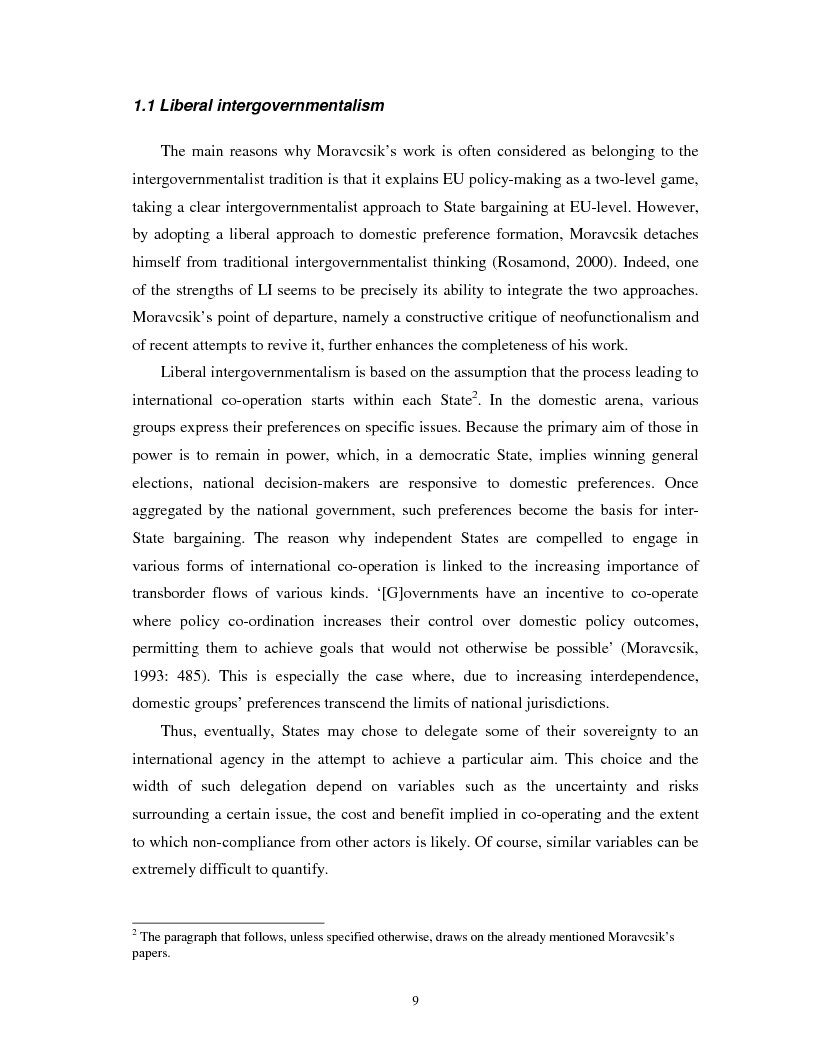 Tesi di Master
Autore: Andrea Chilese Contatta »
Composta da 64 pagine.
Questa tesi ha raggiunto 411 click dal 20/03/2004.
Consultata integralmente 2 volte.
Disponibile in PDF, la consultazione è esclusivamente in formato digitale.