A decision-making model as an assisting tool in designing evaluation strategies for integrated rural development programmes
L'anteprima di questa tesi è scaricabile in PDF gratuitamente.
Per scaricare il file PDF è necessario essere iscritto a Tesionline.
L'iscrizione non comporta alcun costo. Mostra/Nascondi contenuto.
an objective 1 project) may be seen by local authorities as an opportunity to keep people in a rural area, by the people involved as a way to increase their income and by the European Commission as a means to diminish agricultural surpluses. All actors may be affected by the evaluation, but their level of interest must be assessed. Some persons or organisations may have only marginal interests at stake, therefore the principal stakeholders must be identified on the basis of how much they need and want the evaluation. This also means that the organisation who pays for the evaluation is certainly one of the principal stakeholders. There are two categories of principal stakeholder: who need the evaluation to make decisions and who are affected by such decisions (Case, 1987), which can affect the evaluated project itself (ex-ante, during the implementation) or future projects (ex-post). Casley and Kumar (1987) state that an effort should be made to incorporate beneficiaries' assessments into the project evaluation, in order to enrich the quality of the evaluation and enable the evaluator to draw conclusions that are more relevant, even if not necessarily more statistically reliable. Of course, they continue, beneficiaries should be asked to assess only those aspects that they are aware of and affected by, and anyway beneficiary's assessment is a supplement to, not a substitute for, conclusions drawn from objective data. After the identification of the principle stakeholder and before the decisions about the evaluation design, it is absolutely necessary to clarify the aims and objectives of the project for the different actors involved. The objectives of a project are usually stated in official documents. Nonetheless, some objectives may not be expressed but may be real for some actors (politicians, administrators, technicians, etc.). It may also happen that objectives are vague or even opposite, alternative ways of action are unlimited or consequences of decisions cannot be easily foreseen. As a consequence, conclusions about the evaluation aims and objectives derive from the actors and their interests in the project.
Anteprima della Tesi di Alessandro Zampagna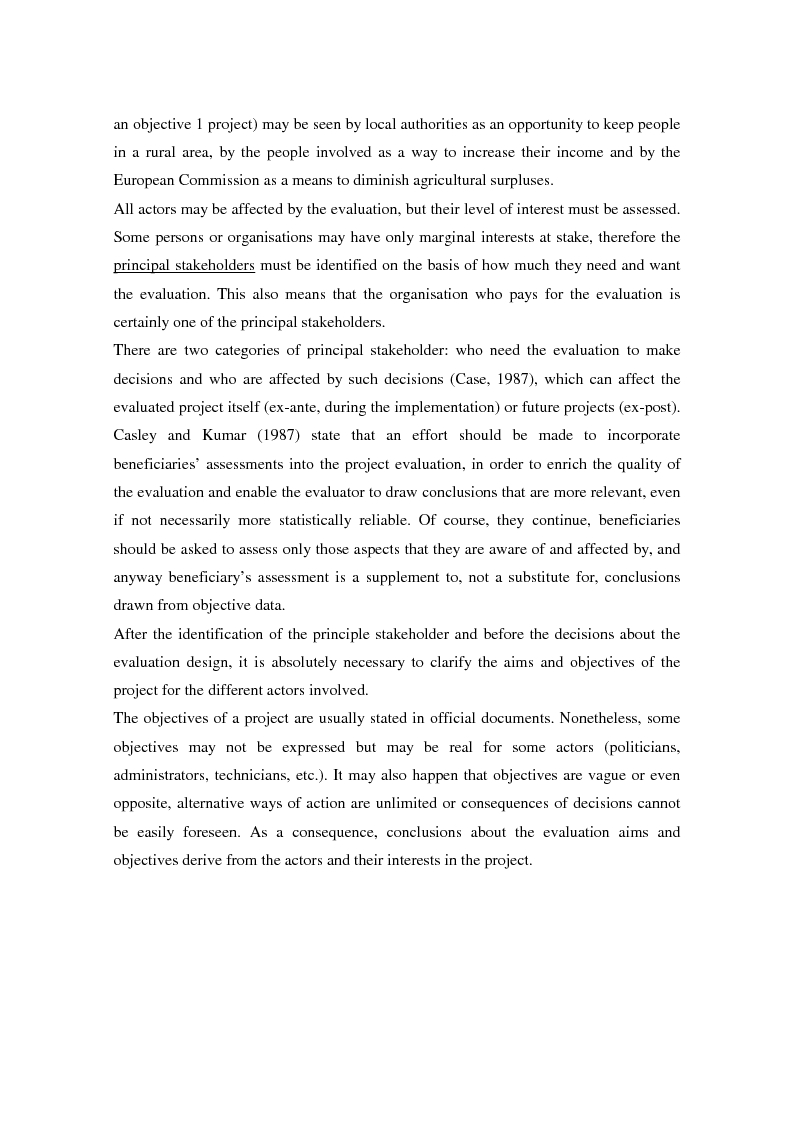 Tesi di Dottorato
Dipartimento: Agribusiness, Extension and Rural Development
Autore: Alessandro Zampagna Contatta »
Composta da 276 pagine.
Questa tesi ha raggiunto 644 click dal 20/03/2004.
Consultata integralmente una volta.
Disponibile in PDF, la consultazione è esclusivamente in formato digitale.