A decision-making model as an assisting tool in designing evaluation strategies for integrated rural development programmes
L'anteprima di questa tesi è scaricabile in PDF gratuitamente.
Per scaricare il file PDF è necessario essere iscritto a Tesionline.
L'iscrizione non comporta alcun costo. Mostra/Nascondi contenuto.
As a consequence of the evolution of the concept of the rural world, public authority's approach to regional development has changed too. The focus is now on rural development, conceived as the general improvement of the socio-economic well-being of rural populations, obtained through social, productive and commercial initiatives. The emphasis on global and inter-sector development of the socio-economic structure of a rural area, opposed to previous development policies based on separate productive sectors, has been strongly adopted by the European Community ("Il Futuro del Mondo Rurale", Commission of the European Communities, 1988). In the Community policy, the development of rural areas is not obtained any more by financial "injections" with limited effect in time and often "charitable" characteristics, but must be "endogenous", that is must valorise local potentiality in terms of production, commerce and services, but also include the cultural and social environment. Fundamental is therefore the use of the resources of a territory: natural, architectonic and artistic amenities, typical agricultural, wood and craftsmanship produce, cultural traditions, professional expertise, existing productive and service activities (Lipani, 1988). However, endogenous does not mean "autochthonous only", and the local potential must be integrated with external resources that are missing in the area (capital, training, skills, consultancy, etc.) which can give precious help in terms of income and employment, always avoiding external dependence and assuring integration with the local socio- economic and natural environment. No sector is excluded, on the contrary a diversification is considered positive if it can meet local needs. Subsequently, extemporaneous aids to one economic sector have been replaced by Integrated Programmes, which have common objectives and modalities, involve several sectors and aim at the creation of employment, the improvement of the agricultural production, the development of tourism, craftsmanship, small and medium industry and training, the valorisation of natural and cultural heritage, the creation of infrastructures, etc. Integrated programme planning is therefore based on local potential and aims to ameliorate the use of financial aids. Moreover, it implicates the common and organic engagement of all the socio-economic actors of the different sectors, from firms to public administration, from research and innovation agencies to training centres.
Anteprima della Tesi di Alessandro Zampagna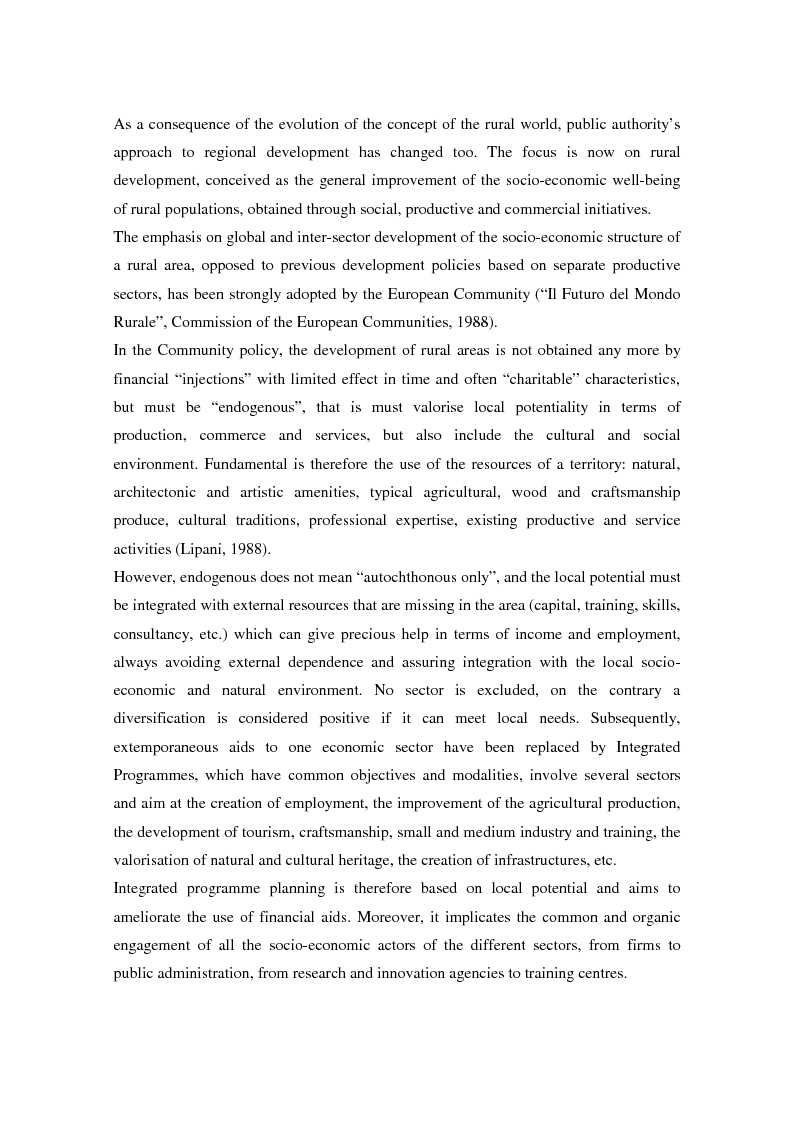 Tesi di Dottorato
Dipartimento: Agribusiness, Extension and Rural Development
Autore: Alessandro Zampagna Contatta »
Composta da 276 pagine.
Questa tesi ha raggiunto 644 click dal 20/03/2004.
Consultata integralmente una volta.
Disponibile in PDF, la consultazione è esclusivamente in formato digitale.