A decision-making model as an assisting tool in designing evaluation strategies for integrated rural development programmes
L'anteprima di questa tesi è scaricabile in PDF gratuitamente.
Per scaricare il file PDF è necessario essere iscritto a Tesionline.
L'iscrizione non comporta alcun costo. Mostra/Nascondi contenuto.
with the general effort of the Community to decrease the economic distance between North and South in the continent. In Italy, one of the regions involved has been Emilia-Romagna, with a Programme for the Apennines area called "Emilia-Romagna Integrated Mediterranean Programme". The IMPs have represented a new way to promote regional development and have been one of the first applications of the partnership between European, national and regional authorities, which has become now common practice in the Community. 1.2. THE PROBLEM The art of project evaluation has changed extensively in the last decades, as regional and rural development projects have evolved from short well-defined economic interventions into broad multi-sector integrated programmes. As a result of this change, while economic cost-benefit analysis was in practice the only evaluation method in use a few years ago, a wide range of techniques, which take into account many different factors, are today available and utilised by professionals. Nonetheless, whilst many evaluation techniques and several evaluation models have been developed, their application to real cases has often proved difficult, as the match between the specific evaluation context and the adopted techniques is not easy. The application of techniques that are not suitable to the context leads often to evaluations which are either badly performed or meaningless. In the literature, many evaluation techniques have been developed, but there is not any examples of decision-making models which help the evaluator to design a meaningful and effective evaluation. Such a decision-making tool should consider all available techniques and guide the evaluator to a correct design for the evaluation of a specific project. Therefore, what is missing is a decision-making model for evaluation design, a model of a superior logical level in relation to existing models.
Anteprima della Tesi di Alessandro Zampagna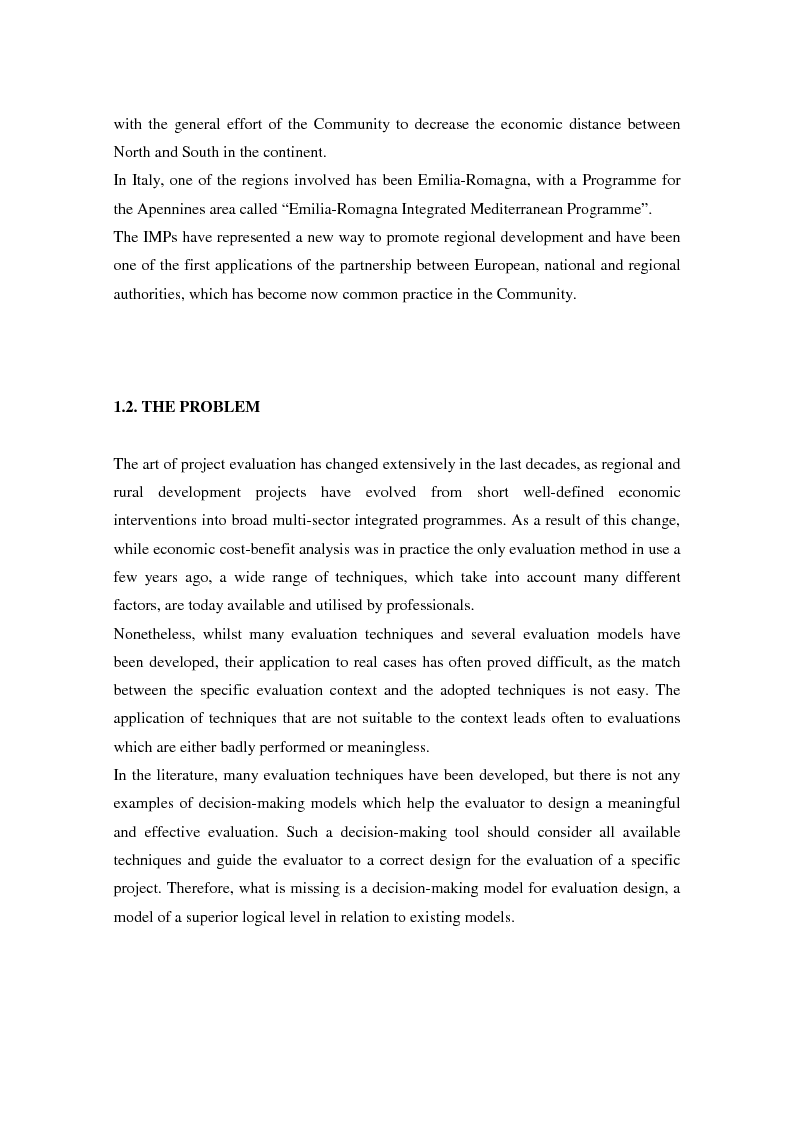 Tesi di Dottorato
Dipartimento: Agribusiness, Extension and Rural Development
Autore: Alessandro Zampagna Contatta »
Composta da 276 pagine.
Questa tesi ha raggiunto 644 click dal 20/03/2004.
Consultata integralmente una volta.
Disponibile in PDF, la consultazione è esclusivamente in formato digitale.