A decision-making model as an assisting tool in designing evaluation strategies for integrated rural development programmes
L'anteprima di questa tesi è scaricabile in PDF gratuitamente.
Per scaricare il file PDF è necessario essere iscritto a Tesionline.
L'iscrizione non comporta alcun costo. Mostra/Nascondi contenuto.
1.3. OBJECTIVES OF THE STUDY The overall objective of this study is to delineate, apply and revise a decision-making model for development project evaluation, in order to create a tool to help evaluators to plan and carry out an effective and meaningful evaluation for each specific situation. To give direction to the study the following specific objectives were formulated: 1. To examine and categorise existing project evaluation techniques, analysing their characteristics and suitability to different circumstances. 2. To identify crucial criteria involved in the choices leading to the evaluation design. 3. To outline a model for evaluation design which can help the evaluator to plan an effective and meaningful evaluation with regard to specific criteria. 4. To describe Emilia-Romagna Integrated Mediterranean Programme, considered as significant example of a rural development programme. 5. To apply the model for evaluation design to Emilia-Romagna Integrated Mediterranean Programme that, due to its complexity and size, can be considered a relevant test for the model. 6. To compare the theoretical evaluation design resulting from the application of the model with the actual performed evaluation and determine the improvements, if any, which the application of the model would have brought. 7. To re-examine the model in the light of the comparison between theoretical and actual evaluation.
Anteprima della Tesi di Alessandro Zampagna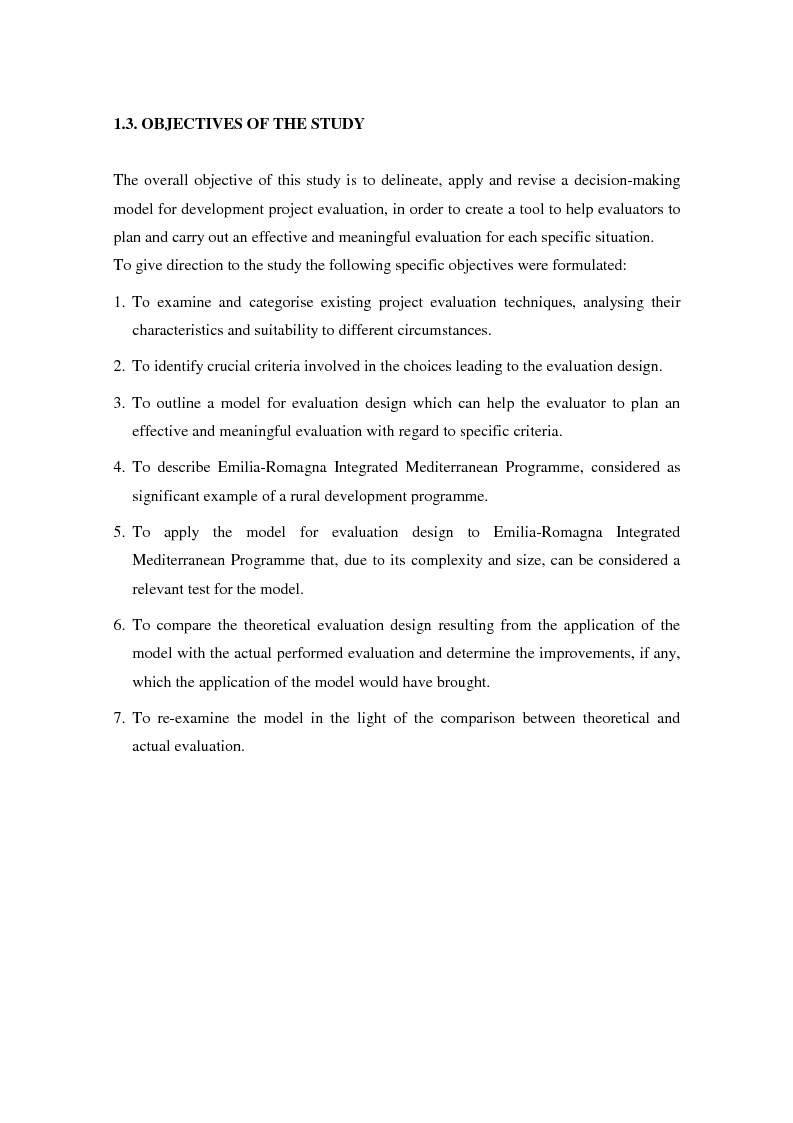 Tesi di Dottorato
Dipartimento: Agribusiness, Extension and Rural Development
Autore: Alessandro Zampagna Contatta »
Composta da 276 pagine.
Questa tesi ha raggiunto 644 click dal 20/03/2004.
Consultata integralmente una volta.
Disponibile in PDF, la consultazione è esclusivamente in formato digitale.