A decision-making model as an assisting tool in designing evaluation strategies for integrated rural development programmes
L'anteprima di questa tesi è scaricabile in PDF gratuitamente.
Per scaricare il file PDF è necessario essere iscritto a Tesionline.
L'iscrizione non comporta alcun costo. Mostra/Nascondi contenuto.
1.6. DATA COLLECTION AND ANALYSIS The sources of the bibliography on rural development and project evaluation were the Library of University College Dublin in Ireland, the Library of the University of Bologna, D.I.A. (Documentation Centre for the agro-food sector) of Reggio Emilia and COOPERGA (the Emilia-Romagna IMP official evaluator) in Italy, and Internet. All information about the Integrated Mediterranean Programmes at European and national level was collected thanks to the help of the IMPs Office of the Department of Community Policies of the Italian Government and of the IMP Support Organisation in Rome, both by means of the official documents that were kindly furnished and of the interviews with the three main responsibles of the two structures. The interviews were quite open, with no questionnaires but a list of points to be analysed. This method was judged appropriate, as the interviews aimed to collect qualitative information and opinions more than hard data and information, that were available in official documents. All the information about Emilia-Romagna Integrated Mediterranean Programme has been obtained from the regional administration. Detailed interviews have been carried out with the personnel responsible for the Integrated Mediterranean Programme activities in the Emilia-Romagna Region. Eight interviews were carried out with the same technique used with the officials of the Department of Community Policies and of the IMP Support Organisation. Also all relevant documents and financial data have also been gathered thanks to the collaboration of the administrators of Emilia-Romagna Region. Data have been collected, elaborated when necessary through data sheets, and analysed to obtain a thorough description of the Programme.
Anteprima della Tesi di Alessandro Zampagna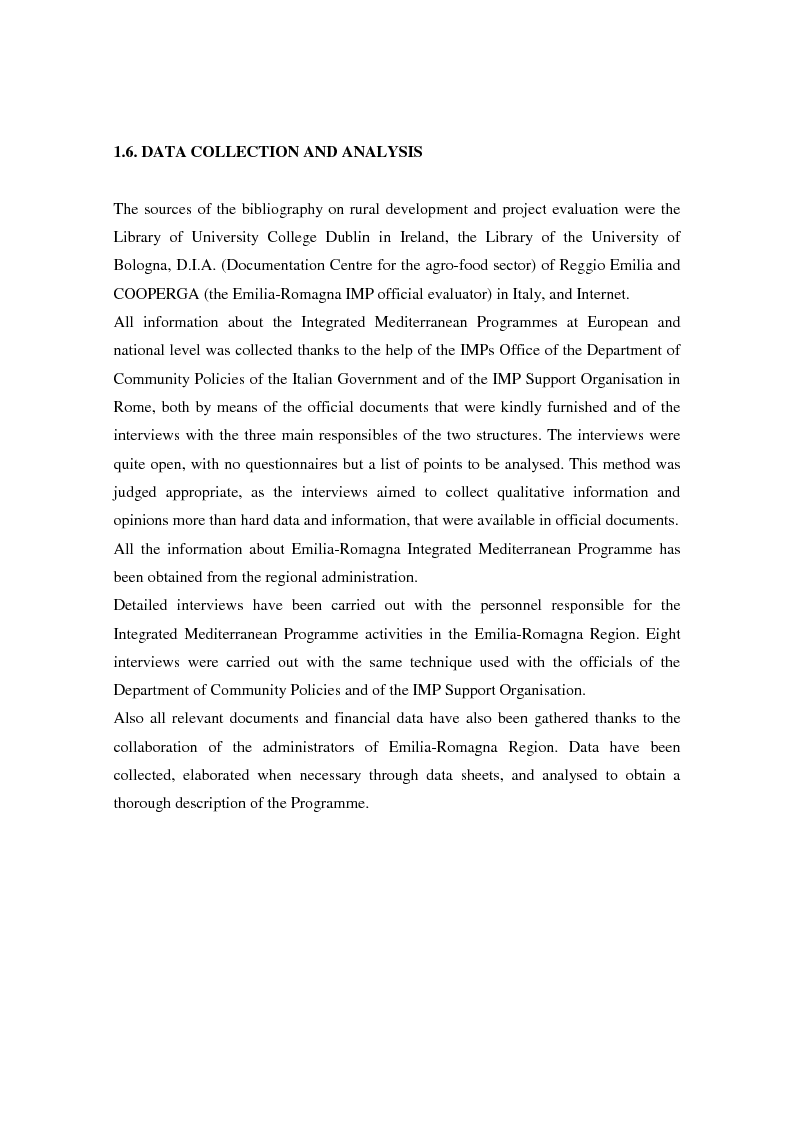 Tesi di Dottorato
Dipartimento: Agribusiness, Extension and Rural Development
Autore: Alessandro Zampagna Contatta »
Composta da 276 pagine.
Questa tesi ha raggiunto 644 click dal 20/03/2004.
Consultata integralmente una volta.
Disponibile in PDF, la consultazione è esclusivamente in formato digitale.