Charles Brockden Brown's Edgar Huntly: Sleepwalking through the Wildeness
L'anteprima di questa tesi è scaricabile in PDF gratuitamente.
Per scaricare il file PDF è necessario essere iscritto a Tesionline.
L'iscrizione non comporta alcun costo. Mostra/Nascondi contenuto.
The years between Washington's election as President in 1789 and the Peace of Ghent in 1814, brought great alterations in American life. The United States was a booming, wealthy nation, and as they took on political shape, Americans sought to evolve a culture of their own, in order not to remain linked to the cultural tradition of Britain and Europe 2 . The American problem was how to choose from her European heritage those things that might delineate and exemplify the American way of life. But it was not so easy to produce great art on demand. As Washington Irving pointed out a few years later, the serious problem was that the United States lacked "the charms of storied and poetical association" while in Europe "there were to be seen the masterpieces of art, the refinements of highly-cultivated society, the quaint peculiarities of ancient and local custom. ... Europe was rich in the accumulated treasures of age. Her very ruins told the history of times gone by, and every mouldering stone was a chronicle" 3 . 2 For a complete view of the United States in those years, see: STEVEN WATTS, The Romance of Real Life. Charles Brockden Brown and the Origins of American Culture, Baltimore, Hopkins University Press, 1994, chap. 1 and BILL CHRISTOPHERSEN, The Apparition in the Glass. Charles Brockden Brown's American Gothic, Athens, University of Georgia Press, 1993, chap. 1 3 WASHINGTON IRVING, The Sketch Book of Geoffrey Crayon, Gent., New York, Signet, 1961, p.14, quoted in MAURICE BENNETT, An American Trdition. Three Studies: Charles Brockden Brown, Hawthorne and James, ed. by Stanford University, New York, Garland Publications, 1987, p.45
Anteprima della Tesi di Giorgia Fantini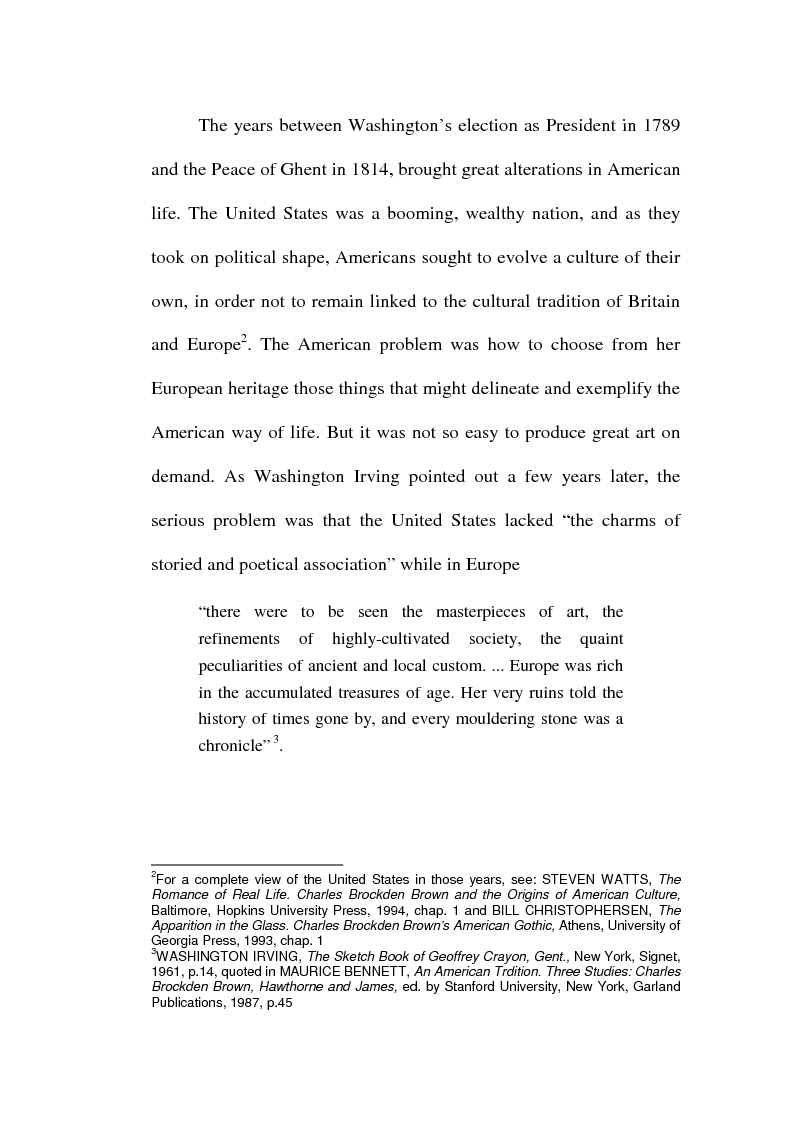 Tesi di Laurea
Facoltà: Lingue e Letterature Straniere
Autore: Giorgia Fantini Contatta »
Composta da 110 pagine.
Questa tesi ha raggiunto 896 click dal 20/03/2004.
Consultata integralmente una volta.
Disponibile in PDF, la consultazione è esclusivamente in formato digitale.