Un sistema per la rappresentazione lessico-semantica di istruzioni in linguaggio naturale
L'anteprima di questa tesi è scaricabile in PDF gratuitamente.
Per scaricare il file PDF è necessario essere iscritto a Tesionline.
L'iscrizione non comporta alcun costo. Mostra/Nascondi contenuto.
3 This implies that each verb should have a different representation, so in cases in which the number of verbs to be covered is high, most of the time is spent in building the representations for such verbs in the lexicon. The approach we propose here uses lexical semantics and is inspired by both Levin's theory and VERBNET as concerns verbs, and by CORELEX for nouns. Lexical semantics, as it is defined in [Jurafksy et al., 2000], is the linguistic study of the lexicon. Lexicon has a highly systematic structure that governs what words can mean and how they can be used. This structure consists of relations among words and their meanings as well as the internal structure of individual words. The lexical semantic approach we use here looks at Levin's theory for what that concerns verbs. In this theory individual verbs are mapped onto classes, which contain a single semantic representation that is associated with every verb in that class. This was the inspiring principle for the development of VERBNET as well. VERBNET is in fact a lexicon that takes advantage of Levin's theories and modifies them slightly. This was necessary to ensure that each verb class is coherent enough so that all its members have a common semantics and share basically the same parameters and syntactic frames. The syntactic frames of a verb are the different syntactic constructions that such verb allows for its arguments. If you look at the example below we have two different possible constructions. Each of these constructions represents a syntactic frame. The approach of lexical semantics that we used, as Levin's theory proposes, builds a representation for sentences that links the syntactic frame together with the semantic representation of the sentence. This linkage is done preeminently via the verb semantics. In our lexicon verbs are grouped into classes of meaning. Each class embodies a description in logic for the meaning of the verb class; such meaning usually changes as the verb construction changes: in this way, for instance, if the verb is transitive some propositions hold, and if the verb is used in the intransitive way some other propositions hold. The way in which this can be done is shown in Fig. 1-1.
Anteprima della Tesi di Elena Terenzi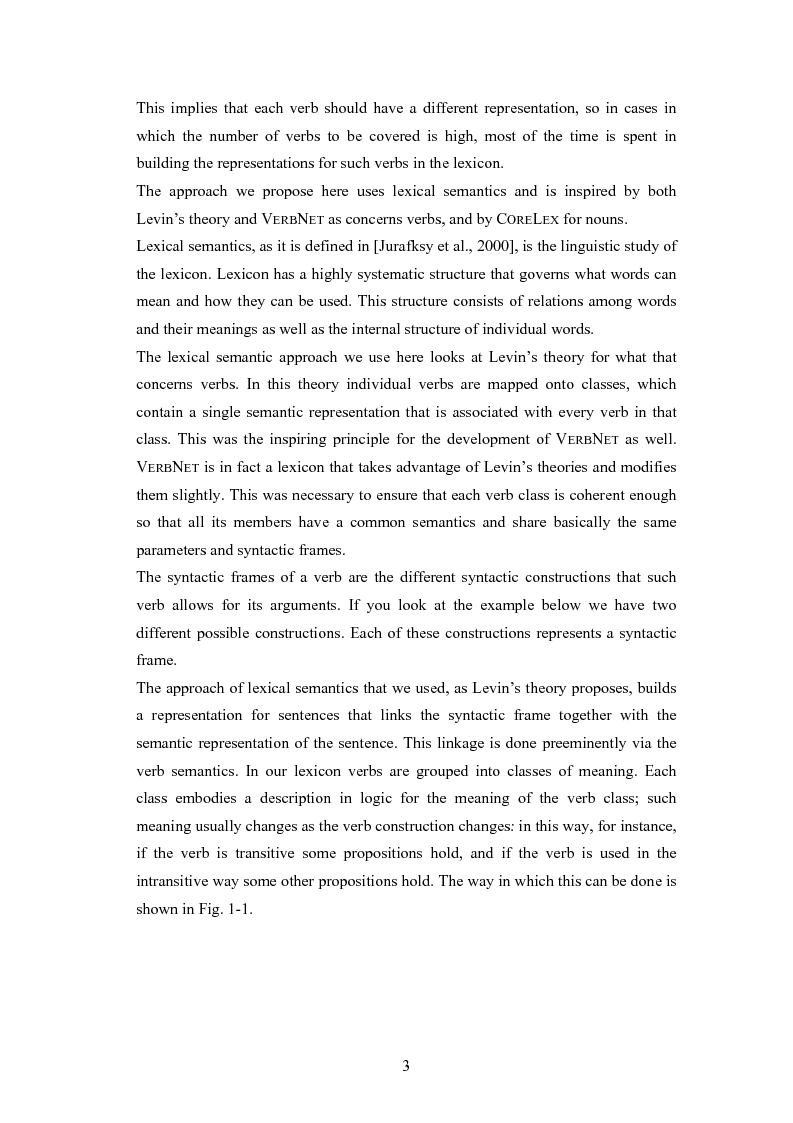 Tesi di Laurea
Facoltà: Ingegneria
Autore: Elena Terenzi Contatta »
Composta da 111 pagine.
Questa tesi ha raggiunto 2010 click dal 20/03/2004.
Disponibile in PDF, la consultazione è esclusivamente in formato digitale.