IP Mobility Support for Virtual Private Networks
L'anteprima di questa tesi è scaricabile in PDF gratuitamente.
Per scaricare il file PDF è necessario essere iscritto a Tesionline.
L'iscrizione non comporta alcun costo. Mostra/Nascondi contenuto.
2.2. NETWORK ADDRESS TRANSLATION 11 TCP and UDP ports, ICMP query identifiers). An internal source tuple
is mapped to This allows the transport identifiers of a number of private hosts to be multiplexed into the transport identifiers of single external host: NAPT allows a set of internal hosts to share the same external IP address. Furthermore it is possible to use NAPT in combination with Basic NAT. 2. Bi-directional NAT With Bi-directional NAT sessions can be initiated from hosts in the public network as well as hosts in the private network. Private ad- dresses are bound to public addresses statically or dynamically with a one-to-one mapping. While in static address binding Domain Name System (DNS) service can work as usual, alone, with a fixed lookup table, in dynamic address binding DNS has an important role. The correspondence between a name and an address changes during the time. DNS becomes a DNS- ALG because it has to dialogue with the NAT before answering to the requesting external host. Note that this applies only for inbound connection, i.e. when an external host tries to reach an internal host. For outbound session there is no need of an enhanced DNS. 3. Twice NAT While variations of NAT so far discussed change only the source infor- mation, Twice NAT modifies also destination address. This is necessary when private and external realms have address collisions. For exam- ple, the private network is improperly addressed with public addresses. The key issue in such case is that an address of a host in the external realm could be assigned to a host within the local site. If this address appears in a packet, this packet is forwarded to the local node rather than to the external. Again the solution involves a DNS-ALG. When the internal host tries communicate with an external host, first it sends a DNS request. Re- ceiving the request DNS-ALG is smart enough to understand the poten- tial mistake: It answers with a fictitious address and makes the NAT knowing about this. When the packet goes through NAT, it trans-
Anteprima della Tesi di Francesco Trotta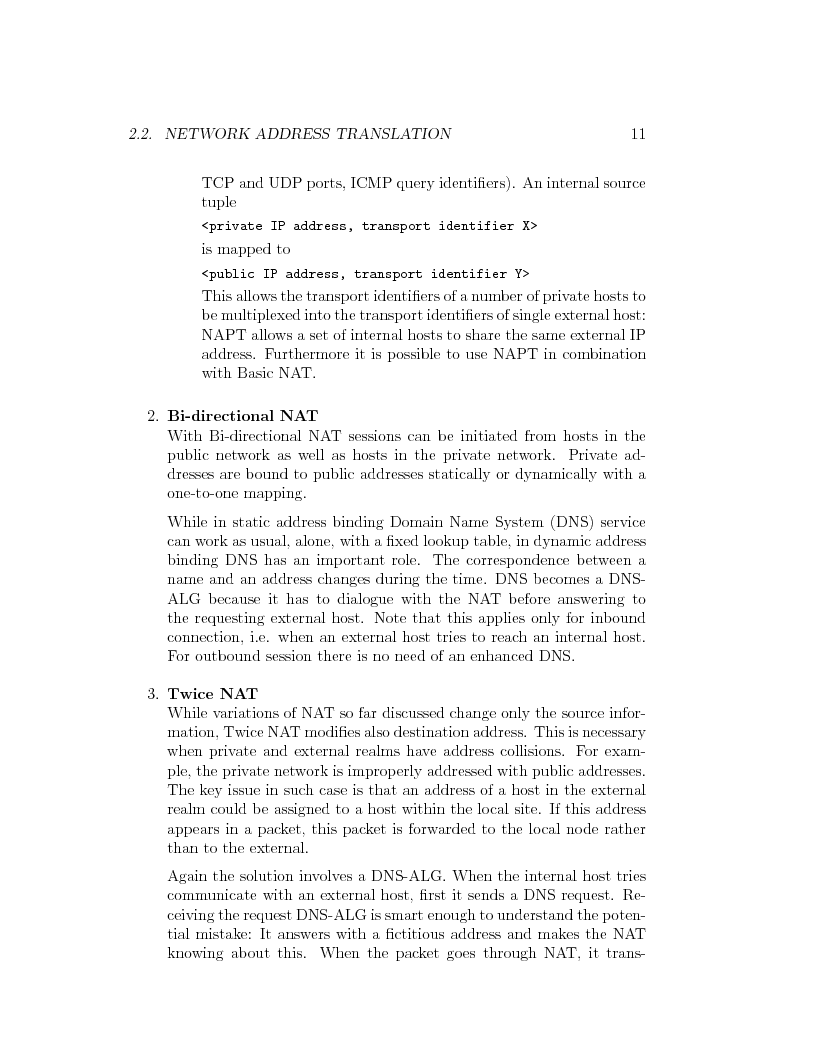 Tesi di Laurea
Facoltà: Ingegneria
Autore: Francesco Trotta Contatta »
Composta da 152 pagine.
Questa tesi ha raggiunto 1253 click dal 20/03/2004.
Consultata integralmente 4 volte.
Disponibile in PDF, la consultazione è esclusivamente in formato digitale.