IP Mobility Support for Virtual Private Networks
L'anteprima di questa tesi è scaricabile in PDF gratuitamente.
Per scaricare il file PDF è necessario essere iscritto a Tesionline.
L'iscrizione non comporta alcun costo. Mostra/Nascondi contenuto.
2 CHAPTER 1. INTRODUCTION the proposed solution. In this chapter it is possible to find a detailed de- scription of issues introduced by the coexistence of the two services we need. Furthermore the state of the art about the topic is investigated, showing the main solutions already present. Finally we find the description of MoVPN (Mobile VPN), the proposed architectural solution. "Architectural" refers to the nature of the solution: Rather than introducing extensions to standards, it relies on a smart configuration of existing facilities in order to obtain the required functioning. The configuration does not have to be underestimated, as it can lead to rough security weaknesses. Therefore all the system func- tioning is analyzed in detail, and different alternatives are also provided. As it does not introduce any additions to standards, MoVPN has the undeniable advantage of being immediately installable with reduced costs. In particu- lar, a testbed with minimal functioning has been implemented using only free software. Chapter 4 describes the testbed deployment and the results, in terms of bandwidth reduction caused by MoVPN system. Conclusions and future developments are reported in chapter 4. This work has been developed in WirelessCabin ambit at Digital Net- works department of Deutsches Zentrum fr Luft- und Raumfahrt (DLR) in Oberpfaffenhofen. Several members take part to the WirelessCabin1 project team, as Airbus Deutschland GmbH, Ericsson Telecomunicazioni SpA, ESYS plc, Inmarsat Ltd., KID-Systeme GmbH, Siemens AG Austria, TriaGnoSys GmbH, University of Bradford, and DLR as project leader. The project is developing wireless access technologies for a aircraft cabin. Several access technologies in the cabin are envisaged for passengers: UMTS for personal telephony and packet data, Bluetooth and W-LAN for IP access. The Blue- tooth interface will also be used for transport of UMTS services. The project will define a system architecture for wireless access (UMTS, W-LAN and Bluetooth) in an aircraft cabin. A passenger will have the possibility to use his own personal equipment (mobile phone, laptop). For this, the project will develop a service integrator that maps the cabin services on a satellite bearer to be connected to the terrestrial infrastructure. Among the envisaged services, passengers will have the possibility of set- ting up a VPN to ground companies. This work focused in particular on this topic. Another possible application of the problem discussed in this work is the mobile management of several aircrafts as mobile nodes of a single ter- restrial private network. This terrestrial network will allow the connection of the "flying networks" to the common public networks: PSTN, Internet, UMTS. 1 IST programme IST-2001-37466, http://www.wirelesscabin.com
Anteprima della Tesi di Francesco Trotta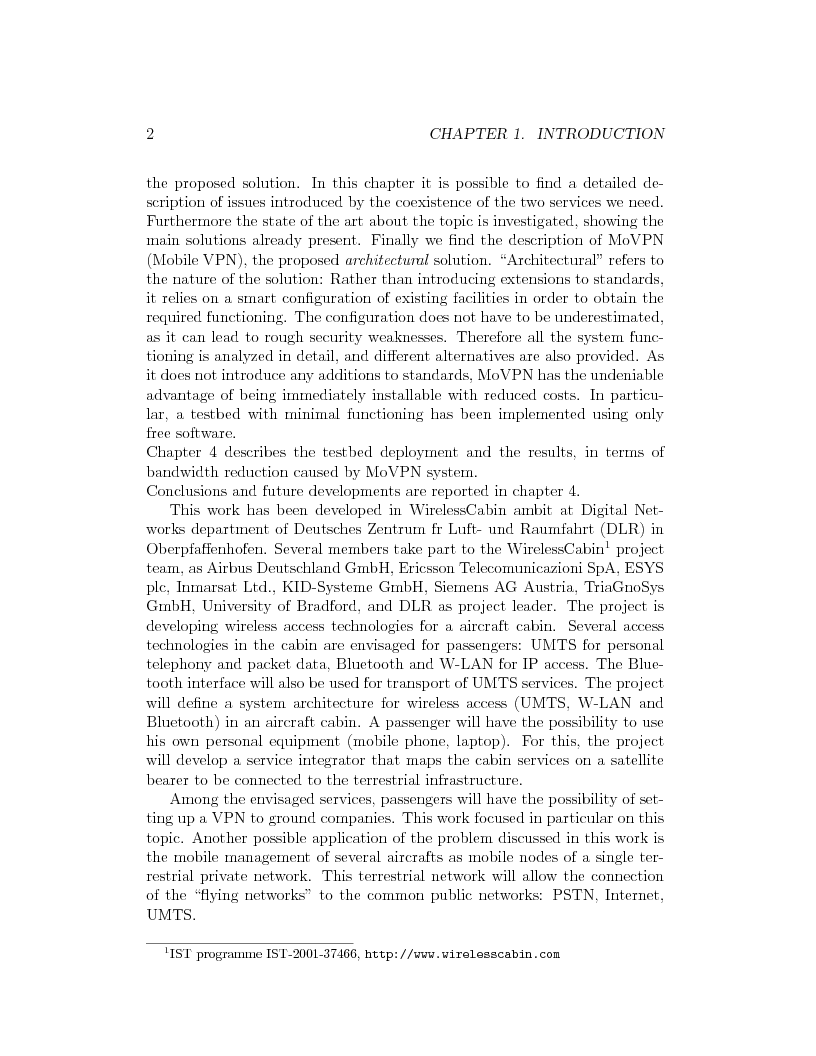 Tesi di Laurea
Facoltà: Ingegneria
Autore: Francesco Trotta Contatta »
Composta da 152 pagine.
Questa tesi ha raggiunto 1253 click dal 20/03/2004.
Consultata integralmente 4 volte.
Disponibile in PDF, la consultazione è esclusivamente in formato digitale.