IP Mobility Support for Virtual Private Networks
L'anteprima di questa tesi è scaricabile in PDF gratuitamente.
Per scaricare il file PDF è necessario essere iscritto a Tesionline.
L'iscrizione non comporta alcun costo. Mostra/Nascondi contenuto.
4 CHAPTER 2. TECHNOLOGIES 2.1 Terminology 2.1.1 Incoming and outgoing sessions In general it is possible to group packet flows to identify the traffic related to a particular application or service. We will call session or communication the traffic flow generated by a first "request" packet. An host contacting another host sends a first packet requesting a com- munication. Then the contacted host answers, beginning the data exchange. Which data and how they are exchanged is application dependent. From the direction of this first packet it is possible to distinguish between outgoing (from internal to external) and incoming (from external to internal). Any- way note that, in general, each session is composed by incoming as well as outgoing packets. We can consider the example of a Web server. First an host contacts the server requesting a resource, then the server answers with the desired file. The complete traffic exchange is seen as an outgoing session by the host or incoming session by the server, but the transaction has both incoming and outgoing flows. 2.1.2 Tunnelling One of the major concepts in networking is tunnelling, also refferred as en- capsulation. This method in general refers to embedding a Protocol Data Unit (PDU) as payload for another PDU without following the protocols stack process. Normally a PDU is used as payload for the layer immedi- ately below in the protocol stack. In tunnelling, a PDU becomes the payload of a new PDU of the same or even above layer. An example could be the frequently used IP-in-IP tunnelling (see Fig. 2.1). Figure 2.1: Tunnelling The embedded (tunnelled) packet is unaware of what happens outside, to the external packet. One of the main usages of IP-in-IP tunnelling is packet
Anteprima della Tesi di Francesco Trotta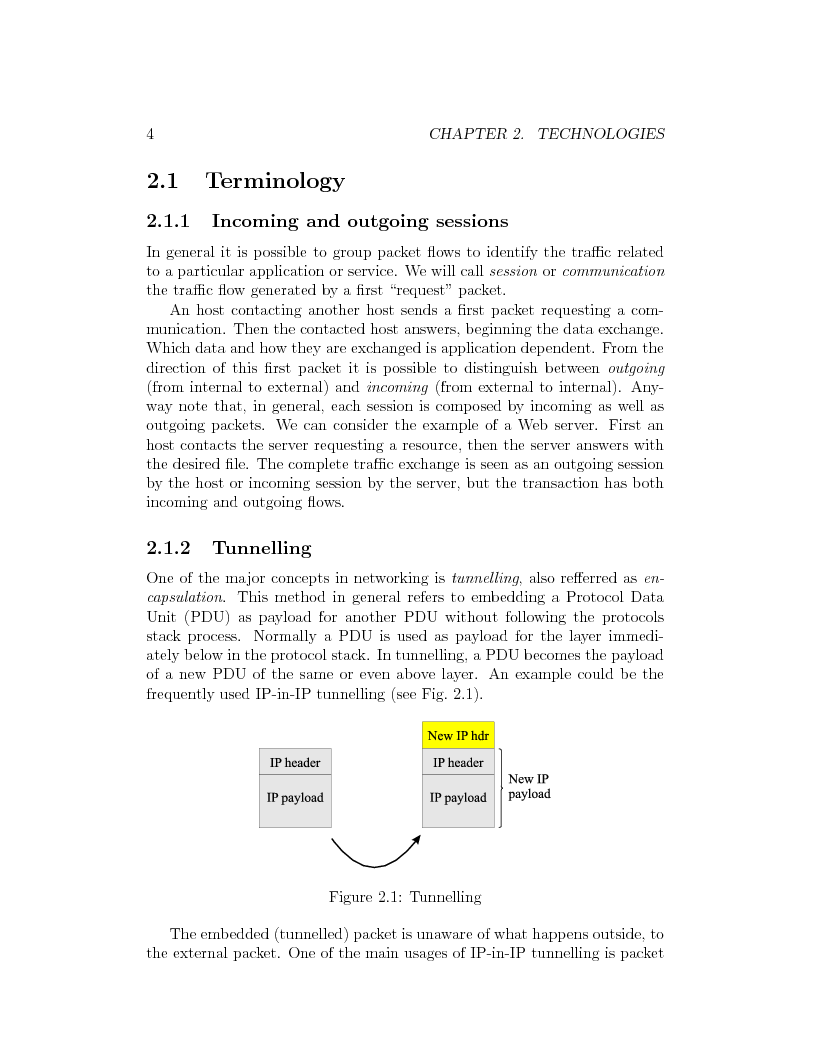 Tesi di Laurea
Facoltà: Ingegneria
Autore: Francesco Trotta Contatta »
Composta da 152 pagine.
Questa tesi ha raggiunto 1253 click dal 20/03/2004.
Consultata integralmente 4 volte.
Disponibile in PDF, la consultazione è esclusivamente in formato digitale.