The Internet as the new American Frontier: ''There where there is no there''
L'anteprima di questa tesi è scaricabile in PDF gratuitamente.
Per scaricare il file PDF è necessario essere iscritto a Tesionline.
L'iscrizione non comporta alcun costo. Mostra/Nascondi contenuto.
13 potential for a community, because they are going to want to exchange lore and wisecracks while they do their programming. Electronic mail was one of the features built into the new time-sharing systems. 4 Later, in 1964, Leonard Kleinrock, also working on research at MIT, published his first book on his theories of packet switching. In 1965, the TX-2 computer in Massachusetts to the Q-32 in California were connected with a low speed dial-up telephone line creating the first wide-area computer network ever created. The result of this project was to provide proof to the legitimacy of the original theories of packet switching and computer networking. In December 1969 the University of California at Los Angeles, the University of California at Santa Barbara, Stanford Research Institute and the University of Utah held the first four nodes of the very first American network: ARPANET. By 1971 there were fifteen nodes; by 1972, thirty-seven. The nodes consisted of minicomputers that would make communication possible by solving the problem of exchanging data between computers running on different operating systems, i.e. speaking different languages. The nodes would translate incoming data from different computers into a universal Net language and data on the Net back into the language of the user's computer. This strategy is still the same in the current system of Internet Service Providers for dial-up access to the Internet. 4 Howard Rheingold, The Virtual Community, homesteading on the electronic frontier, (MIT press, USA, 2000) p. 65
Anteprima della Tesi di Maria Cristina Caimotto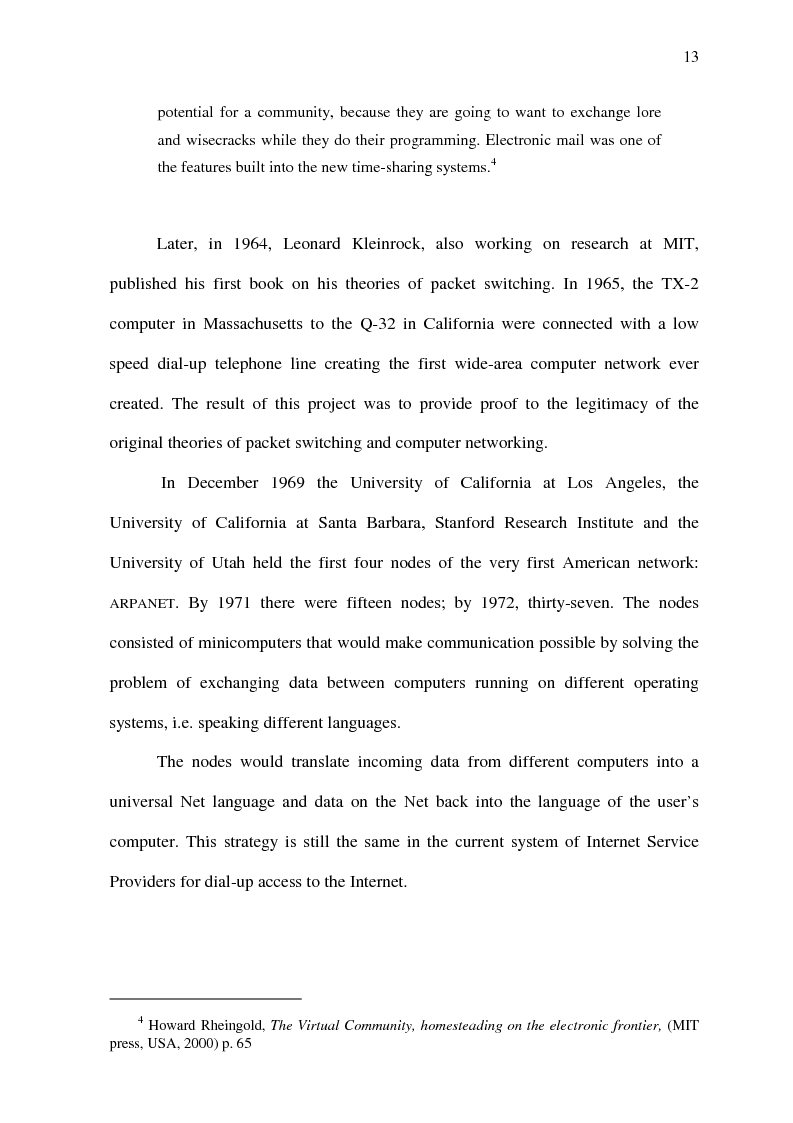 Tesi di Laurea
Facoltà: Lingue e Letterature Straniere
Autore: Maria Cristina Caimotto Contatta »
Composta da 212 pagine.
Questa tesi ha raggiunto 806 click dal 20/03/2004.
Consultata integralmente una volta.
Disponibile in PDF, la consultazione è esclusivamente in formato digitale.