The Internet as the new American Frontier: ''There where there is no there''
L'anteprima di questa tesi è scaricabile in PDF gratuitamente.
Per scaricare il file PDF è necessario essere iscritto a Tesionline.
L'iscrizione non comporta alcun costo. Mostra/Nascondi contenuto.
15 friendly environments, thanks to software called Usenet, BITNET, Fidonet, and were capable of catering for the growing number of personal computers. Some years later they would comprise the Internet. Usenet (short for Unix User Network) was devised for computers running the Unix operating system. Later it was adapted to IBM and Macintosh PC operating systems, becoming much more accessible. It was at first used mainly by university students to discuss academic issues. Soon, predictably, discussions started to include non-academic topics. In order to organize the growing number of newsgroups proliferating without any planning, its volunteer administrators divided them into two categories: "mod" for groups where messages would be filtered and discussion would keep on track, and "net" for unmoderated groups. In 1986 what is remembered as "The Great Renaming" took place: Usenet administrators decided to divide the hundreds of different newsgroups into seven hierarchies: computers, miscellaneous, news, recreation, science, society and talk. Newsgroups considered less serious were grouped under "talk", making it easier to censor them if moderators wished to do so. The event caused a flame war which proved for the first time a strong feeling of property felt by Net users as part of a community. They would not easily accept any kind of attempt to impose a management "from on high". The "revolution" went on with the provocative proposal of two groups called "rec.sex" and "rec.drugs". In spite of their winning the necessary number of votes to be listed, moderators refused to create them. So "alt.sex" and "alt.drugs" were created, using routings that were separated from the official ones. Brian Reid, their creator, five years later declared:
Anteprima della Tesi di Maria Cristina Caimotto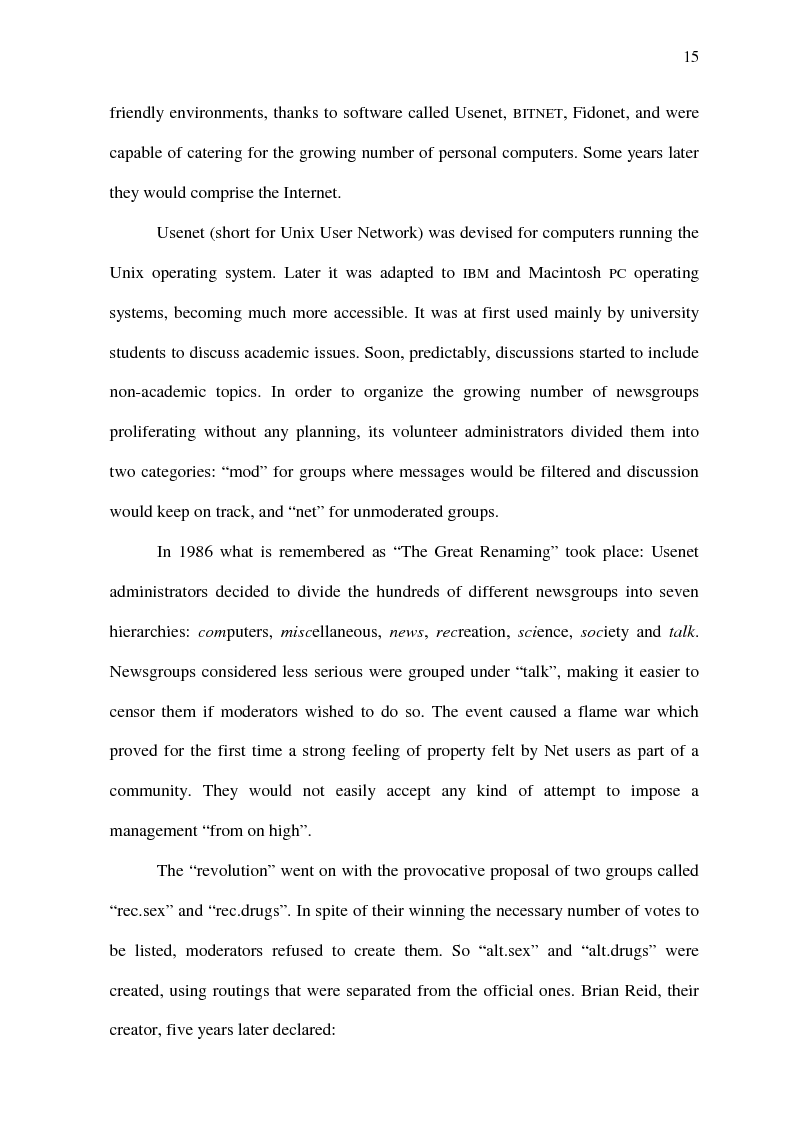 Tesi di Laurea
Facoltà: Lingue e Letterature Straniere
Autore: Maria Cristina Caimotto Contatta »
Composta da 212 pagine.
Questa tesi ha raggiunto 806 click dal 20/03/2004.
Consultata integralmente una volta.
Disponibile in PDF, la consultazione è esclusivamente in formato digitale.