The Internet as the new American Frontier: ''There where there is no there''
L'anteprima di questa tesi è scaricabile in PDF gratuitamente.
Per scaricare il file PDF è necessario essere iscritto a Tesionline.
L'iscrizione non comporta alcun costo. Mostra/Nascondi contenuto.
18 This made resources, that had been reserved to weapons developers, available for any scholarly research. 12 Regional networks were created: each school would be connected to its nearest neighbor, each chain connected to a supercomputer center and centers were connected together. But at some point this very efficient system became overloaded because the traffic had increased too much. In 1983 ARPANET split into ARPANET and MILNET, the latter became integrated with the Defense Data Network that had been created the previous year. 13 In 1984 CSNET started its upgrade. The three companies working on the upgrade were MCI, IBM and MERIT. After upgrades, the CSNET changed its name into NSFNET (National Science Foundation Network) and the older lines remained as the original CSNET. NSFNET was finally completed in 1988, when new circuits were made to be T1 lines (1.5 Mbps). 14 By 1985, the Internet was already supporting a broad community of researcher and developers and other communities started using it for daily computer communications, especially through emails. Five years later, in 1990, MERIT, IBM, and MCI formed a non-profit corporation, the Advanced Network and Services Corporation (ANS) to conduct research into high speed networking. Soon, they were able to come up with concepts for the T3 (43 Mbps) lines. NSFNET quickly adopted the new network and was fully upgraded by the end of the following year. 12 Condrey, "Black and White", cit. 13 Hobbes' Internet Timeline 5.6 [7/05/02] 14 Condrey, "Black and White", cit.
Anteprima della Tesi di Maria Cristina Caimotto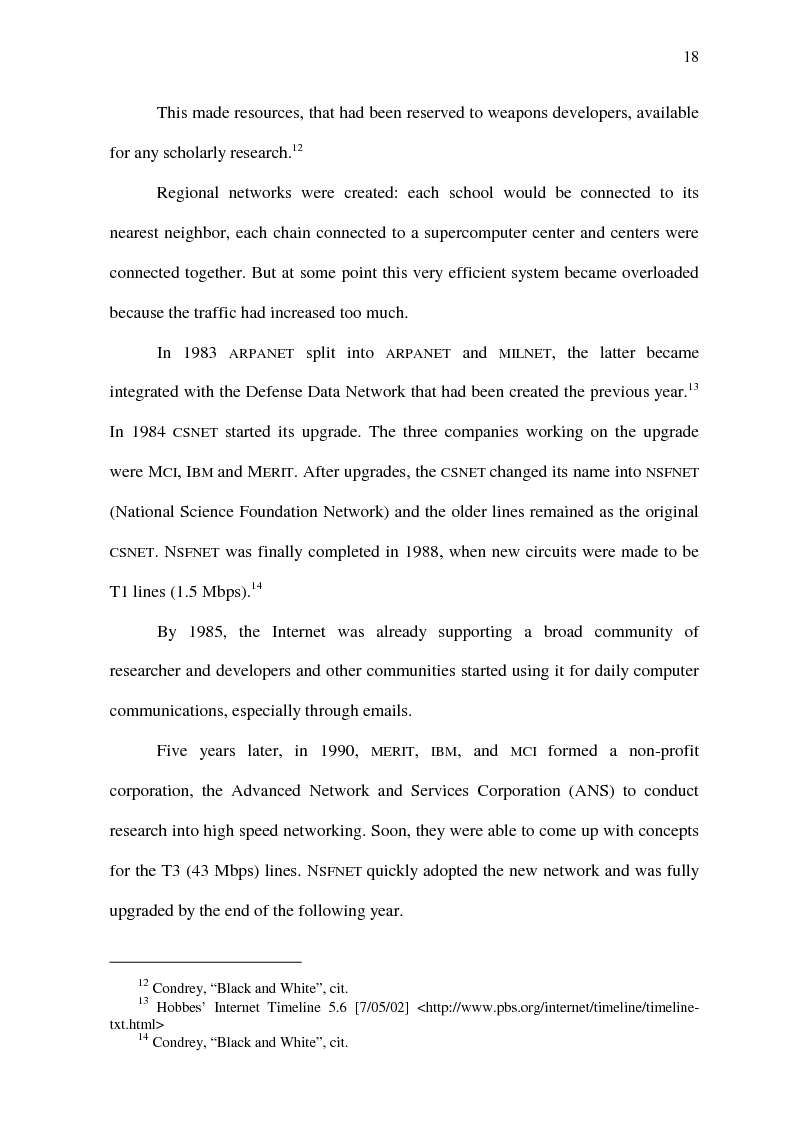 Tesi di Laurea
Facoltà: Lingue e Letterature Straniere
Autore: Maria Cristina Caimotto Contatta »
Composta da 212 pagine.
Questa tesi ha raggiunto 806 click dal 20/03/2004.
Consultata integralmente una volta.
Disponibile in PDF, la consultazione è esclusivamente in formato digitale.