The Internet as the new American Frontier: ''There where there is no there''
L'anteprima di questa tesi è scaricabile in PDF gratuitamente.
Per scaricare il file PDF è necessario essere iscritto a Tesionline.
L'iscrizione non comporta alcun costo. Mostra/Nascondi contenuto.
7 attitudes, American ideologies and history and the way the Internet has developed. I try to show the relationship between contemporary American culture and digital technologies, and I try to explain why we have to bear in mind where the Internet comes from. The World Wide Web, as its very name indicates, is a global medium of communication. I believe it is important to understand and remember that it was invented in America and that it first became popular there among ordinary people. It grew in America and together with it grew metaphors that are deeply linked to American culture, and we risk misunderstanding if we ignore where these metaphors come from and how they developed. When analyzing the Internet we should also bear in mind that, nowadays, it is a new invention, and it brings hopes and fears as other new inventions, especially new media, have done before. Most of us remember the impact of television, but being a one-way device, television is not the best medium to compare with the Internet. The radio, which arose as a two-way medium, seems to be much more appropriate for making a forecast based on the past. This is the point I start from. I prefer to consider the Internet as a new tool, and I want to bear in mind that several new inventions were expected to change the world and then revealed themselves to represent just a slight change. If we go back and read the history of the telegraph, the telephone, the radio, the television or the invention of computers, at a time in which they were conceived as more efficient calculators, we shall see that history is repeating itself. In fact, in the first chapter about the history of the Internet, I try to show how it was born and that the way it developed and was projected is still very important.
Anteprima della Tesi di Maria Cristina Caimotto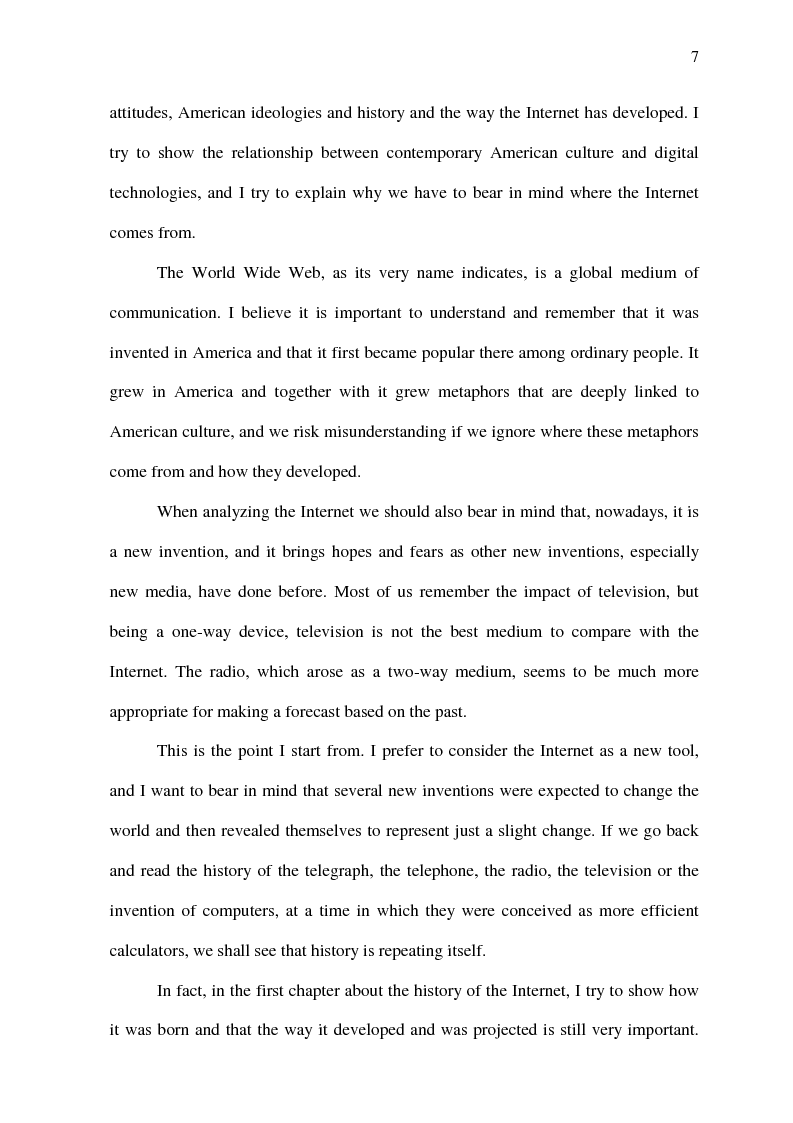 Tesi di Laurea
Facoltà: Lingue e Letterature Straniere
Autore: Maria Cristina Caimotto Contatta »
Composta da 212 pagine.
Questa tesi ha raggiunto 806 click dal 20/03/2004.
Consultata integralmente una volta.
Disponibile in PDF, la consultazione è esclusivamente in formato digitale.