The Internet as the new American Frontier: ''There where there is no there''
L'anteprima di questa tesi è scaricabile in PDF gratuitamente.
Per scaricare il file PDF è necessario essere iscritto a Tesionline.
L'iscrizione non comporta alcun costo. Mostra/Nascondi contenuto.
12 Like most brilliant ideas, Baran's proposal was at first seen as very inefficient and unfeasible, especially because it implied the lack of some central authority. But in 1962 Paul Baran's report was released and, at the same time, the U.S. Department of Defense's Advance Research Projects Agency (ARPA) was asked to study how to take advantage of the growing number of computers and how to create high-security networks. The two projects were bound together and, in October, Dr. J.C.R. Licklider, known universally as "Lick", was chosen to lead the research. J. Licklider was working at MIT during the time period around August 1962 discussing his "Galactic Network" concepts. In his papers, he envisioned a globally interconnected computer system to which everyone around the world could quickly and easily access data and programs from any other location. In concept, his ideals were in fact much like the Internet as it is today. 3 Lick's most important intuition was to consider computers as a medium to communicate between people instead of a mere "batch processing" device. He focused research on developing software that would allow computers to exchange information, allowing people to exchange information through computers. Rowland defines him as "a hacker at heart"; his background in psychology gave him the sensibility to be the first to notice the spirit of community arising among the users. Rheingold comments: When you build a computer system that enables fifty or a hundred programmers to sit around a computer room and interact individually and directly with the main computer, you are automatically building in the 3 David "Conundrum" Condrey, "Black and White" [19/02/2002]
Anteprima della Tesi di Maria Cristina Caimotto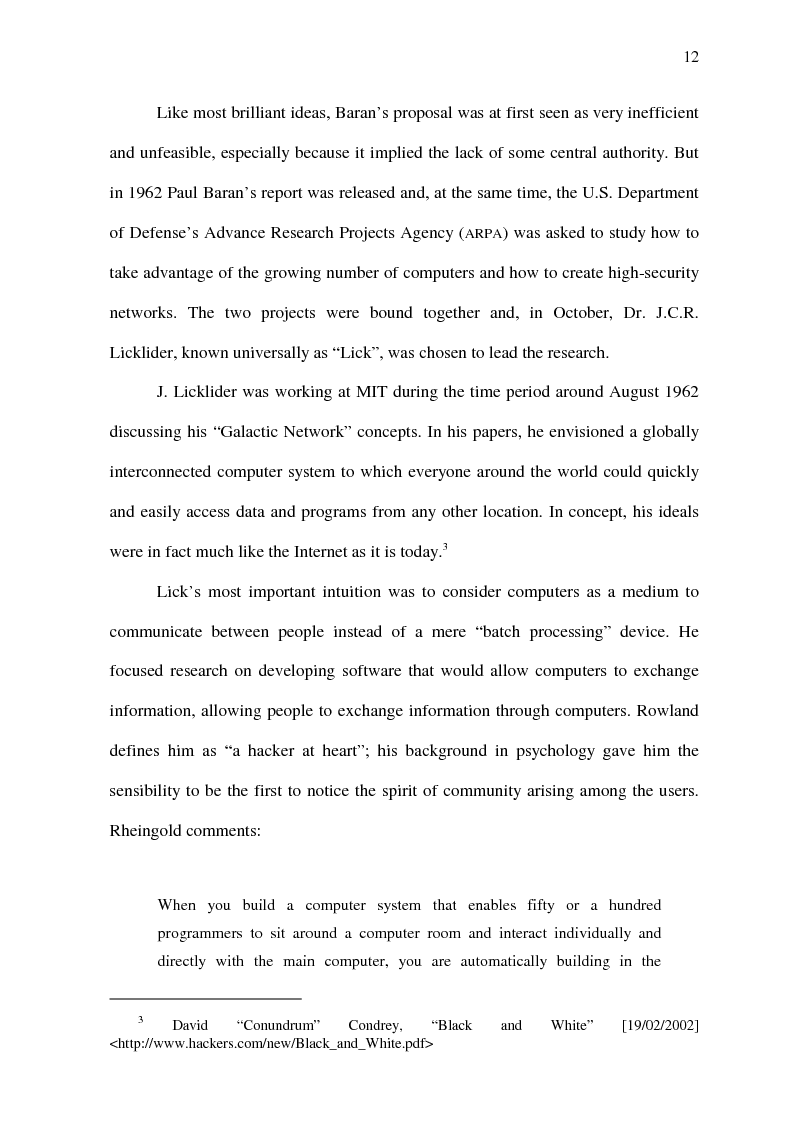 Tesi di Laurea
Facoltà: Lingue e Letterature Straniere
Autore: Maria Cristina Caimotto Contatta »
Composta da 212 pagine.
Questa tesi ha raggiunto 806 click dal 20/03/2004.
Consultata integralmente una volta.
Disponibile in PDF, la consultazione è esclusivamente in formato digitale.