Multimedia Wireless Systems
L'anteprima di questa tesi è scaricabile in PDF gratuitamente.
Per scaricare il file PDF è necessario essere iscritto a Tesionline.
L'iscrizione non comporta alcun costo. Mostra/Nascondi contenuto.
1.1 Third Generation Cellular Networks 5 -100 -95 -90 -85 -80 -75 -70 -65 -60 -55 7000 7200 7400 7600 7800 8000 8200 8400 8600 8800 9000 G [ d B ] Time Slots user 0 user 1 user 2 Figure 1.2: Some examples of gain pro les of channels with multipath fading, for different users (6 Hz Doppler Band). -120 -110 -100 -90 -80 -70 -60 0 200 400 600 800 1000 1200 1400 G [ d B ] Time Slots 20 Hz 6 Hz 2 Hz Figure 1.3: Some gain pro les of channels with multipath fading, with 2, 6 and 20 Hz Doppler Band. affects the propagation behavior for each connection and, as a result, the power received at the BS. Therefore, since the MT changes its position during the connection, the serving BS could vary with the time; in fact, if the trajectory of the MT crosses one or more cells (in the electromagnetic sense), i.e. it is not restricted inside one only cell, the radio control has to pass from a BS to an other one. Then, a mechanism (named Handover) to maintain the continuity of connections with a given QoS, is needed; this procedure requires the coordination of the BSs involved to allow Seamless Service. Besides, the users are scattered all over the service area and access the network in a random manner; their spatial distribution is also random and can affect the system performance if the service area has not a homogeneous load. To optimally serve different mobility patterns, multiple-cell-layer architectures are taken into account, as picturesquely shown in Fig. 1.5. In this context, larger cells (e.g. macro- cells) serve faster low density traf c (for instance, voice users, traveling by train, in suburban scenario), whereas smaller cells (e.g. pico-cells) serve quasi-stationary high density traf c (for instance, data users, working at of ce, in urban scenario). The Handover mechanism consist of two sub-procedures [20, 21], as follows. Using UMTS terminology, Fig. 1.6 shows this concept in a a simple one-dimensional scenario. A change of connection control is executed in the access part of the Network at the ra-
Anteprima della Tesi di Mirko Ferracioli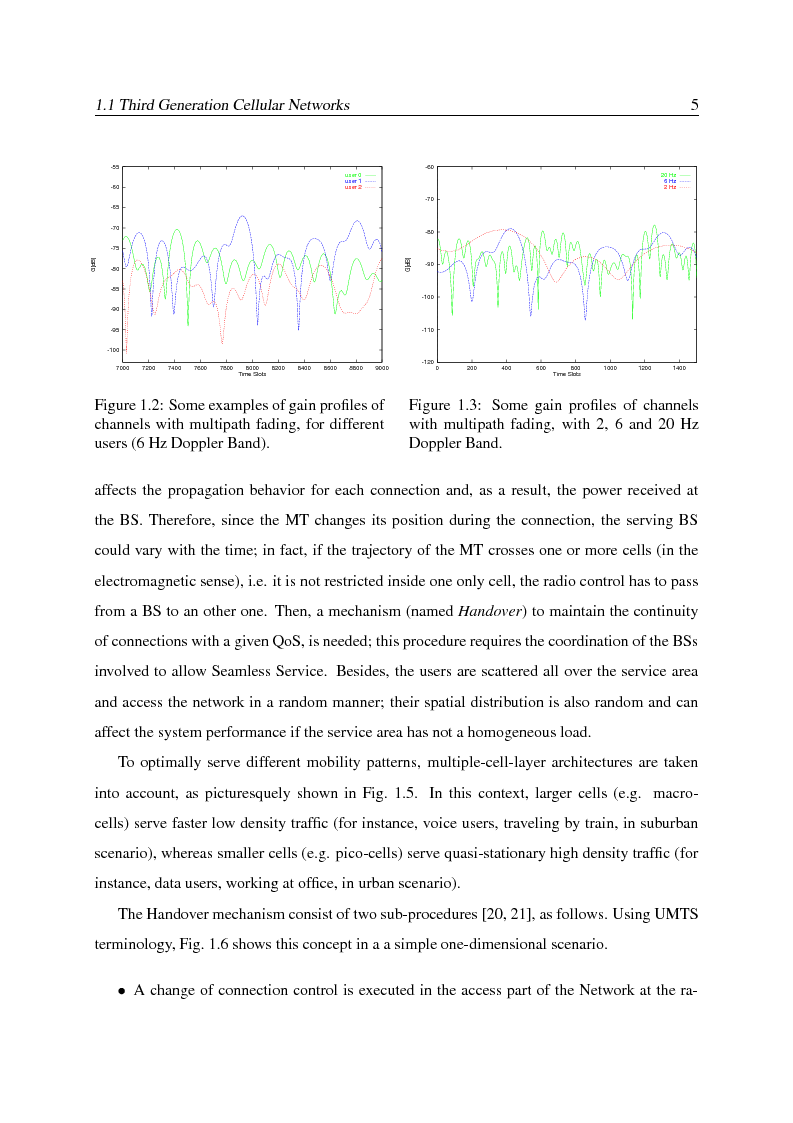 Tesi di Dottorato
Dipartimento: DEIS - CSITE/CNR
Autore: Mirko Ferracioli Contatta »
Composta da 129 pagine.
Questa tesi ha raggiunto 1072 click dal 20/03/2004.
Disponibile in PDF, la consultazione è esclusivamente in formato digitale.