Multimedia Wireless Systems
L'anteprima di questa tesi è scaricabile in PDF gratuitamente.
Per scaricare il file PDF è necessario essere iscritto a Tesionline.
L'iscrizione non comporta alcun costo. Mostra/Nascondi contenuto.
80 Chapter 5. Scheduling Post-Processing Data Results Sources TC matrix Priority Function Scheduler DecisionFormat Allocation Allocation Knowledge Channel Transmission System Simulator Re-Cataloging Residual NA-Traffic Channel Generation Sinks Figure 5.2: The block diagram representing the scheduling approach. this feature is usually exploited by the scheduling algorithms presented in the literature; the channel conditions uctuate independently from user to user, and this allows the allo- cation of the RUs according to a strategy that at each frame can assign with larger priority the RUs to the links characterized by good channel conditions; this channel adaptive be- havior of the scheduling algorithm is expected to provide better performance and reduced transmitted power. Fig. 5.2 shows the block diagram of the evaluation tool we have implemented. The traf c sources generate the data blocks to be transmitted. The Format Allocation block virtually as- signs the signal format and the number of RUs needed for each data block: the former is used within the Transmission System Simulator block, whereas the latter is passed to the scheduler (dashed box, commented in Section 5.5). A Channel Generator is used according to the de- scription given in Section 5.2; its output (the fading realizations) is used by the Transmission System Simulator. However, the scheduler and the PC mechanism have no complete knowledge of the channel state; for this reason, a block that models the partial knowledge of the channel conditions is added in our scheme. Finally, the output of the Transmission System Simulator (virtually delivered to the destination users) is post-processed (according to Section 5.4) in order to estimate the algorithm performance. The scheduler must perform two subsequent decisions for each data block to be transmitted,
Anteprima della Tesi di Mirko Ferracioli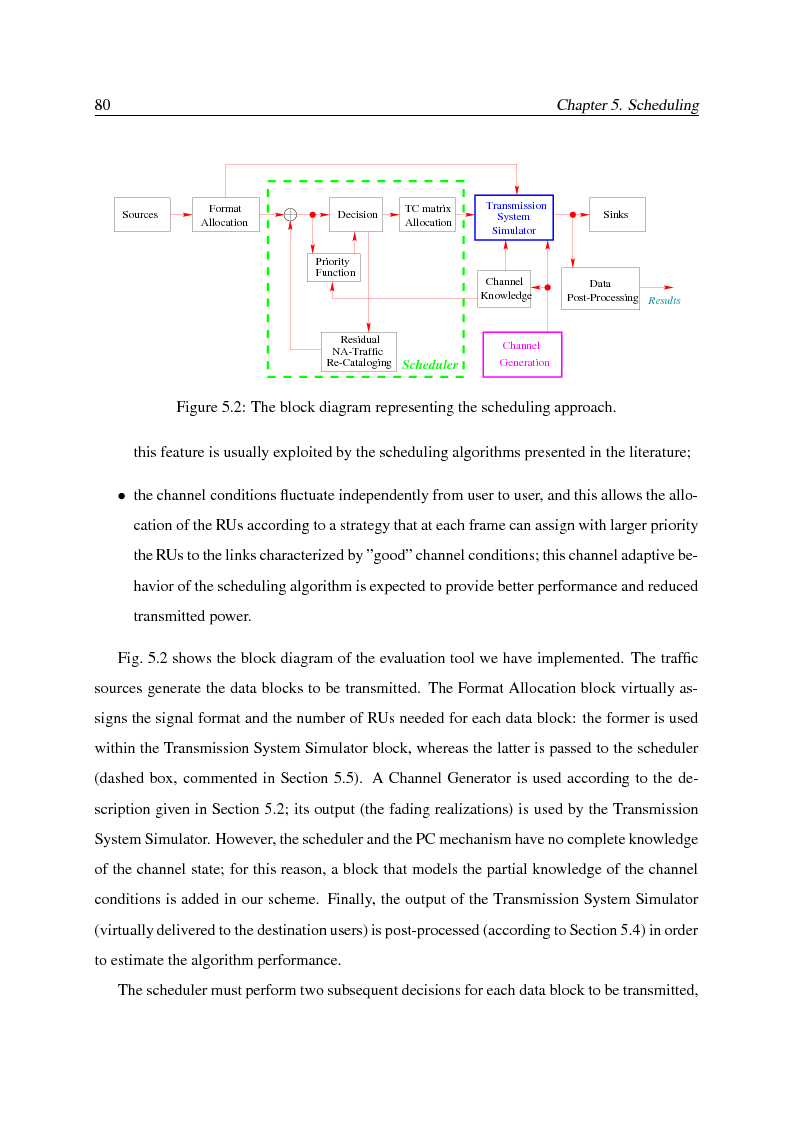 Tesi di Dottorato
Dipartimento: DEIS - CSITE/CNR
Autore: Mirko Ferracioli Contatta »
Composta da 129 pagine.
Questa tesi ha raggiunto 1072 click dal 20/03/2004.
Disponibile in PDF, la consultazione è esclusivamente in formato digitale.