The development of a passenger shipping line in Albania: Economical and operational consideration.
L'anteprima di questa tesi è scaricabile in PDF gratuitamente.
Per scaricare il file PDF è necessario essere iscritto a Tesionline.
L'iscrizione non comporta alcun costo. Mostra/Nascondi contenuto.
14 developments are concerned, only their reflection in the transport of passengers to and from Albania will be considered. From the spring of 1990, the still existing communist Parliament passed a law that allowed Albanian citizens to have valid passports for travelling abroad. During that year and the following, other measures were applied aiming at a gradual change of the stringent rules and regulations both in the political and economic life. These gradual steps were welcome, but only the first democratic government that came into power in April 1992 created the conditions for real changes in all the segments of life, that in turn, served as a catalyst also for changes in the passenger transport. Among the most important actions taken were the privatization in agriculture and industry, the right for Albanian citizens to invest in new enterprises with the participation of domestic and foreign investors and so on. However, what may be the key factor in this respect was the fact that the Albanians obliged to live outside the borders were not forbidden any longer to maintain contacts with the homeland, as had been the case before. On the contrary, they were encouraged to come and visit their kinship and help them financially by all available means. This was an important chance for the ferry transport. A demand of several hundreds of thousands Albanian emigrants was around - in Italy, Greece, Switzerland, Germany - eager to use the service. The various ferry operators of the region and outside grabbed immediately this offered possibility.
Anteprima della Tesi di Angjelin Mingu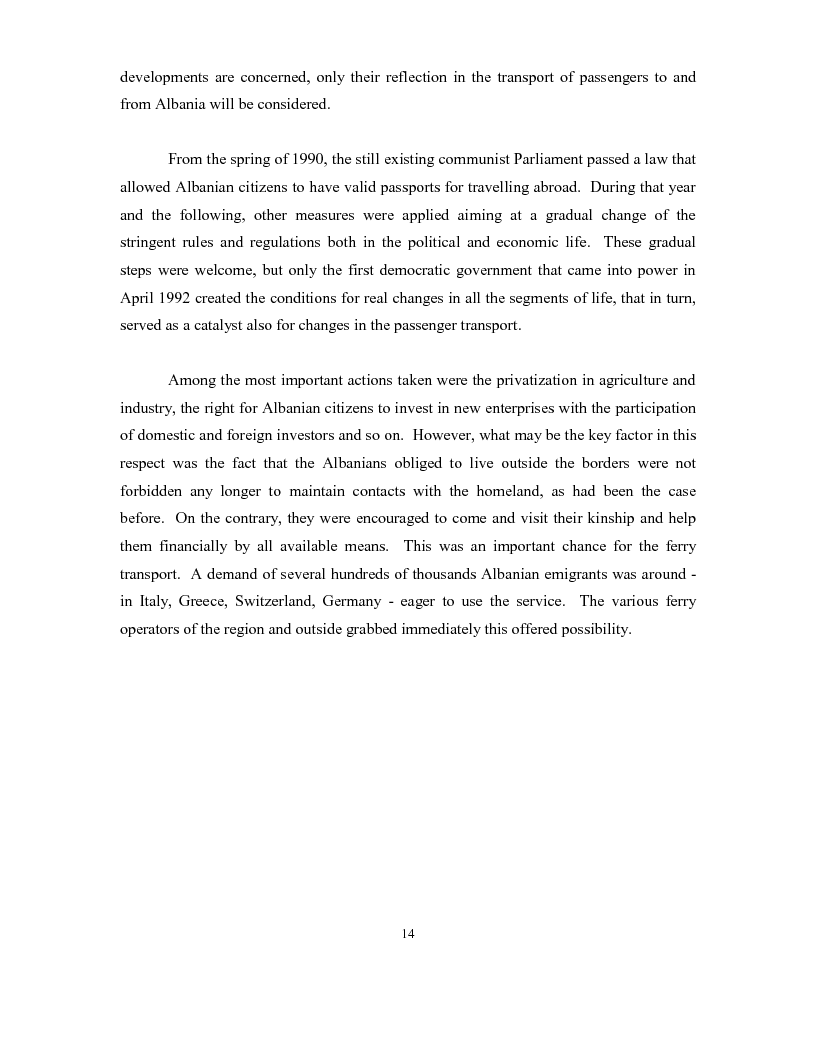 Tesi di Dottorato
Dipartimento: Faculty of Sciences
Autore: Angjelin Mingu Contatta »
Composta da 106 pagine.
Questa tesi ha raggiunto 718 click dal 20/03/2004.
Disponibile in PDF, la consultazione è esclusivamente in formato digitale.