The Customer Relationship Management (CRM) Software Market in Italy. Key Trends and Dynamics.
L'anteprima di questa tesi è scaricabile in PDF gratuitamente.
Per scaricare il file PDF è necessario essere iscritto a Tesionline.
L'iscrizione non comporta alcun costo. Mostra/Nascondi contenuto.
MA European Business – Dissertation in Information Systems 1 /09/2003 Daniela Sepulcri Supervisor: Dr. G. Harindranath 7 Table 1-1 The Value Chain of an Enterprise Research and Development (R&D) Technological research Product development Product design Inbound Logistics Purchasing / Procurement Inventory management Receipt of raw material/products from suppliers Human Resource Management Recruitment Reward system Training Operations Production planning and management Product manufacturing Maintenance Infrastructural Activities Planning Financial management Legal service Salary and wages Quality Management Information distribution across the firm Payments (toward suppliers) Incomes (from customers) Marketing & Sales Planning of marketing strategy Advertising / Promotion Sales management Customer Relationships Management (CRM) Outbound logistics Handling of goods Distribution Dispatch of product/services Services After sales service Customer care Source: Porter, Michael E., Millar, V., 'How information gives you competitive advantage', Harvard Business Review, July- August 1985 Porter analyses the strategic significance of the information technology, and how it alters the relationship between companies and their customers and suppliers. Dramatic reductions in the cost of obtaining, processing and transmitting information are changing the way we do business. Technology is no longer exclusive territory of the IS department; nowadays, also the executives recognise the need to become directly involved in the management of new technology. An important concept that highlights the role of information technology in competition is the "value chain". A company's value chain is a system of interdependent activities, which are connected by linkages. Linkages exist because each performed activity affects the cost or effectiveness of the other activities. IT is permeating the value chain at every point, and is reshaping the way products meet
Anteprima della Tesi di Daniela Sepulcri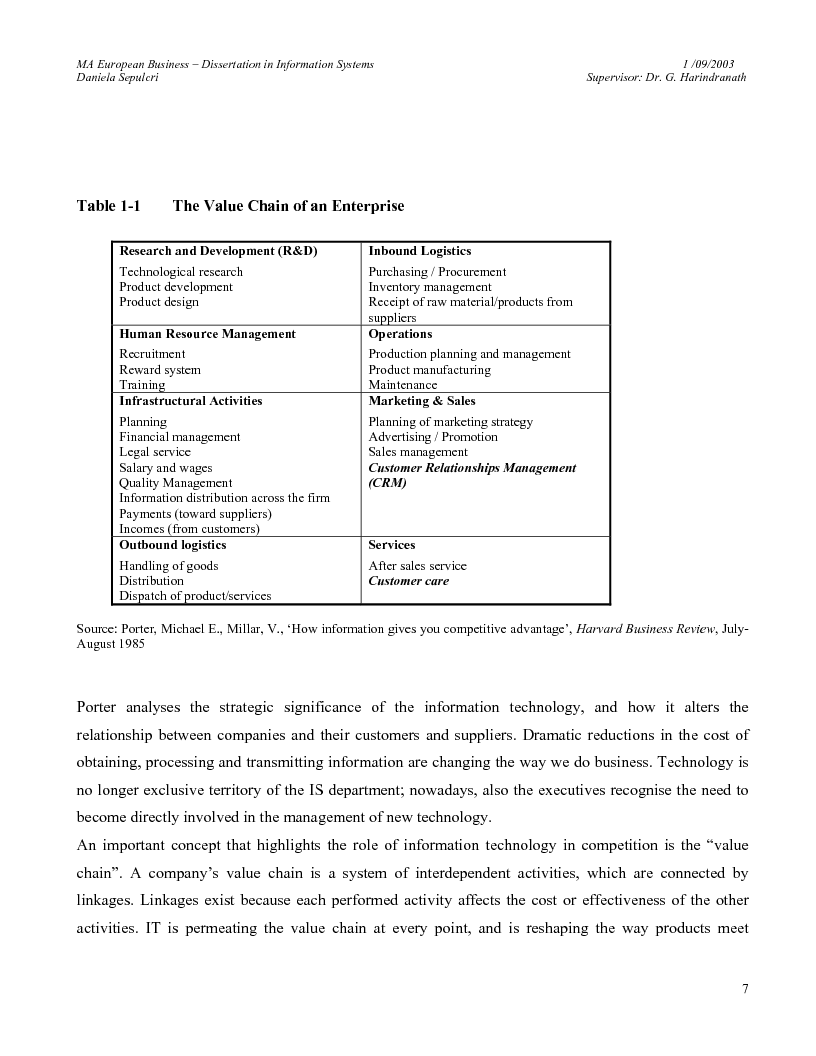 Tesi di Master
Autore: Daniela Sepulcri Contatta »
Composta da 94 pagine.
Questa tesi ha raggiunto 2564 click dal 20/03/2004.
Consultata integralmente 5 volte.
Disponibile in PDF, la consultazione è esclusivamente in formato digitale.