The Customer Relationship Management (CRM) Software Market in Italy. Key Trends and Dynamics.
L'anteprima di questa tesi è scaricabile in PDF gratuitamente.
Per scaricare il file PDF è necessario essere iscritto a Tesionline.
L'iscrizione non comporta alcun costo. Mostra/Nascondi contenuto.
MA European Business – Dissertation in Information Systems 1 /09/2003 Daniela Sepulcri Supervisor: Dr. G. Harindranath 11 organisational collaboration, valued customer experience, processes, information, technology and metrics. 1.2.1 A Business definition Defining CRM is not an easy task. Coined in the mid- 1990s and promoted during the late-1990s, the term CRM still means different things to different people. However, before analysing some of the most important definitions of CRM, I must clarify that CRM is NOT a mere technology; or, more precisely, the technology is only one of the components of CRM. The technology component seems to be the most overwhelming, given the ever-expanding number of technology offerings and alternatives; nevertheless, CRM software does not create or replace a business process, fix an ineffective or broken process, make decisions, or create or maintain customer relationships. Here is the definition provided by Barton J. Goldenberg, President and Founder of ISM Inc., one of the world's leading CRM consultancies: CRM integrates people, process, and technology to maximise relationships with all customers. CRM is a comprehensive approach that provides seamless co-ordination between all customer-facing functions. CRM increasingly leverages the Internet 5 . Goldenberg underlines that while important, too often the technology component takes on a disproportionate emphasis within a CRM initiative to the detriment of the overall success of the initiative. CRM does provide the opportunity to enhance the existing business processes as well as create new, more integrated and more customer-centric processes. CRM solutions promise an 'ideal' customer relationship process via instantaneous sharing of detailed customer information across multiple interfaces; CRM acts as an enabler to individual business processes (e.g. sales, marketing, customer service) and also to a more holistic, integrated total customer process. CRM success requires the integration of every aspect of business that touches the customer- including people, process, and technology. Each component presents significant challenges: it is the ability to 5 Goldenberg, B.J., (2002), CRM automation, Prentice Hall PTR
Anteprima della Tesi di Daniela Sepulcri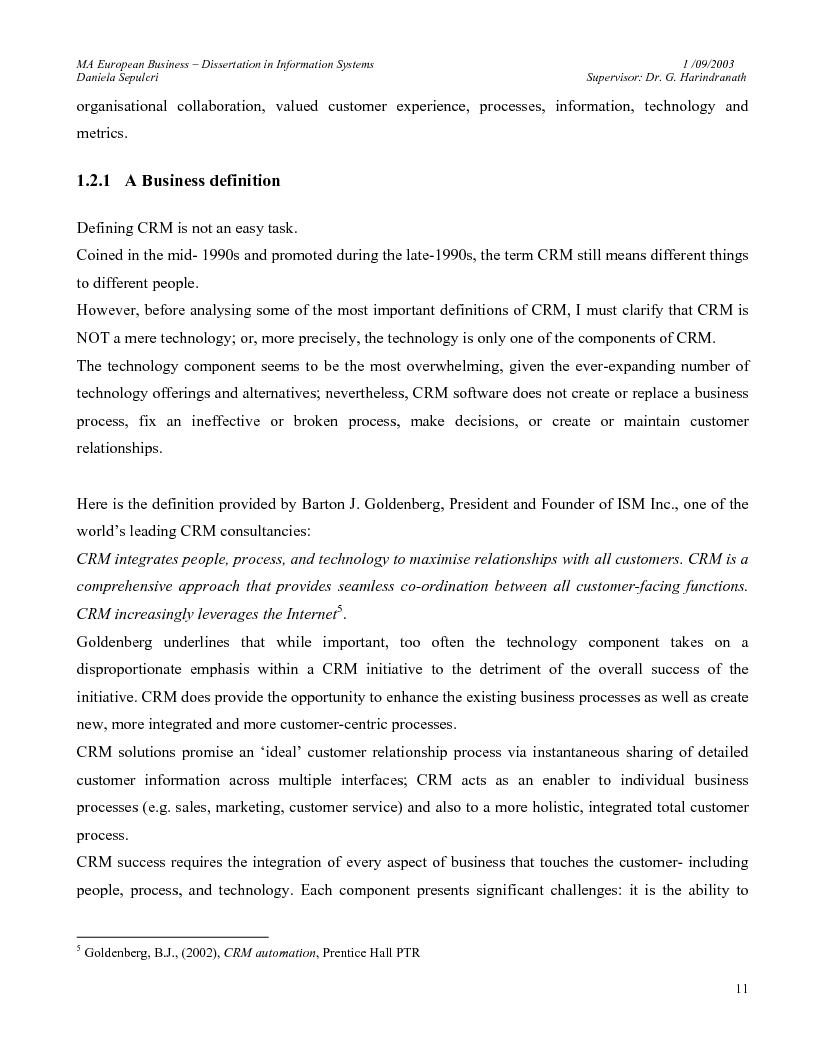 Tesi di Master
Autore: Daniela Sepulcri Contatta »
Composta da 94 pagine.
Questa tesi ha raggiunto 2564 click dal 20/03/2004.
Consultata integralmente 5 volte.
Disponibile in PDF, la consultazione è esclusivamente in formato digitale.