Telework: An effective alternative of the traditional personnel administration.
L'anteprima di questa tesi è scaricabile in PDF gratuitamente.
Per scaricare il file PDF è necessario essere iscritto a Tesionline.
L'iscrizione non comporta alcun costo. Mostra/Nascondi contenuto.
5 1.1 Activities suitable for teleworking. Each activity could be classified through two different dimensions. The first dimension is the frequency of interactions between the firm and its teleworkers. The second one is the degree of creativity, which is required for performing a task. Creativity is referred to the development of new ideas, or solutions. Firstly, if the number of interactions between the firm and the workers could be empirically measured by the amount of contacts per month, and they are quite numerous, then, the firm would find some advantages in maintaining workers in their offices. In fact, since a higher exchange of information could occur, variable costs would so increase, that the competitive advantage from teleworking would be cancelled. Nevertheless, a low degree of creativity means that the task to be executed is completely or partially standardised. Therefore the rules for working are fully determined, and the task to be carried out is luckily to be accomplished by the worker without the aid of his superiors. Moreover, the standardisation minimises responsibilities and unexpected events, because there are no professional assignments. The New York Life, an insurance company, for example, has moved its records department to Castle Island in Ireland. So, 52 Irish employees have daily linked up with the E.D.P. centre in the US, because they have to acquire data about records, process, and transmit them again. As a result of it, the company has been able to reduce labour costs of 30%, fixed costs of 25%, and the activity can go on night and day, due to the different time zones. Another case is that of the flight company Swiss Air, which has closed its own computer centre to organise a telecentre in India, where data about flight reservations have been processed, and the managerial programmes, which the company has usually used, have been written and kept.
Anteprima della Tesi di Maria Palumbo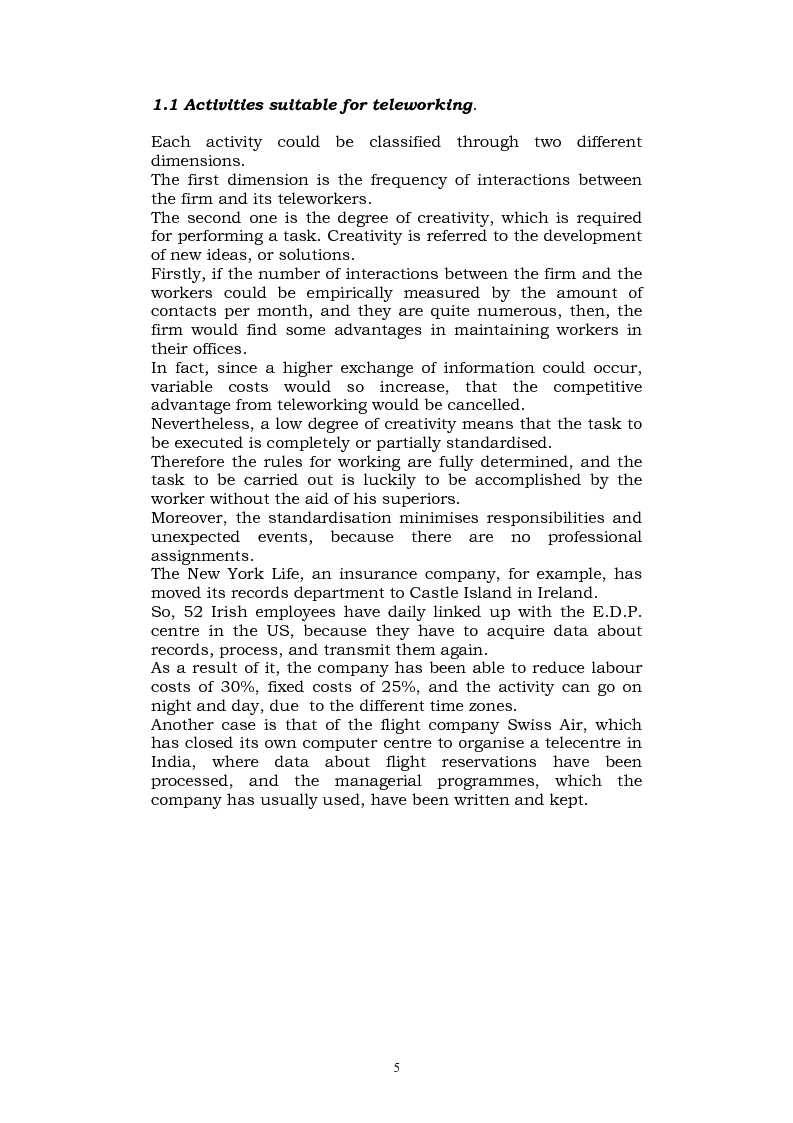 Tesi estera
Autore: Maria Palumbo Contatta »
Composta da 21 pagine.
Questa tesi ha raggiunto 280 click dal 20/03/2004.
Disponibile in PDF, la consultazione è esclusivamente in formato digitale.