The Entertainment & Broadband Revolution
L'anteprima di questa tesi è scaricabile in PDF gratuitamente.
Per scaricare il file PDF è necessario essere iscritto a Tesionline.
L'iscrizione non comporta alcun costo. Mostra/Nascondi contenuto.
ABSTRACT Globalisation, technology and demographics are requiring the entertainment industry to adjust to new trends. A new era started for this industry as soon as internet and globalisation driving forces changed millions of people's way of life worldwide. The entertainment industry is one of the most important contributors to national wealth especially in the U.S. where entertainment revenues account for 10% of GNP. Walt Disney, AOL Time Warner, and the Lucas Group have entertained us with their creativity and magic proposing amusements that fit our way of conceiving them, and this is what made them giants. Opportunities as well as threats lie in the future of the industry and only a clear vision of the latter will ensure success. Adaptation is the key resource for any global company, and entertainment corporations besides having to adjust to local preferences have also to react rapidly to the evolution of tastes and desires of people. The high influence and reach on people that the amusement industry has makes its stakeholders very concerned with the type and quality of the messages delivered. Today environment, ethics, and health issues finally find space in concert venues, Hollywood movies and games, thanks to the power and values behind key stakeholders. Challenges lie in every sector that composes this industry: book publishing, movie industry, gambling, games, music, sport. For the purpose of this thesis I will not touch the sport and music sector rather I'll focus on home entertainment changes. My work will show understanding of the driving forces which are pulling on-line entertainment demand and entertainment related advertising. In the entertainment "era" a new momentum is rising, the broadband revolution. How corporations are expecting to take advantage of this, and how will this industry choose to deal with current trends is going to be my focus. More specifically I will try to depict how broadband will influence the entertainment industry under several points of view including advertising, new appliance development and new service offer. Chapter 1 focuses on the impact of broadband on the market place as well as on consumer behaviour. Also it shows an understanding of the regulatory environment that is
Anteprima della Tesi di Federico Vitali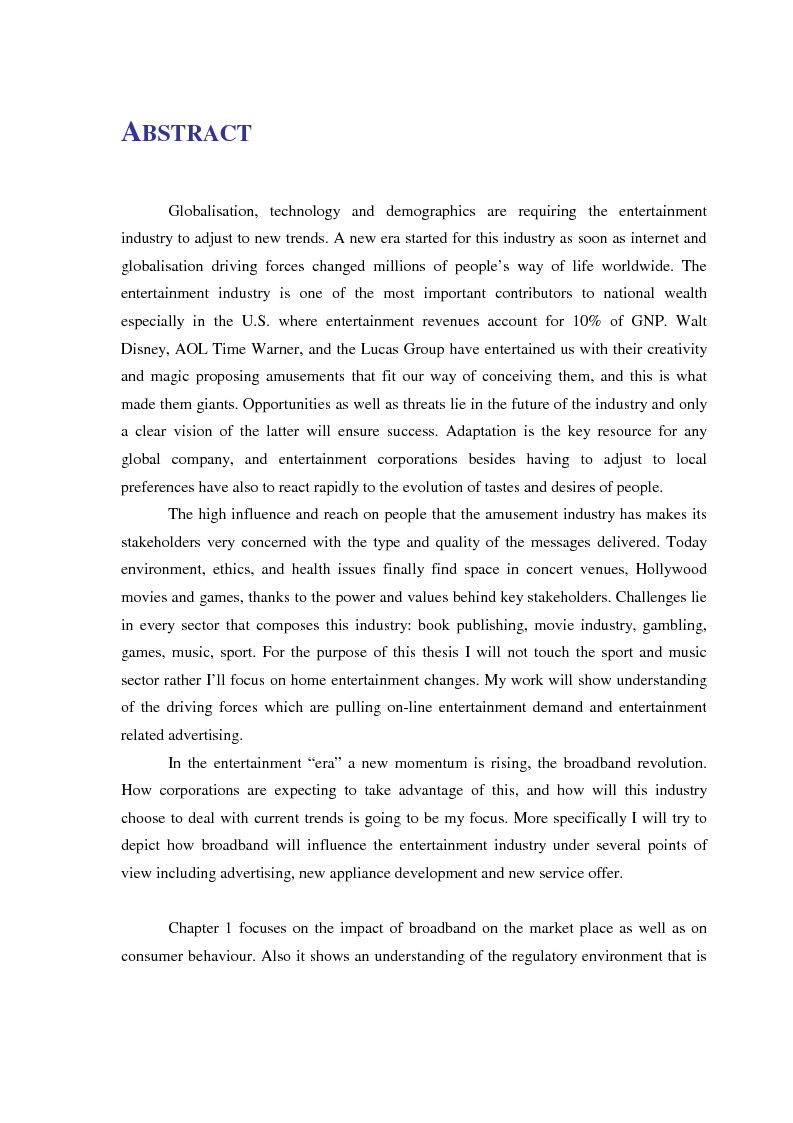 Tesi di Laurea
Autore: Federico Vitali Contatta »
Composta da 45 pagine.
Questa tesi ha raggiunto 657 click dal 20/03/2004.
Consultata integralmente 2 volte.
Disponibile in PDF, la consultazione è esclusivamente in formato digitale.