The Entertainment & Broadband Revolution
L'anteprima di questa tesi è scaricabile in PDF gratuitamente.
Per scaricare il file PDF è necessario essere iscritto a Tesionline.
L'iscrizione non comporta alcun costo. Mostra/Nascondi contenuto.
going to influence broadband diffusion. This chapter provides also examples of the services that broadband will be able to offer. Chapter 2 deals with changes in advertising driven by broadband enhanced capabilities in delivering information. It shows the advertising trends and how advertising will benefit from broadband. Chapter 3 relates to the introduction of new home appliances broadband activated. This to signify that broadband is a 360° revolution influencing not only content delivery speed but also to what this content is being delivered. Chapter 4 reveals the effects of piracy in the entertainment industry and how the problem is currently addressed. Also it addresses a revolutionary system called the Superdistribution system which turns the weaknesses of digital content (at the easiness of duplicability) into strengths. Due to the nature of these topics, in this dissertation appear many technical words the reader may not be familiar with. For this reason I included a glossary that explains the meaning of technical terms in one place, instead of using footnotes in every page. Words printed in italics are included in the glossary. The main reason I chose this topic for my dissertation is that I aim to work in the entertainment industry and I was really interested to see how the broadband phenomenon is going to affect it. Also I have always been interested in computer related issues and therefore entertainment and broadband seemed to me a great match especially now that the future of one seems so bonded to the future of the other.
Anteprima della Tesi di Federico Vitali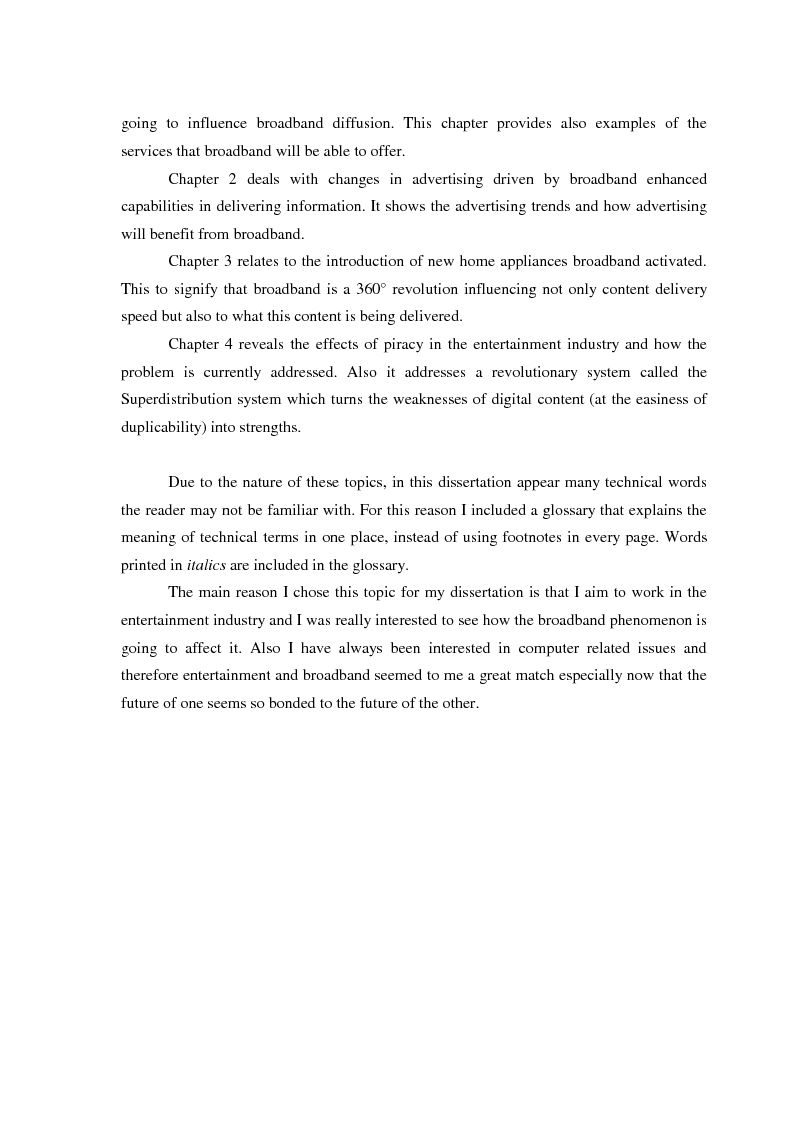 Tesi di Laurea
Autore: Federico Vitali Contatta »
Composta da 45 pagine.
Questa tesi ha raggiunto 657 click dal 20/03/2004.
Consultata integralmente 2 volte.
Disponibile in PDF, la consultazione è esclusivamente in formato digitale.