Commission Regulation (EC) No. 1400/2002 of 31 July 2002: Future developments within the E.U. car market.
L'anteprima di questa tesi è scaricabile in PDF gratuitamente.
Per scaricare il file PDF è necessario essere iscritto a Tesionline.
L'iscrizione non comporta alcun costo. Mostra/Nascondi contenuto.
Commission Regulation (EC) No. 1400/2002 of 31 of July 2002: Future Developments within the E.U. Car Market 5 The reading of an article, accessed through infotrac-college.com, gave us the starting point for the first interview because the contact details of the author were present, namely Mr. Fulvio Pastore Alinante, a famous lawyer. He was available for an informal interview. Attendance to a congress in Torino, held at Lingotto Fiere at the Automotor 2003, on the 26 th of March: "L'impatto della legge Monti – Block Exemption Regulation – sul settore dei ricambi e dell'assistenza in Italia." gave us precious insight and information on the feelings of repairers and outlets about the regulation. Considering the Regulation's aim of increasing competition, favouring customers, a book that proved to be useful in understanding the growing power of customers and the importance of them as an asset for companies is "The Customer Revolution – How to thrive when customers are in control" by Patricia B. Seybold. This book has been helpful, for example, in the analysis of the possibility for car manufacturers and distributors to sell through the Internet. The need for getting to know as much as possible about the Legislation articulate issues has pushed us in the search for as many chances to talk to people affected by the Block Exemption No. 1400/2002 or simply working within this panorama. That is why another informal talk with the senior editor of the current affairs and economic section of "Quattroruote", Mr. Marco Di Pietro, has contributed to further enrich our research work. Once an understanding of the issues related to the new Regulation has been achieved through specialized magazines and available documents, the piece of Legislation has been read once again more easily. The next step has been that of gathering information about the chosen case study, Toyota Motor Company, through the various Toyota's websites and other automobiles websites and articles from newspapers and magazines. After the development of the case study, conclusions upon the dissertation have been drawn. Chapters have been allocated according to the criterion of slowly introducing the reader to the subject matter. Firstly, we offered an introduction to state what we were going to discuss in the present thesis and, secondly, a methodology has been given to show how we proceeded in our work. A brief overview about the European Union competition
Anteprima della Tesi di Valeria Vigliani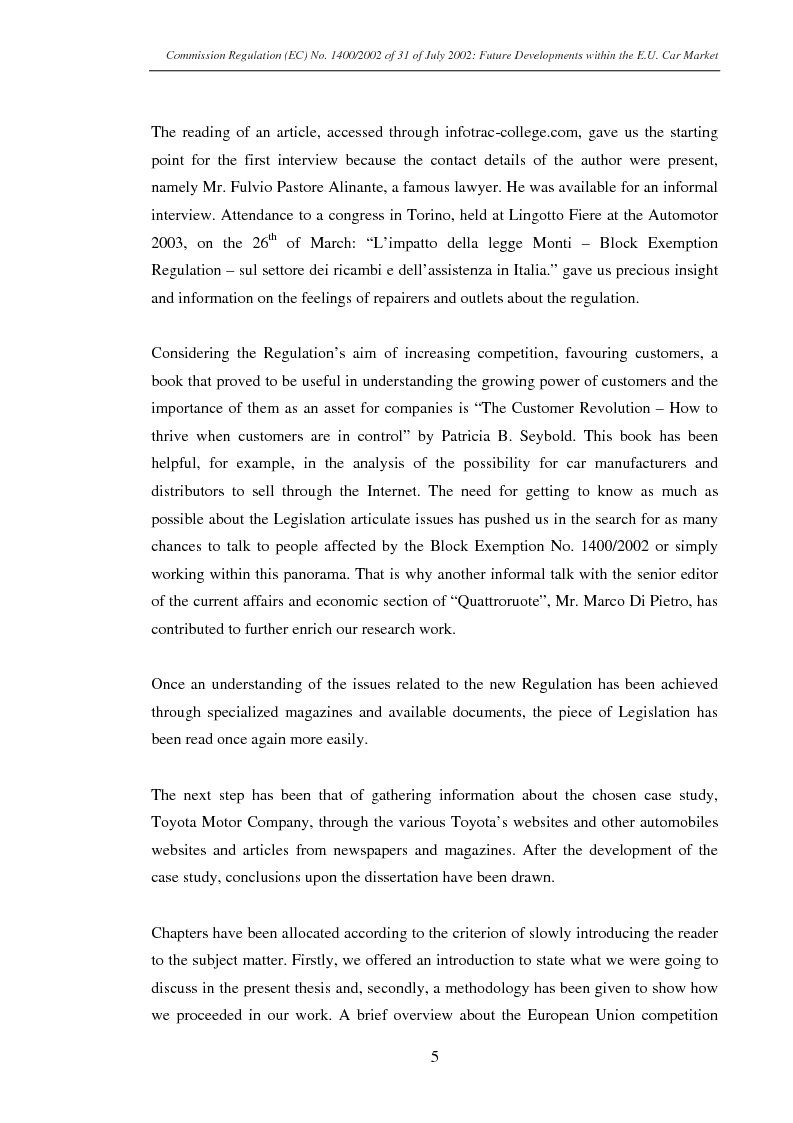 Tesi di Laurea
Autore: Valeria Vigliani Contatta »
Composta da 81 pagine.
Questa tesi ha raggiunto 3131 click dal 20/03/2004.
Consultata integralmente 2 volte.
Disponibile in PDF, la consultazione è esclusivamente in formato digitale.