An Analysis of the Impact of Italian Industrial Investment in Romania: Economic, Political and Labour Implications
L'anteprima di questa tesi è scaricabile in PDF gratuitamente.
Per scaricare il file PDF è necessario essere iscritto a Tesionline.
L'iscrizione non comporta alcun costo. Mostra/Nascondi contenuto.
10 It is easy to understand that it is a question of small investments or co-operations that have principally two different structures. First, the Italian firms decentralise segments of the production cycle, then import the product in Italy, finishing it in loco (Callieri 1999). Secondly, there is an increased tendency to develop the practice of subcontracting to local firms or partners (Piscitello 2000). Both tendencies, besides extending the trade export-import between the two countries, have had an impact on the structure of the Romanian economy. In fact, the Italians have pushed for recreating in Romania the same home typology of the "industrial clusters" (Majocchi 2000). The first part of this research is dedicated to explain the relation between internationalization and SMEs as the small and medium enterprises play the major role in productive internationalization in Romania. Consequently, the aim of this dissertation and subsequent considerations will be to determine the characteristics of the Italian investment in Romania and its impact made on the Romanian economy, particularly focusing on its changed structure and the trade between the two countries. Finally, the research will present an overview of the implications of the Italian investments on labour. Starting from the classical literature on the effects of foreign investment in a host country (Ietto-Gillies 1992, Bell 1997), I will, in fact, consider the peculiar effects of the Italian investment on employment: is it possible to speak of the transfer of technology due to the limited investments of the Italian firms? How have industrial relations developed in the peculiar context of SMEs Italian investments? (Fischer 1993, Pollert 1999, Casale 1999). The sensibility of the topics, the poor data nets in Romania and the reluctance to provide data, an heritage of the old communist Romanian regime, have significantly limited the last part of this research. However, the study will show how the Italian firms, prevalently SMEs, have exploited the weak legislative environment and labour market, described in the first paragraphs.
Anteprima della Tesi di Enrico Bulligan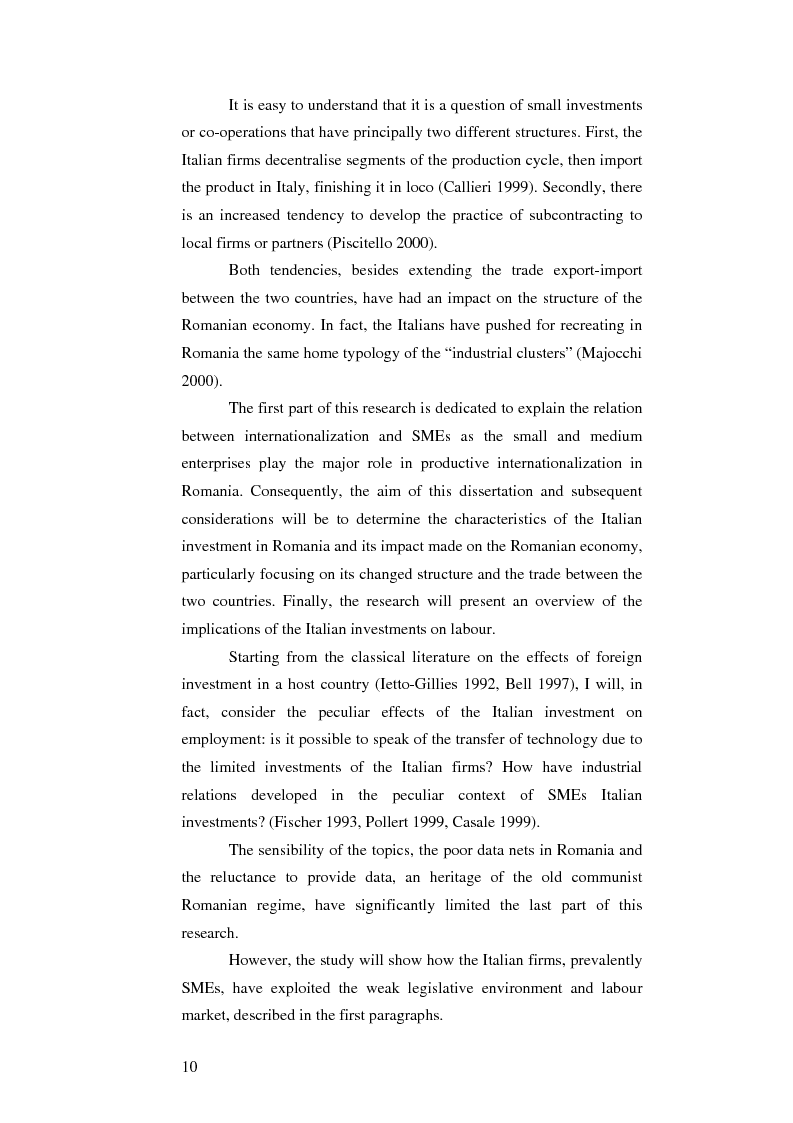 Tesi estera
Autore: Enrico Bulligan Contatta »
Composta da 107 pagine.
Questa tesi ha raggiunto 530 click dal 04/05/2004.
Consultata integralmente 2 volte.
Disponibile in PDF, la consultazione è esclusivamente in formato digitale.