La microfinanza nei paesi post-comunisti: il caso della Polonia
L'anteprima di questa tesi è scaricabile in PDF gratuitamente.
Per scaricare il file PDF è necessario essere iscritto a Tesionline.
L'iscrizione non comporta alcun costo. Mostra/Nascondi contenuto.
1 INTRODUCTION During my staying in Warsaw in autumn 2002 I used to hang out in one of the biggest malls in town: Galeria Mokotòw. Looking around I could find all the best international shop-chains and goods and the unfailing American fast-foods. If I hadn't already spent there some time and talked with many Polish people and hadn't seen the reality of grey soviet blocks grown like mushrooms in the Warsaw suburb or travelled in the boundless Polish country-side, I could have thought I was finding myself in Milan, Paris or London: malls are the same everywhere. But luckily I had the pleasure to converse with different Poles and find out, for instance, that their average salary was almost a half of ours, while prices of non-food goods in malls were about the same as in Italy. As time went on, I made a little progress with Polish language and started going for shopping in the typical "bazars", very popular open markets where I could buy food and clothes almost for nothing. I realised that malls were not places for everyone in Warsaw, but only for foreigners and for the better-off Polish citizens who could afford more than just window-shopping in Galeria Mokotòw. As it is clear from the title of this work, I'm not going to write a thesis about malls in Warsaw, but rather on the development of microfinance in transition countries and, in particular, in Poland. My experience with malls was however enlightening. It showed me that I can't extract any phenomenon from its environment, from its past and present and from the reality of people related to it, if I want to get the right idea of it. The present work will be markedly split in two parts, with the intention of investigating extension, structures and performances of the microfinance industry first of all in the more general context of transition countries of Central and Eastern Europe (C&EE) and the New Independent States (NIS) and only subsequently in Poland, where a peculiar network of microfinance institutions (MFIs) has been recently developing. To remain faithful to my previous observation, each of the two parts will be introduced by a chapter delineating first the historical and then the economical and social evolution of the areas under study. These two chapters, apparently not concerning the main theme of the work, are not aimed at depicting all the manifold features of the transition process indiscriminately. In both parts, almost specularly, only those issues related to the development of microfinance will be discussed. These aspects concern the impact of reform processes implemented with different methods and speeds by governments to switch from a centrally-planned to a modern market-driven system; the increase of poverty and inequality which has occurred to various extents in all transition countries; the changes in the labour-market and the emergence of a new phenomenon, unemployment. Later on, it will be taken into account the attempt of governments to
Anteprima della Tesi di Paola Caruso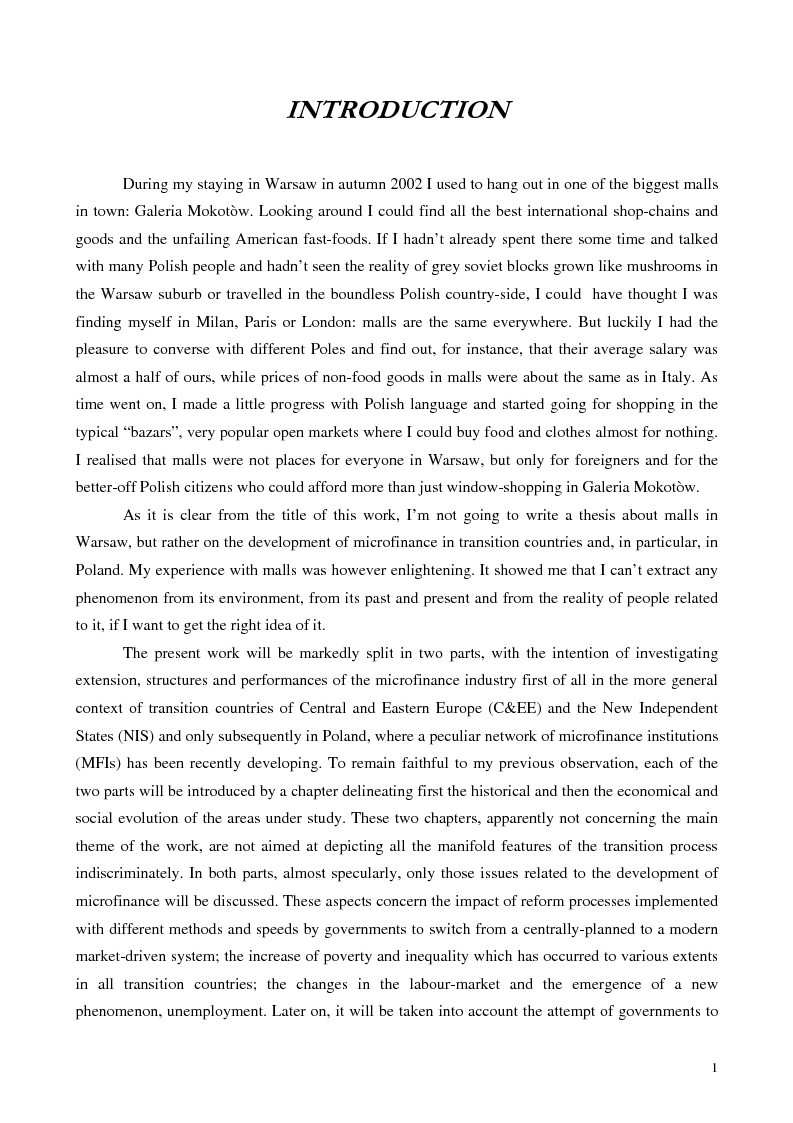 Tesi di Laurea
Facoltà: Scienze Politiche
Autore: Paola Caruso Contatta »
Composta da 268 pagine.
Questa tesi ha raggiunto 1622 click dal 20/03/2004.
Consultata integralmente 2 volte.
Disponibile in PDF, la consultazione è esclusivamente in formato digitale.