Studies and development of digital signature technologies by smart card on handheld devices
L'anteprima di questa tesi è scaricabile in PDF gratuitamente.
Per scaricare il file PDF è necessario essere iscritto a Tesionline.
L'iscrizione non comporta alcun costo. Mostra/Nascondi contenuto.
MOBI-DEV PROJECT 10 Central servers manages the mobile devices and performs the time/memory consuming tasks, as the language understanding. Security and privacy issues are of the main importance for the project and put under the strict control of well established experts. User identification applications permits the reuse of the same device by different persons while smart card application grants . 1.3.1 INCLUDED FEATURES The smart card grants electronic signing of input data with legal validity all over Europe, more over the reuse of the same device by different persons , so as the user identification applications permits. the Bluetooth connection permit the use of Mobi-Dev inside the hospitals in conformity with the most restrictive and recent security regarding electromagnetic pollution. It is also lower the communication costs within the premises of the hospital requirements. GPRS/UMTS connection permits the use of the system for transmitting large amounts of data The natural language understanding allows the users to enter data into structured databases, simply speaking to the palm Pc in a natural way. The Mobi-Dev Project implements a pilot of the innovative communication tool to demonstrate its feasibility and usefulness in different scenarios in Italy, Spain, Greece and UK. Target groups are nurses and medical doctors working inside and outside the hospital premises connected with the HIS, GPs (General Practitioner) visiting patients home and being connected with diagnostic laboratories, pharmacies and with their own clinical databases and researchers working in epidemiological and clinical studies. Accordance to the user requests and market demand is assured by users involvement in the system definition and by a user centered system evaluation. The effective marketing and exploitation of Mobi-Dev tool by the end of the Project is the highest strategic priority for the Consortium, in accordance to EU policies end SMEs interests of the consortium.
Anteprima della Tesi di Danila Di Stasi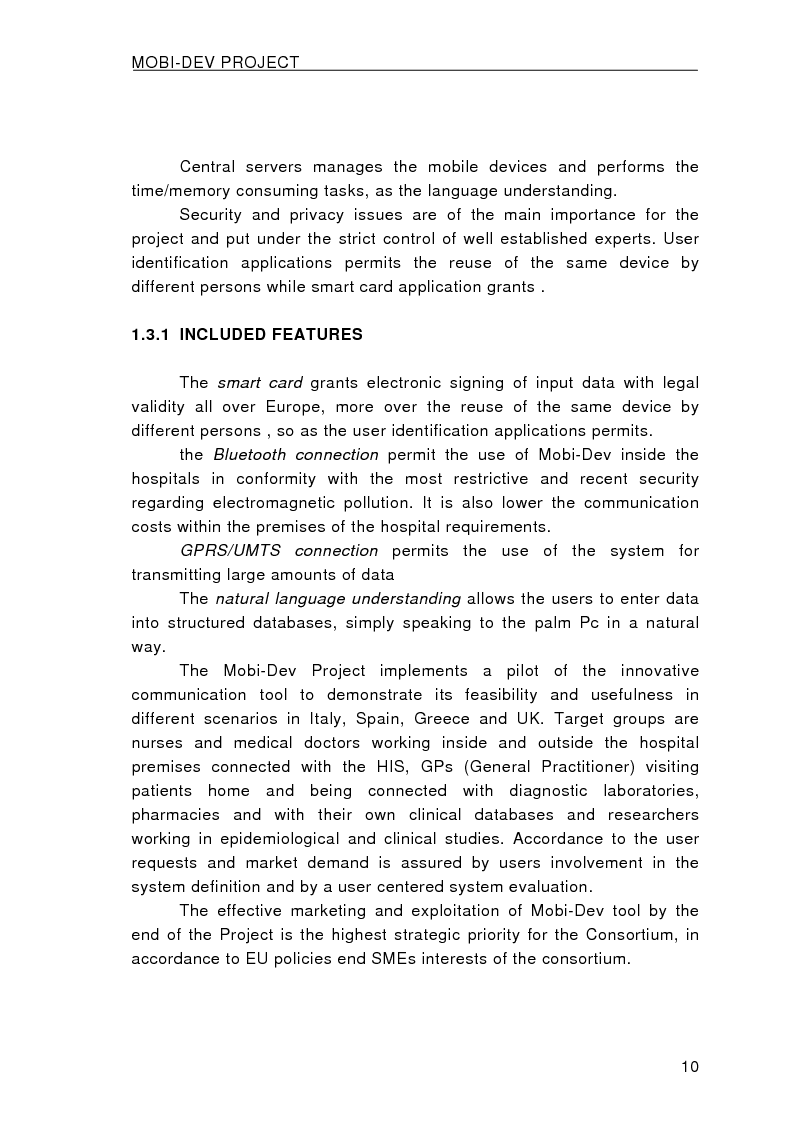 Tesi di Laurea
Facoltà: Ingegneria
Autore: Danila Di Stasi Contatta »
Composta da 147 pagine.
Questa tesi ha raggiunto 978 click dal 20/03/2004.
Consultata integralmente una volta.
Disponibile in PDF, la consultazione è esclusivamente in formato digitale.